As a cheese industry executive and professional, you are hungry for the most accurate, timely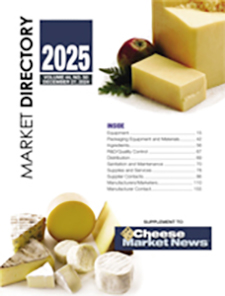 cheese-related information you can get...and you want it in a format that's easy to understand and read. CHEESE MARKET NEWS is dedicated solely to your industry, and we're committed to being your eyes and ears so that you can effectively and efficiently run your business.
Our editorial excellence combined with our exclusive industry leadership makes CMN the best choice for investment of your marketing dollars. From the farm gate to the retail shelf, there is something for everyone in each and every issue of CMN. Getting results has never been easier. Call (608) 831-6002 today or click here to order your current copy of our 2023 media kit including...
Editorial Perspective
Geographic & Circulation Analysis
2023 Advertising Rates
Mechanical Requirements
Advertising Policy
2024 Market Directory Advertising Order Form
You can order your 2023 Market Directory in print by clicking here.