Photo courtesy of Widmer's Cheese Cellars
TRADITIONAL BRICK — Widmer's Cheese Cellars, which celebrates its 100th anniversary this year, started out making Brick Cheese, which was invented in the 1870s in Wisconsin by Swiss immigrant John Jossi. Widmer's continues to be known for its foil-wrapped Aged Brick, as well as mild, flavored and spreadable varieties.
---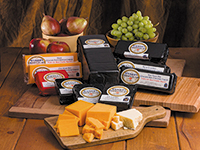 Photo courtesy of Widmer's Cheese Cellars
CHEDDAR VARIETIES — Widmer's offers Mild and Aged Cheddars in 1-, 2-, 4-, 6-, 8-, 10-, 12- and 15-year varieties, as well as Jalapeno Pepper Cheddar.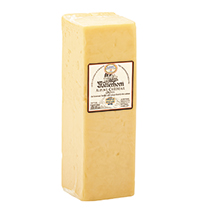 Photo courtesy of Widmer's Cheese Cellars
ALPINE ADDITION — The most recent addition to Widmer's line of Cheddar varieties is its Matterhorn Alpine Cheddar, which combines its Cheddar cultures with cultures used for Alpine cheese.
By Rena Archwamety
THERESA, Wis. — In late June, Theresa, Wisconsin, population 1,120, holds a community get-together with a brat fry, music, and this year a special celebration marking the 100th anniversary of Widmer's Cheese Cellars, which will be an event sponsor.
The fourth-generation, family-run business has been calling out its century milestone all year, adding a 100th anniversary sticker to its cheeses, selling T-shirts and hanging a banner over the village's main street.
"Everyone who drives through Theresa will see it. There's also a banner on our building and a lot of mentions on social media, where we're posting old historical photos from our public library," says Joey Widmer, vice president of operations, Widmer's Cheese Cellars. "Each day we're putting up a new post on the history of the Village of Theresa and trying to tie it back to our cheesemaking."
• Building Brick
Widmer's great-grandfather, John O. Widmer, immigrated from Switzerland when he was 18. He apprenticed in various cheese factories in Dodge County, learning the craft and eventually buying the plant in Theresa to start his own business in 1922. Widmer's Cheese Cellars remains in that same building, which was expanded in 2004 and again in 2016 to add more packaging area and cooler space.
John O. Widmer started out making Brick cheese, which had been invented in the 1870s by another Swiss immigrant and Wisconsin cheesemaker, John Jossi. The semi-soft aged cheese with a pungent smell and strong taste was popular among the German immigrants who settled in Southeast Wisconsin, where the land and soil were similar to what they farmed on back in Germany.
Widmer's Cheese Cellars continues to specialize in mild and aged Brick cheese, still making it in the traditional method.
"He would use a brick to press the curds into a block. Then he would pour it into the form and put the brick on top of the plate. It looks just like a brick used in building a house," Joey Widmer says of his great-grandfather. "We still use the traditional methods that have been passed on, but with some tweaks for food safety. We really didn't put in any automation at all. It's really handcrafted from the beginning."
After Brick, John O. Widmer started making Cheddar due to popularity and ease of aging. He later added Colby, another cheese that originated in Wisconsin like Brick.
John O. Widmer had three sons who eventually took over the cheese business: John (Joey Widmer's grandfather), Ralph and Jim. John Widmer's son, Joe Widmer, took the business over from his uncles in 1995, becoming the third-generation owner and president, and Joe's son Joey Widmer later joined as the fourth generation in the family business.
Today, Widmer's Cheese Cellars continues to sell different sizes and varieties of Brick, Cheddar and Colby, growing its distribution nationally as it began to do more online orders and work with large distributors. The business also offers cheese curds in Brick and Cheddar varieties, which are very popular among its local customers.
Widmer's Cheese Cellars now has five cheesemakers in the plant, producing approximately 2,000 pounds of cheese per day, Monday through Friday. The plant sources its milk from three nearby farms, which produce approximately 20,000 pounds of milk per day combined.
"All of them are small family farms, second-, third- or fourth-generation farms," Widmer says. "It's nice to work with some of the same small family farms we've been working with for a long time. We're trying to preserve the artisan, traditional methods."
• New varieties
Coinciding with its 100th anniversary, Widmer's is expanding its distribution of a new variety, an Alpine-style Cheddar named "Matterhorn." Using the same cultures Widmer's uses in its Cheddar combined with cultures used for Alpine cheese, Matterhorn has been in development since 2019 and has received good feedback, Widmer says.
"We weren't planning for it to come out for our anniversary, but it happened to align with that," Widmer says. "It took awhile to get the samples out, and everyone that's tried it has said they like the flavor a lot. We're still working to see at what point it ages best. Right now, the minimum aging for it is eight months, but the flavor changes at various points of aging. We're trying to get to the point where the cheese has its best flavor development."
In addition to its new Matterhorn Cheddar, Widmer's offers Mild and Aged Cheddars in 1-, 2-, 4-, 6-. 8-, 10-, 12- and 15-year varieties, as well as Jalapeno Pepper Cheddar. Its Colby is available in plain and flavored varieties as well.
Widmer's sells Mild Brick and Jalapeno Pepper Brick, and its "calling card" is the traditional strong-flavored, foil-wrapped Aged Brick, which also is available in Caraway Aged Brick.
"Aged Brick has a niche clientele — some of the older Germans that come up just love it. Someone my age that hasn't had aged stinky cheese before won't touch it based on the smell," Widmer says. "The rind definitely is stronger than the inside of the cheese, so we tell them to cut it off, and they'll be surprised how they would like it. We have seen an increase in sales among foodies, cheese connoisseurs and a select group of people."
About 15 years ago, Widmer's came out with its Aged Brick Spread, which blends Aged Brick with White Cheddar. This more approachable format has increased the popularity of the traditional Aged Brick itself, Widmer says.
Widmer's cheeses are available across the United States in select retail locations as well as online.
"Some of the biggest changes my dad made were doing mail orders, and also starting online orders," Widmer says. "It was mainly just Wisconsin and the close Midwestern states before, and now we're more on a national basis, more well-known. We see mail and internet orders from all over the United States and also have a much broader range with our current distributorship."
Widmer's Cheese Cellars' customer base continues to grow, particularly with online ordering gaining steam.
"Since I've been here, the biggest change I've seen is a broader, more diverse customer base," Widmer says.
"Definitely with internet orders, that's increased substantially. Especially with the pandemic, people ordered online more, and that's stuck ... we're reaching a bigger audience."
As for maintaining its quality of cheese, Widmer's Cheese Cellars does what it's always done, sticking to its traditional recipes and methods of cheesemaking that have been passed on through generations. Widmer says this has been the key to differentiating the family-owned business.
"I think just sticking to what you do best, sticking to your niche — really for us, it was making small artisan batches," Widmer says. "Making Brick, we could have gone more automated, but we've stuck to the original Brick. Going into our cheese retail store, you can see the cheesemakers making cheese in the open vats. Part of the art of making cheese is the small things that add up."
CMN