Photo courtesy of Crave Brothers Farmstead Cheese
SIDE BY SIDE — Debbie and George Crave have been working side by side on marketing, cheesemaking and management aspects of Crave Brothers Farmstead Cheese for the past 20 years.
---

Photo courtesy of Crave Brothers Farmstead Cheese
NEXT GENERATION — A new generation of the Crave family has started taking on responsibilities both at the cheese plant and the dairy farm. Pictured, left to right, are Jacob Crave, Brian Crave, Beth Crave and Roseanne Crave.
---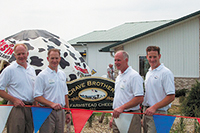 Photo courtesy of Crave Brothers Farmstead Cheese
LOOKING BACK — The Crave Brothers, left to right, Thomas, George, Charlie and Mark are pictured at the open house for Crave Brothers Farmstead Cheese in 2002. The brothers had managed their family dairy farm for 20 years before the farmstead cheese business opened.
By Rena Archwamety
WATERLOO, Wis. — Crave Brothers Farmstead Cheese team was named Grand Master Cheesemaker for the first time for its Chocolate Mascarpone at this year's Wisconsin State Fair Dairy Products Contest and Auction, adding another title to a long line of honors both for this product and for the family owned business.
"You never expect to win overall champion of a competition," says George Crave, head cheesemaker, founder and president of Crave Brothers Farmstead Cheese.
The creamy dessert cheese, however, was no dark horse in the competition, having been named Grand Champion Cheese overall at the 2021 World Dairy Expo Championship Dairy Product Contest and ranking in the Top 20 cheeses in 2019 at the American Cheese Society annual contest.
"It's a well-awarded cheese," says Debbie Crave, vice president of Crave Brothers Farmstead Cheese. "But there's such great cheeses at the fair, especially favorites like washed rind. This was the first time we've ever been selected as a company (for the top prize) in the last 20 years."
Chocolate Mascarpone doesn't sit alone on the prize pedestal — other Crave Brothers cheeses consistently win awards at national and international competitions, such as the recent Best-in-Class honors for Yellow Cheddar Cheese Curds and Marinated Fresh Mozzarella at the 2022 World Dairy Expo Championship Dairy Product Contest, and first place for Fresh Mozzarella at the 2022 American Cheese Society competition.
• Family business
Now an award-winning cheesemaker, George Crave already had been farming for more than two decades before he even decided to enter the cheese business. After 20 years of managing the dairy herd on the farm he owned with his brothers Charles, Tom and Mark in Waterloo, Wisconsin, George Crave knew he wanted to explore new opportunities over the next 20 years. He began looking into ways to add value to the farm's milk, making ice cream, fluid milk, yogurt or cheese. After researching various options, he settled on producing pasta filata-style cheeses.
"I started here when I was only 23 years old. I had been at it almost half a career already by the time I was in my early 40s," he says of his family's Waterloo, Wisconsin, dairy farm. "We finally decided to build our own farmstead cheese factory in 2001."
When the farmstead cheese factory opened, the Craves were milking 400 cows. Twenty years later, the farm now is home to 2,000 modern Holsteins that provide fresh milk for Crave Brothers' award-winning line of Fresh Mozzarella and pasta filata cheeses, alongside the company's Oaxaca, String cheese and Mascarpone varieties.
When Crave made the decision to start his own cheese business, his wife, Debbie, had been working in marketing for the Wisconsin Milk Marketing Board, which now is Dairy Farmers of Wisconsin. She decided to join the family cheese business as well, creating labels, logos and marketing strategies, and she has been working side by side with George for the last 20 years. They also hired local cheesemaker Kurt Premo, who still manages cheese production at the plant. Since then, George Crave became a licensed cheesemaker and there are three other cheesemakers on staff, including George and Debbie's son Brian. Their niece Beth Crave, director of quality assurance and customer service, has been with the company for 16 years. Their daughter Roseanne also has joined to manage sales, marketing and social media platforms, and their son Patrick is herd manager on the farm. A total of 13 family members are active in either the cheese or farm side of the business, along with many dedicated long-term employees.
"We are fortunate to have both family and long-term employee leaders," George Crave says.
"It's gratifying for George and I to have family stepping into our roles on both sides of the road — the farm and the cheese factory," Debbie Crave says. "The next generations — not only our children, but other family, have shown that willingness to work, even at entry-level jobs. This is important for our family so you learn all aspects, from how to get in the plant and make cheese to putting the cheese in cups and boxes."
George Crave adds that while he always has hoped that the younger generation would carry on the business, that alone didn't guarantee it would happen.
"We've been very deliberate making sure the next generation had the opportunity to work here and be a professional in the business, whether taking care of cows, a herdsman, head of maintenance or growing crops to making cheese, there is plenty of opportunity for hands-on involvement," he says. "We say our business is 'Crops to Cows, Cheese to Consumer,' so there is a lot of opportunity in our business for the next generation."
• Green production
George Crave, who can see the family's milking herd from his office window, says "really fresh milk" is important for making a quality product. Hours-old milk is piped underground to the plant to make the freshest possible Mozzarella and other cheeses.
"It's high-quality, fresh milk that doesn't change seasonally. We use the same feed in January as the feed in July. It's consistent milk and consistent cheese, which our customers appreciate," he says.
Crave adds the earliest conversations about starting the cheese business included knowing your farmer, where the cheese comes from and how the food is processed — a farm-to-fork ethos that very much was in its infancy 20 years ago. The family also installed a methane digester about 12 years ago that generates enough electricity to power the farm, cheese factory and 300 homes in the community.
"We've been 'green' before green was groovy. Farmers are the original recyclers and environmentalists," he says. "We want to make sure consumers understand that we take this role seriously. We're close to both Madison and Milwaukee so we host many groups — university, extension, consumers and customers — and we make sure they understand that we're on the front line of environmental issues."
Soon after the methane digester was installed, Debbie Crave developed a "green logo" depicting a cow with a green leaf on the end of its tail. The company includes this on all of its packaging and signage to indicate that its products are produced using renewable energy.
"It's a big investment, and we want to make sure people understand it," George Crave says. "It's an investment in how we farm, raise our cows and make cheese. It's not the easy way to go or the cheap way to go. We want to make sure consumers understand that also."
• Legacy and growth
Crave Brothers Farmstead Cheese is best-known for its Fresh Mozzarella, which has grown in variety over the last two decades. No longer just a seasonal item, this cheese also has grown in popularity and usage among consumers.
"We made cherry-, golf ball- and egg-size Fresh Mozzarella when we first started, but that whole line has been incredible in consumer interest, and we needed it to be more versatile," Debbie Crave says. "We added pearl, medallion and sliced Fresh Mozzarella, and even a marinated variety with olive and canola oil and a mix of spices. It's neat to see just how that line has expanded and been used in different ways, more than just in Caprese salad."
Crave Brothers' cheese business has experienced very steady growth over the past 20 years, staying focused on making quality cheese from the farm's fresh milk.
"We've never gone out and tried to double our business in a year. If we have consistent 15-20% growth, still looking back our cumulative growth is substantial, so that's what we're trying to accomplish," George Crave says. "We started out saying our farmstead operation is 'Crops to Cows, Cheese to Consumer' focused. We don't pick up trends to go left or right the next year. We're not that type of company."
In addition to family involved in the business, the Craves say they are lucky to have a base of about 20-30 employees who have been with them for 15 or more years, day in and day out. Later this month they will host a 20th anniversary party for their employees, family, friends and business colleagues to celebrate all they have accomplished.
"It will be similar to an open house, with farm tours and food trucks. We're going to be featuring some of the recipes from our 20th Anniversary Recipe Contest," says Roseanne Crave. "We're also going to be showcasing a new product — we're not quite ready to announce it, but it will be out within the next couple of months and available in stores."
Roseanne, 24, is one of the next-generation family members who will carry the Crave Brothers legacy into the future. Growing up in the business, she remembers getting off the school bus from Kindergarten and 'helping' to put cheese into cups.
"It's just outstanding — the quality of product we have and great leaders — both my parents are great role models for me and my brothers. We know our company started on a good foundation, and we strive to keep it going for the next 20-plus years," she says.
Reflecting on the business' last 20 years, George Crave says one major benefit of working with family has been the trust factor — knowing everyone will be there and be committed.
"We started (farming) in the late '70s and early '80s, went through the farm crisis and other tough times. We know about being fiscally responsible, responsible for our work and what is supposed to be accomplished every day," he says. "Then having the next generation come along, working alongside us, means a lot to them and to us also. You can call it legacy or name it whatever, but we're very proud of that."
CMN