Photo courtesy of Hispanic Cheese Makers-Nuestro Queso
DIVERSIFIED PORTFOLIO — Hispanic Cheese Makers-Nuestro Queso offers an extensive line of high-quality authentic cheeses and dairy products for private brands, co-packing and ingredients customers. President and CEO Mark Braun notes the company's wide assortment of varieties, formats and sizes allow retailers to carry the right mix for their regional markets.
---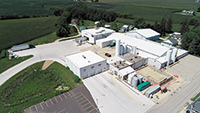 Photo courtesy of Hispanic Cheese Makers-Nuestro Queso
CONTINUED INVESTMENTS — With its state-of-the-art, SQF 3.0-certified plant, Hispanic Cheese Makers-Nuestro Queso prides itself on offering the gold standard in food safety along with its portfolio of award-winning products. Over the past two years, the company has invested more than $30 million into its facility.
By Rena Archwamety
CHICAGO — Providing a full line of authentic Hispanic-style cheeses, Hispanic Cheese Makers-Nuestro Queso is committed to helping its private label customers build their own brands with a host of service, support and innovative offerings.
"We offer private label customers a very extensive line of ultra-high quality authentic cheeses and dairy products to private brands, co-packing and ingredients customers," says Mark Braun, president and CEO, Hispanic Cheese Makers-Nuestro Queso. "We serve a number of top brands, retailers, distributors and manufacturers."
The Hispanic cheese category continues to grow in both traditional and mainstream channels. Hispanic Cheese Makers' Queso Fresco is its most popular cheese, with the largest percentage of volume at retail, while other varieties have been quite successful, particularly in regional markets, and are quickly growing in popularity.
• Favorites, new launches
The company's Queso Cotija, distributed in national retailers, is in high demand because of its zesty taste and versatility as an ingredient and accompaniment. Its recently-reformulated Queso Quesadilla, which earlier this summer won a gold medal at the American Cheese Society contest, also has been a fast-growing product due to its melting characteristics, taste and versatile formats available. Meanwhile, Queso Blanco and Queso Para Frier are favorites in Florida and the Northeast among consumers of Caribbean and South American origin, and Queso Duro Blando is starting to gain significant traction as the Central American population grows.
However, Braun notes the product that stands out most for its growing demand is Queso Oaxaca, a cheese crafted into balls and known for its stringing and melting characteristics.
"It's very artisanal, with significant labor inputs that go into crafting this cheese. People love how it strings and melts, its presentation and its flavor," he says.
Hispanic Cheese Makers has just launched new bite-size Oaxaca, a format that currently is available in snack aisles and also could be ideal for foodservice applications.
"We go through the exact same process, but the ropes are smaller and run through a special cutter that creates little bite sizes," Braun explains. "It's an entirely new concept, and we're going to be looking at launching that as a foodservice option as well. We looked at how people use Oaxaca when melting it — some will interchange it when making Queso Fundido with Quesadilla. With the new bites, it's easy to use in foodservice or for portion control, and you don't have to do the manual stringing."
Hispanic Cheese Makers recently has introduced a flavored Panela portfolio that incorporates an assortment of real peppers, such as Jalapeno, Habanero and Serrano. The company's original Queso Panela also won a gold medal at the 2022 World Cheese Championship Contest.
• Sustainable solution
In addition to the new snack format and flavor portfolio for its cheeses, Hispanic Cheese Makers in May added brand new machinery to introduce an innovative easy-open packaging for a number of its cheeses, adding convenience, sustainability and an updated design.
"It's a packaging that's easier to open for customers, and it uses less plastic, so it is more sustainable. It's good for consumers and good for the environment, and it also looks great on the shelf — it's a very attractive packaging," says Arturo Nava, senior marketing director, Hispanic Cheese Makers-Nuestro Queso.
Braun explains the new packaging was the result of a joint effort between Hispanic Cheese Makers, one of its customers and the package manufacturer who all worked together to design the machinery, package size, versatility and how it seals. The machine cuts the package to the size of the cheese and then adds an easy tear to it so consumers don't have to cut through the package to get to the cheese.
"We went to Germany for the factory testing on it, and our customer partner sent their packaging specialist along to do the test. It was done in collaboration, a true partnership," Braun says, adding that other customers now are interested in transferring to the new type of packaging.
The sustainable packaging fits in with Hispanic Cheese Makers' companywide sustainability program, which encompasses many aspects of its manufacturing, from energy to wastewater. For example, the company underwent a $4.5 million sustainability project that created a reserve that reuses 100% of the Kent, Illinois, plant's wastewater that eventually is used as a natural resource to irrigate agricultural crops. The company also completed a series of major sustainability projects, including the replacement of water softening systems that utilized chlorides with a reverse osmosis system that blends purified water with local water, reducing both chemical usage and the impact on equipment and utility infrastructure. Additionally, the company has installed energy-efficient HVAC systems, and early last year it completed an initiative to change all its factory lighting to LED to reduce the amount of electricity used.
"As a leading cheese manufacturer, we have a responsibility to demonstrate good corporate citizenship in everything we do," Braun says. "Our promise is to care deeply about how our ingredients, packaging, products and services are sourced, produced or performed, to take excellent care of our employees, to conduct our business in a sustainable manner and to ensure the welfare of the cows that supply our milk."
• Building relationships
As a company that caters 100% to private label customers, building strong partnerships and offering quality products are key to success both for Hispanic Cheese Makers and its clients. The customer is involved in each project from start to finish, and Hispanic Cheese Makers, whose state-of-the-art plant is Safe Qualified Food (SQF) 3.0 certified, prides itself in offering the gold standard in food safety along with its wide portfolio of award-winning products.
"We've heard from customers that what they value most is our partnership, and they see us as a partner that gives them a long-term advantage and peace of mind," Nava says. "Their success is our success — we care about them and are in the same boat as them. We make things work for them, are flexible and build long-term relationships."
Braun explains that the private label business is highly consultative in nature, and Hispanic Cheese Makers partners with its customers to provide the services, products and capabilities they need through continuous investment in their own facilities. Over the past two years, the company has invested more than $30 million into its facility.
To be successful, Braun adds, retailers need a portfolio of high-quality products so that single items don't get lost on the shelf.
"Our wide assortment enables retailers to have the right mix of Hispanic cheeses to win in their regional market and in the right formats and sizes," he notes. "For example, retailers in the Northeast and Florida will need a strong portfolio of Caribbean-style cheeses which are in high demand in those regions, while in the Midwest, South and Southwest, customers need a strong portfolio of Mexican-style cheeses and creams."
The demand for authentic Hispanic cheeses has grown beyond restaurants and mercados to now mainstream grocers, foodservice and manufacturers that desire authentic flavors and ingredients. For example, makers of specialty frozen pizzas have requested Quesadilla, Cotija or Oaxaca cheeses.
"The crossover is driven by consumer discovery of cheeses at foodservice and also at retail. They're tasting them, love them and want to start incorporating them into their lives. That's driving growth," Nava says.
"Customers, retailers, distributors and foodservice providers want to include them in their own brands. They want authentic branding, but these brands are crossing over to mainstream consumers. Growth is very strong, and we expect this will continue to be the case in the next several years."
Braun says Hispanic Cheese Makers has found its niche, and with its recent investments, the company is positioned for growth as it aims to be the go-to provider of authentic Hispanic-style cheeses.
"We expect customer demand to continue to accelerate as more mainstream consumers discover the delicious and unique Hispanic cheeses," he says. "The best is yet to come — we see Hispanic cheeses as being where Italian cheeses were 30 years ago."
CMN