Despite labor challenges, dairy industry continues steady growth
Editor's note: Plants in Progress is a special segment spotlighting new facilities and expansion in the U.S. dairy sector. As the industry works to meet new demand, growth and expansion are inevitable. Here, we provide a glimpse into new cheese and dairy plants and expansions across the country — from initial groundbreaking to full operation, and everything in between.
By Alyssa Mitchell
MADISON, Wis. — Expansion of North American cheese and dairy processing, packaging, ingredients and research facilities is booming thanks to consumers' insatiable appetites for protein-packed dairy products.
Per capita dairy consumption continued to rise in 2020, according to figures released last week from USDA. Milk production also continues to expand across the nation, leading to increased demand for processors to turn the supply into a range of dairy products.
In the following pages, you'll read about how cheese and dairy companies are investing in their local communities by providing new jobs; their customers by expanding production lines, aging rooms and testing facilities; and their employees with state-of-the-art, sustainable building enhancements.
Universities across the country — from Oregon to Wisconsin — also are expanding their dairy research facilities and investing in cutting-edge training spaces and production technologies.
As the world continues to navigate a post-pandemic "new normal," labor shortages, logistical delays and limited materials are creating some roadblocks; however, the industry leaders profiled here aren't letting those challenges stop them from capitalizing on growth, innovation and technological advancements at their companies.
Please read on for more in this latest installment of Plants in Progress ...
• Agri-Mark, Chateaugay, New York
Agri-Mark this summer broke ground on a $16 million expansion at its plant in Chateaugay, New York. Part of a $30 million plant modernization project that began in 2016, the expansion will help the cooperative retain more than 100 full-time employees and support an additional 514 agricultural jobs in the region.
The expansion and restoration of Agri-Mark's Franklin County facility involves rebuilding the co-op's 110,641-square-foot manufacturing center, re-engineering the layout of the facility and purchasing new machinery and other equipment. This phase of the project includes $16 million for a new state-of-the-art cheese production room to improve plant efficiency.
The project is supported in part with $6 million in funding from Empire State Development, including $4 million in Economic Transformation Program funds.
Officials say project completion is anticipated in late 2022.
Photo by Alyssa Mitchell/Cheese Market News
AGROPUR ADDS CAPACITY — Wisconsin Gov. Tony Evers, other state officials, and employees of Agropur and its supplier Steffens Dairy Farm came together this week to announce a significant expansion to Agropur's cheese plant in Little Chute, Wisconsin, with the addition of a new state-of-the-art facility. The event featured comments from Evers, other state officials, and employees of Agropur and Steffens Dairy as well as a walking tour of Steffens Dairy Farm. Pictured, left to right, are Missy Hughes, secretary of the Wisconsin Economic Development Corp.; Steve Steffens; Gov. Evers; Lorraine Steffens; Dan Steffens; Mike Sipple, vice president of milk procurement and regional operations, Agropur; Doug Simon, president, Agropur U.S. operations; Tom VanDerhei, Little Chute plant manager, Agropur; Keith Braun, director of milk procurement, Agropur; and Randy Romanski, secretary of the Wisconsin Department of Agriculture, Trade and Consumer Protection.
• Agropur, Little Chute, Wisconsin
At a press conference this week, Agropur formally announced the expansion of its facility in Little Chute, Wisconsin. Agropur is building a new state-of-the-art facility to meet growing market demand and significantly increase its production of cheese and dairy ingredients.
"Having a new state-of-the-art facility in Little Chute will help us solidify our leadership position in the dairy industry. Beyond speed and efficiency, the new processes and equipment will provide greater flexibility and will allow Agropur to offer a broader line of products to meet our customers' needs," says Doug Simon, president, U.S. operations, Agropur. "With this new plant, we're increasing production capacity so Agropur can help its clients live up to their brand promises."
The $168 million investment is Agropur's second-largest ever in the United States, after the expansion of its Lake Norden facility in 2018. Agropur will be eligible for up to $4.5 million in state tax credits over the next four years based on meeting hiring and capital expenditure goals.
"The announcement of this significant investment highlights our commitment to modernize our asset base in both Canada and the United States and expand our cheese manufacturing activities in the U.S. Midwest," says Émile Cordeau, CEO of Agropur. "It pursues the vision behind other major projects we have carried out, such as the Lake Norden plant, which has already reached record production levels in recent months."
The new Little Chute facility will encompass more than 210, 000 square feet and expand Agropur's production of cheese and ingredients — in fact, current milk processing volume should more than double, from 300 million pounds to 750 million pounds per year, Simon says. In addition, the project will involve construction of a cutting-edge wastewater treatment facility that will generate energy, supporting sustainability efforts, officials say.
The new plant will be built just north of Agropur's existing Little Chute facility at 2701 Freedom Road, and design is being led by Excel Engineering, Fond du Lac, Wisconsin. The expanded plant is expected to be fully operational by early 2023.
The new facility also will create up to 54 new high-skilled and well-paying jobs for local workers, Agropur says. Employees will have the opportunity to be trained in new skills and to continue growing within the organization. Given the current labor shortage, recruiting activities will be key in the months prior to the commissioning of the plant, officials note.
The Little Chute expansion also will lead to a significant increase in milk demand from local farms that supply Agropur, like Steffens Dairy Farm, Seymour, Wisconsin, where this week's press conference was held.
The construction itself will have a significant economic impact on the Fox Valley area. It is projected that, as a result of this project, more than $100 million will flow directly or indirectly to Wisconsin suppliers and subcontractors for concrete, tradespeople, materials, project management, packaging, transportation and more, Agropur says.
• Bongards Creameries, Perham, Minnesota
Bongards Creameries recently announced the expansion of its Perham, Minnesota, plant, adding a new 70,000-square-foot refrigerated warehouse. The warehouse will hold finished goods produced by the plant, including cheese blocks and barrels. The additional space will allow Bongards to store finished goods on-site until they are shipped to customers.
Bongards completed a significant expansion of the Perham plant's capacity in 2015 but did not expand warehouse capacity at that time.
"Due to space limitations, most cheese produced at our plant must be shipped to off-site storage or direct to customers within four days," says Daryl Larson, CEO, Bongards. "With this expansion, we will be able to store up to 30 days of inventory, greatly improving our supply chain efficiency and decreasing outside storage costs."
The previous refrigerated warehouse space will be converted into additional dry storage for the plant, further eliminating the need for outside storage. The new warehouse will be located east of the current plant on property that had been purchased by Bongards over the last several years. Initial groundbreaking for the construction began in early August, and the project is expected to be completed during summer 2022. Construction is being completed by local Perham contractors.
Photo courtesy of Cacique LLC
ANNOUNCING AMARILLO — Gil de Cardenas, CEO of Cacique LLC, announces plans for the company's new state-of-the-art facility in Amarillo, Texas. The new $88 million, 200,000-square foot facility will help meet growing demand for the company's production of Mexican-style cheeses, cremas and yogurts nationwide. "We're thrilled to become part of the local community as we put down some new Cacique family roots in the great state of Texas," de Cardenas says.
• Cacique LLC, Amarillo, Texas
Hispanic foods company Cacique LLC this summer broke ground on an $88 million dairy processing facility in Amarillo, Texas. The new 200,000-square-foot facility will help meet growing demand for the company's production nationwide, officials say.
The new facility, which is being constructed at 8647 S. George St. in Amarillo, will be equipped to handle dairy processing, including production of Cacique's Mexican-style cheeses, cremas and yogurts.
"After an extensive national search, we are very happy to select Amarillo, Texas, as the location of our new state-of-the-art manufacturing facility," says Gil de Cardenas, CEO, Cacique LLC. "We're thrilled to become part of this local community as we put down some new Cacique family roots in the great state of Texas."
The project benefits from receiving a Texas Enterprise Fund grant from the office of Texas Gov. Greg Abbott, as well as an incentive package approved by the Amarillo Economic Development Corp. and the City Council of Amarillo. With the new plant, Cacique intends to increase its research and development to drive product innovation and to continue to sustainably enhance its national presence as part of its long-term growth strategy, officials say.
The company says it anticipates operations to begin at the new plant in fall 2022, and approximately 200 new full-time jobs are expected as a result of the project.
• California Dairies Inc., Kern County, California
Secretary of the California Department of Food and Agriculture Karen Ross and other state and local officials last week joined California Dairies Inc. (CDI) at a groundbreaking ceremony in Kern County, California, at the future site of CDI's new ultra-high temperature (UHT) and extended shelf-life (ESL) milk processing facility.
"This is an exciting day and marks the launch of a transformational investment being made by our farmer-owners," says Brad Anderson, president and CEO, CDI. "This new facility will process our Kern County-produced milk into innovative fluid milk products that have been seeing growth in demand throughout the U.S. and international markets."
CDI, the largest dairy farmer-owned cooperative in California and the second largest in the United States, is building this state-of-the-art milk processing facility under the name Valley Natural Beverages.
The project is being built in northern Kern County, a region with significant milk production but no local processing facilities, CDI notes. Not only will this investment significantly reduce the transportation distances of milk produced in Kern County, it also will further demonstrate CDI's commitment to sustainable solutions by incorporating renewable energy sources and waste conservation as key priorities in the facility and operational design, company officials say.
"As farmers, we aim to be good stewards of the land to leave a lasting legacy for future generations," says Simon Vander Woude, CDI's chairman of the board of directors. "CDI's member-farms are leading the way in implementing sustainable on-farm practices, and the construction of this state-of-the-art facility will carry that mission forward."
The 220,000-square-foot facility will be built on 30 acres of land in Northern Kern County. The facility is expected to create approximately 100 new jobs when fully operational in 2023.
• Cascade Cheese Co., Cascade, Wisconsin
Cascade Cheese Co. in Cascade, Wisconsin, has begun site preparations for an expansion of its on-site packaging operations. The natural cheese manufacturer produces conventional and organic Mozzarella and Provolone for markets nationwide.
According to Billie Jean Brede, office administrator for Cascade Cheese, the expansion is a result of the company's growing need for packaging space due to previous plant additions that have automated operations and boosted cheese output.
The project broke ground this week and will encompass three phases. The projected cost is around $6 million and will include a 1,200-pallet cooler expansion, a wastewater treatment addition and an additional brine system. The expansion will add about 10,000 square feet to the existing facility, will create about 10 new jobs and is expected to be complete in roughly three years, company officials say.
• Darigold Inc., Pasco, Washington
Darigold Inc. is building a new premium protein and butter operation in Pasco, Washington, that will feature a suite of state-of-the-art technologies and strategies designed to reduce greenhouse gas emissions. When operational, these strategies will cut per unit emissions by 25% compared to the company's existing baseline, officials say.
Darigold's agreement with the Port of Pasco marks another major milestone in implementing the farmer-owned cooperative's 2050 carbon neutral goals.
"Our producers have been at the vanguard of the dairy sector for over 100 years, constantly building on their outstanding record of sustainability and stewardship practices," says Stan Ryan, president and CEO, Darigold. "They are proud to boost the co-op's competitiveness with this future-forward investment in a next-generation dairy facility, preserving the legacy of nearly 350 multigenerational farms."
Part of the Seattle-based organization's wider transformation and trade-intensive growth plan, the specialized 400,000-square-foot protein and butter facility will incorporate a variety of innovative technologies and conservation strategies that combined could mitigate more than 300,000 metric tons of carbon dioxide equivalent per year, officials say.
Darigold will deploy anaerobic digestion technology as part of the on-site wastewater treatment strategy and use the extracted methane as a natural gas substitute, reducing fossil fuel use. This will be complemented by best-in-class machinery that enables heat and energy recovery and reuse. In addition, the new infrastructure is designed to accommodate future electric vehicles, including a potential conversion of the co-op's large fleet of semi-trucks — further reducing greenhouse gas emissions associated with transportation.
Situated within the multimodal Port of Pasco on the Columbia River, the facility will have access to both rail and barge facilities and will slash the distance trucks travel for milk pickups and deliveries by 5 million miles annually.
In addition to investing approximately $500 million in the project, Darigold is expecting to create more than 1,000 on-site and indirect supply chain and service jobs. Initial site development is expected to start in early 2022, with full commercial production targeted for late 2023 or early 2024.
Photo courtesy of Deville Technologies
EXPANDED SERVICES — Deville Technologies' new plant in Kenosha, Wisconsin, has expanded client testing facilities to enable up to three companies to conduct trials and product testing at the same time. The U.S. hub, located between Milwaukee and Chicago, enables companies to come in from around the world to trial their products and get to know Deville's products as well, says Paul Krechel, sales director of USA and international for Deville Technologies.
• Deville Technologies, Kenosha, Wisconsin, and Montreal
Deville Technologies, a client-centric company supplying solution-based manufacturing technologies for the food industry, is undergoing expansions at its U.S. and Canadian headquarters in Kenosha, Wisconsin, and Montreal, respectively.
A new facility is nearly complete in Kenosha, with company officials anticipating a move-in date in November. Meanwhile, the company recently closed on an existing facility in Montreal that it plans to renovate and become operational by spring 2022.
The Kenosha facility houses the company's U.S. Center of Excellence and is expanding pilot testing facilities to enable up to three companies to utilize the facilities for research and trials at the same time, says David Penta, president and CEO, Deville Technologies.
"This will give us a lot more efficiency in doing trials and more capacity for trials," Penta says. "We're really focused on our client experience and servability."
Together, the two expansion projects will increase the company's capacity by 125%, he adds. Several positions will be created as well.
"We've had exponential growth over the years, and we're bursting at the seams. This increased capacity will help us to meet client demands," Penta says.
Paul Krechel, sales director of USA and international at Deville Technologies, adds that the Kenosha location has become the new hub for the company's international and domestic clients.
"Companies can come in from all over the world to trial their products and get to know our products as well," Krechel says. "We're very close to Chicago and Milwaukee, so it's easy for our customers to get to us and our facility."
Krechel adds the company now has the ability to do testing on full line solutions as opposed to just one piece of equipment at a time.
"It adds to our consultative approach for both existing and new clients to test and see what our products are made of. It's also a great place for them to come with new projects," he says.
• Dreyers Grand Ice Cream, Fort Wayne, Indiana
Dreyer's Grand Ice Cream this summer announced plans to invest more than $145 million in an expansion of its Fort Wayne, Indiana, production facility, anticipating up to 145 jobs by the end of 2024.
The plans include two new production lines for the company's Drumstick products, set to be fully operational by the end of 2023. The company notes that this is in addition to another new Drumstick production line, announced in October 2020, which already is up and running.
"We have been serving customers across the United States our delicious and quality ice cream for over 35 years from our Fort Wayne facility and are very excited to continue to grow our capacity and team to make more ice cream with this sizable investment," says Julia Zirpoli, factory manager at Dreyer's Grand Ice Cream's Fort Wayne facility.
Founded in 1928, Dreyer's is headquartered in the San Francisco Bay Area and is part of Froneri, a global ice cream company with operations in Europe, Latin America, Africa, the Asia-Pacific region and the United States.
Dreyer's currently employs about 400 at its Fort Wayne facility. The company says the 100-plus new manufacturing job opportunities will support the new Drumstick ice cream production lines, offering competitive hourly rates as well as full benefits including a starting balance of three weeks of paid time off.
• Ellsworth Cooperative Creamery, Menomonie, Wisconsin
Ellsworth Cooperative Creamery is nearing completion of its new cheese plant in Menomonie, Wisconsin. The plant will produce natural Cheddar and American styles as well as Muenster, with initial milk intake targeted at 600,000 pounds per day, company officials say.
The new 60,000-square-foot facility will include a retail store that will feature cheese as well as a grill, deep fryer and pizza oven. It will create at least 42 new positions.
Company officials say they hope to open the facility at the end of the year or in early 2022.
• First District Association, Litchfield, Minnesota
First District Association recently celebrated 100 years in business by inviting employees, dairy farmer members, business partners and community members to a tour of its expanded facilities in Litchfield, Minnesota.
Three new plant expansions for cheese, lactose drying and milk receiving were completed this summer.
The expansions will allow First District to process 7.5 million pounds of milk per day in Litchfield. The cooperative now is able to produce 40-pound cheese blocks in addition to 500-pound barrel cheese, notes President and CEO Bob Huffman.
"The cooperative turned 100 years old in April. We have between 750-800 cooperative members. Their investment into this new facility will help set us up for the next 100 years," Huffman says. "We also want to thank our partners including RELCO, Tetra Pak, Advanced Process Technologies and Streck for their assistance in building the facility."
• Great Lakes Cheese Co. Inc., Abilene, Texas, and Franklinville, New York
Great Lakes Cheese Co. earlier this year broke ground on a new, $184.5 million state-of-the-art facility in Abilene, Texas.
The facility will include 286,500 square feet of packaging and warehouse space. The project is expected to employ more than 500 people from Abilene.
"This groundbreaking marks the beginning of our generational commitment to Abilene," says Dan Zagzebski, CEO, Great Lakes Cheese. "Great Lakes Cheese's expansion into Texas represents our dedication to provide exceptional service to our customers. We look forward to investing in this great community and our Abilene employee-owners."
Last month, Great Lakes Cheese also announced it is building a new manufacturing and packaging plant in Franklinville, New York. With a capital investment of more than $500 million, the project is the largest infrastructure investment in the company's 63-year history and will nearly double the size of its current workforce in the Southern Tier of New York.
The expanded capacity and capabilities of the new 500,000-square-foot facility will support the growing Great Lakes Cheese network, company officials say. Construction is slated to begin in the spring of 2022. The new plant will replace the existing facility in Cuba, New York, upon completion in early 2025.
Although the Cuba facility will cease operations with Great Lakes Cheese, discussions are underway to identify possible future uses for the site, officials say.
"Our employee-owners are our greatest asset," says Kurt Epprecht, second-generation Epprecht family owner. "The Epprecht family and board of directors are thrilled to have found the location and community needed to support such a major investment in nearby Franklinville. We look forward to building one of the country's premier cheese manufacturing and packaging facilities for our current employee-owners and the hundreds who will join the Great Lakes Cheese family."
• High Desert Milk, Burley, Idaho
High Desert Milk earlier this year announced a major expansion that nearly doubles its output. The $50 million project will allow the Burley, Idaho-based cooperative to increase its annual butter output from 45 million pounds to 85 million pounds and add a new, high-demand milk powder product called MPC-70 to its lineup.
The co-op will yield 36 million pounds of MPC-70 annually in addition to the 68 million pounds of nonfat dry milk it currently produces each year. High Desert's CEO Randy Robinson says 60% of its MPC-70 is earmarked for Latin America.
Robinson notes the new production line, which is part of a 10-year growth plan, became operational in June. Although a cooperative, High Desert recently began contracting milk.
High Desert Milk employed 105 people prior to this expansion, and the company added another 44 jobs with the new MPC-70 production line. This is the second large expansion since the plant was built in 2008. In 2013, the co-op added an extra 500,000 pounds of butter-making capacity to the existing facility.
• Hilmar Cheese Co., Dodge City, Kansas
Hilmar Cheese Co. earlier this year announced the company's decision to build a new state-of-the-art cheese and whey protein processing plant in Dodge City, Kansas.
Hilmar expects the facility to be fully operational in 2024.
The new facility is expected to create 247 new jobs and represents $460 million in capital investment. The project is estimated to bring an additional $550 million in capital investment and 750 new jobs within a 50-mile radius of Dodge City by late 2023.
Hilmar Cheese Co. President and CEO David Ahlem says Dodge City is an "ideal choice" given its central location, critical existing infrastructure, proximity to the growing local dairy industry and business-friendly climate.
The state-of-the-art facility will showcase sustainable solutions. Hilmar Cheese notes the company has adopted the U.S. Dairy Stewardship Commitment and goal to achieve a net zero dairy industry by 2050.
"We want our plant to be as good for the environment as it will be for the local economy," Ahlem says.
"We'll use technologies and sustainable practices to promote carbon neutrality."
The new facility will help Hilmar Cheese meet the growing demand of its customers and the marketplace for cheese and whey products worldwide. In addition to job creation,the plant will create opportunities for the Dodge City community, promote growth for Kansas dairy producers and help Hilmar Cheese fulfill its purpose to improve lives, Ahlem says.
• Kansas Dairy Ingredients, Hugoton, Kansas
Kansas Dairy Ingredients (KDI) Cheese Co. this summer announced it is expanding its operations in Southwest Kansas, creating 40 new jobs and investing $45 million in the Hugoton, Kansas, community.
The facility will produce American-style, Italian-style and Hispanic-style cheese, and European-style cheese and butter. KDI says this expansion will be environmentally conscious, with the company committed to increased investment in water reclamation and eco-friendly construction practices.
According to the company, a major factor in the decision to expand in Hugoton was the quality local milk supply.
"We are very excited to announce our expansion in Kansas and appreciate the collaboration of our local Hugoton leadership for their continued support," says Tim Gomez, CEO, KDI Cheese Co. "The State of Kansas, our industry partners and KDI team associates made this possible. The local dairy community has invested greatly into Kansas for many years, and they have supported KDI since day one. We now have an opportunity to give that support back by providing a secure, long-term home for their milk.
Construction began in late 2020, and the company expects to open this fall.
• Leprino Foods Co., Lubbock, Texas
Texas Gov. Greg Abbott late last week announced at a press conference that Leprino Foods Co. will establish a new dairy products manufacturing facility in Lubbock, Texas. Abbott was joined in Lubbock by Mayor Dan Pope, Councilwoman Shelia Harris-Patterson, County Judge Curtis Parrish, Leprino Foods CEO and President Mike Durkin and other local leaders.
The project will create 600 new jobs and nearly $870 million in capital investment. A Texas Enterprise Fund (TEF) grant of $4.2 million has been extended to Leprino Foods.
"I am proud to welcome Leprino Foods and their new manufacturing facility, and hundreds of new jobs and investment, to West Texas," Abbott says. "By selecting Lubbock as the location for their new manufacturing facility, Leprino Foods will earn the powerful distinction of being a Made in Texas brand company. I look forward to working alongside Leprino to keep the Lone Star State the best place to live, work, raise a family and do business."
Durkin adds the company is excited for the opportunities that the Lubbock region provides, as well as bringing people, processes and technology together at a new, state-of-the-art facility.
"Furthermore, this new plant will play a critical role in the dairy industry in Texas and will have a substantial regional impact for local dairy farmers across the South Plains to fulfill daily production needs," Durkin adds. "As we prepare to break ground on this new facility, hire local talent and establish ourselves as a responsible corporate citizen, we also look forward to being part of the vibrant and growing Lubbock community."
The company plans to break ground on the facility in the summer of 2022. Once it becomes fully operational in the spring of 2025, the investment will result in $10.6 billion over the next 10 years, company officials say. Roughly 200 trucks per day will be needed to service the completed facility
• Masters Gallery Foods, Oostburg, Wisconsin
Masters Gallery Foods recently began construction to add 110,000 square feet onto its packaging and distribution center in Oostburg, Wisconsin, bringing the total facility to more than 285,000 square feet.
The expansion will double the current production area while significantly adding to dry storage, bulk cheese and finished goods warehousing space. Project completion is estimated to be within the second quarter of 2022.
"Masters Gallery continues to experience strong growth within our private brand retail and foodservice cheese business, and this expansion is necessary to facilitate that growth while creating capacity for new opportunities," says Jeff Gentine, president and CEO, Masters Gallery Foods. "It will also relieve some pressure on our main facility in Plymouth by allowing us to better spread production and minimize transfers between locations."
Initial construction of the Oostburg facility was completed in May 2018 and has led to nearly 250 new jobs for Sheboygan County since production began. Oostburg was deemed an ideal location thanks to its proximity to Sheboygan and to Highway 43, which helps to attract employees living outside the local area. The new expansion is expected to add roughly 125 jobs as new packaging lines are installed.
• Northland Cheese/Performance Food Group, Rice, Minnesota
Performance Food Group (PFG) this summer announced it is planning to expand its Performance Foodservice-Minnesota/Northland Cheese manufacturing operation with an investment of more than $12 million, creating at least 22 new jobs. Improvements to the existing facility in Rice, Minnesota, began this summer and are expected to be completed in early 2022.
Performance Food Group, a leader in foodservice distribution and parent company of Performance Foodservice-Minnesota/Northland Cheese, has operated the Rice facility since 1976 and processes and distributes shredded cheese to PFG facilities and customers nationwide from the existing location. The new jobs and investment will allow the company to better serve new and existing customers as well as create additional cheese production opportunities for Minnesota dairy farmers.
The Benton Economic Partnership worked to secure commitments from the MN DEED's Job Creation fund and Minnesota Investment Fund programs to support the project. The Minnesota Investment Fund, which takes the form of a loan to the company, also permits $100,000 of the repaid amount to be retained by the City of Rice to support a revolving loan fund to advance future small business growth in the community.
Additionally, both the City of Rice and Benton County approved a partial abatement of the incremental property taxes generated by the company's new investment as an incentive to win the project for the community. Both the state and local incentives are performance based and specifically tied to the company meeting specific job creation and investment targets.
• Oregon State Ag College, Corvallis, Oregon
Oregon State University's (OSU) College of Agricultural Sciences this summer announced plans to build a $20 million state-of-the-art dairy processing facility that will further advance the university and Oregon's dairy industry as national leaders in dairy quality, innovation and sustainability.
The new dairy plant will provide researchers and students a facility to address some of the most pressing issues facing the dairy industry. The plant will be located in OSU's Withycombe Hall where an original dairy — now known as the Arbuthnot Dairy — was built in 1952.
"This facility will provide us the tools necessary to work toward a sustainable future for the dairy industry," says Alan Sams, dean of the College of Agricultural Sciences, director of the Oregon Agricultural Experiment Station and Reub Long Professor. "OSU is perfectly positioned to lead that effort with its scientific expertise, eager students, and innovative artisan and large-scale dairy industry partners."
The $20 million dairy plant renovation includes investment from industry partners, the university and the College of Agricultural Sciences. The three lead donors, who made gifts through the Oregon State University Foundation, were Tillamook County Creamery Association (TCCA), Northwest Farm Credit Services and the Oregon Dairy and Nutrition Council.
"Oregon State University has been a key partner in the development of dairy in Oregon," says Patrick Criteser, president and CEO of TCCA, which sells dairy products under the Tillamook brand name. "This new facility will help us establish Oregon as a leader in the nation in developing innovative dairy practices and products vital for the future of the industry."
With access to state-of-the-art equipment, students will be better positioned to pursue careers in many aspects of the dairy industry, notes Lisbeth Goddik, department head for Food Science and Technology at OSU.
The dairy plant is a key component of a $51 million renewal of Withycombe Hall that also will address seismic safety, energy efficiency and accessibility, and modernization of the 70-year-old research and academic building.
The new plant will allow the College of Agricultural Sciences to expand research collaborations with other units on campus to address questions such as how dairy cow feed influences the flavor of cheese.
Led by the OSU Foundation, additional fundraising is underway to supply the facility with equipment and other tools.
Photo by Barry Fleisher
BLOCK PARTY — Rumiano Cheese Co.'s new processing and packaging plant in Willows, California, will allow the company to double its current packaging volume by the end of 2025 and increase its processing and distribution capacity, company officials say.
• Rumiano Cheese Co., Willows, California
Rumiano Cheese Co. hosted a ribbon-cutting ceremony in August for its new processing and packaging plant in Willows, California. The 46,766-square-foot plant will allow the company to double its current packaging volume by the end of 2025 and increase its processing and distribution capacity, the company says.
"The new facility was 100% designed with our employees top of mind as it comes with ergonomic innovations and career advancement opportunities," says CEO Joe Baird. "People can really grow here.
It also gives Rumiano Cheese new capabilities, including retail shredding and a research and development site where we can test new innovations."
Construction of the new facility was supported by a $1.8 million economic development grant from the City of Willows along with private funding. Rumiano retained all 150 current employees and is actively recruiting additional employees to support its new growth plans. Rumiano currently employs more than 200 people between its production plant in Crescent City, California, where its cheese is made, and its facility in Willows, where all products are processed and packaged for distribution.
• Saputo Dairy USA, Las Cruces, New Mexico
Saputo Dairy USA earlier this year was awarded state economic assistance to expand its Las Cruces, New Mexico, manufacturing operation and add 150 employees.
As part of the expansion, Saputo Dairy USA is planning to invest up to $30 million in its existing facility at the Las Cruces Innovation and Industrial Park.
To support the company's growth, the state of New Mexico has committed $2.5 million from the Local Economic Development Act job- creators fund, including a $1 million bonus for developing the project in an Opportunity Zone, and the City of Las Cruces has pledged $300,000. The Las Cruces City Council also will consider an Industrial Revenue Bond. The expansion is expected to have a total positive economic impact on the state of $1.6 billion over the next decade, officials say.
The company also has qualified for a state Job Training Incentive Program (JTIP) Grant and the City of Las Cruces Wage Plus Program, an incentive program for hiring and paying employees above the median wage.
The Mesilla Valley Economic Development Alliance (MVEDA) worked closely with Saputo Dairy USA, along with the state's and city's economic development teams, to create an incentive package aligned with the company's needs to expand its capabilities in Las Cruces.
Saputo Dairy USA is part of Saputo Inc., one of the world's top 10 dairy processors, founded in Montreal, in 1954. Saputo Inc. has operations in Canada, the United States, Australia, Argentina and the United Kingdom, with products sold in more than 50 countries.
• Sartori Co., Plymouth, Wisconsin
The Plymouth Planning Commission this summer approved the expansion of a Sartori Cheese whey converting facility, which will add more than 22,000 square feet to the existing cheese plant in Plymouth, Wisconsin. Sartori Cheese products are converted and packaged at this facility before being shipped to specialty cheese shops, grocery stores, restaurants and food manufacturers all around the world.
The plant sits along County Road PP in Plymouth and currently is 83,854 square feet. Abacus Architects presented the plans for the expansion. Construction began in the spring, and the project is scheduled to be completed this fall.
"We are incredibly grateful for the trust our customers place in us, for the passion of our consumers and for the hard work of Sartori team members and family farms," says Bert Sartori, fourth-generation family member and president of Sartori Cheese. "This project will expand our capabilities and put our growing, innovative business in a position to meet customer demand well into the future."
• Smiley's Ice Cream, Rockingham County, Virginia
Smiley's Ice Cream, a producer of premium, homemade-style ice cream based in Mt. Crawford, Virginia, is nearing completion on a new ice cream manufacturing facility and retail store located less than a quarter mile west in the Town of Bridgewater, Virginia. The company has invested more than $1.15 million in the project and will create eight new jobs, according to Virginia Gov. Ralph Northam. As part of this expansion, the company will source an additional 18,000 gallons of Virginia-produced dairy and an additional 2,500 pounds of Virginia-grown fruits over the next three years.
The new facility will allow Smiley's to more than double production, increase storage and offer patrons additional parking and expanded seating areas, both indoors and out.
As of this summer, the company had completed roofing and siding of the new building.
• Specialty Cheese Co., Reeseville, Wisconsin
Specialty Cheese Co. earlier this year completed an expansion project to increase capacity for production of its fresh cheeses and snack line, Just the Cheese, at its facility in Reeseville, Wisconsin.
President Paul Scharfman says the company added 10,000 square feet to the facility, including new vats, packaging lines, pasteurizers and more.
"We started running milk in the new factory in late May," Scharfman says. "We have added about 50 jobs and increased production about 40%.
"We're blessed with growing markets, and what this expansion does is allow us not to say 'no' when our customers want more cheese," he adds.
• Straus Family Creamery, Rohnert Park, California
Straus Family Creamery this summer moved its production plant from its original home of 27 years in Marshall, California, to a new facility in Rohnert Park, California. The new creamery, a 50,000-square-foot, state-of-the-art facility, is producing its entire line of 72 retail and foodservice organic dairy products made from certified organic milk from 12 small-scale family farms, averaging 250 cows per dairy, in California's Marin and Sonoma counties.
Practices to reduce waste and use renewable energy are the primary focus of the company's sustainability strategy. The new facility was designed to help the company become more efficient as a manufacturer and allow more advanced sustainable practices, such as zero-waste production in the future.
"This is a huge step in our company's history. This new facility gives us a greater focus on fulfilling our mission to sustain family farms and revitalize rural communities while creating a financially viable, replicable carbon-neutral farming model and sustainable food production," says Albert Straus, founder and CEO, Straus Family Creamery.
With a larger and more modern manufacturing facility, Straus Family Creamery says it can increase the capacity of its current dairy products and enter new organic dairy categories. Straus Family Creamery adds that it looks forward to expanding its network of farmers from the current 12 certified organic dairy farms in the North Bay.
The original Marshall creamery could process up to 20,000 gallons of fluid milk each day, and the new plant is expected to double that quantity in the future. Qualtech, a company that specializes in designing dairy manufacturing plants, designed and built the new creamery.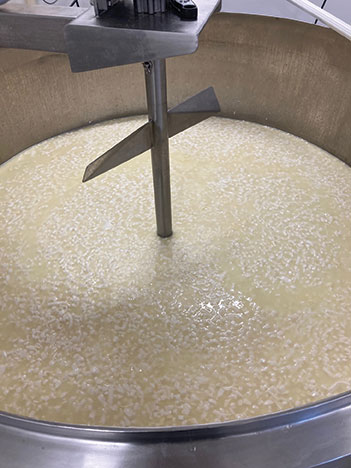 Photo courtesy of Taste and See Creamery
STIR THE CURD—Taste and See Creamery is producing fresh cheese curds at its new creamery in Boyceville, Wisconsin, which opened in May.
• Taste and See Creamery, Boyceville, Wisconsin
Taste and See Creamery earlier this year received a $20,000 grant from the Dairy Business Innovation Alliance that the creamery used to purchase a vat pasteurizer for its new creamery that opened in May on its grass-fed dairy farm in Boyceville, Wisconsin.
Casey Sutliff, cheesemaker and owner, Taste and See Creamery, says the creamery twice weekly has been producing fresh cheese curds that it sells at the Menomonie farmers market as well as local gas stations, retailers and a pumpkin patch.
"We purchased a cheese press late this summer and have begun to age some Cheddar cheese," Sutliff adds. "We have expanded our dairy herd from the original five cows up to 13 currently with more heifers bred for spring."
• University of Wisconsin-Madison Babcock Hall Dairy Plant and Center for Dairy Research, Madison, Wisconsin
The highly-anticipated University of Wisconsin Center for Dairy Research (CDR) and Babcock Hall Dairy Plant addition is progressing, officials say.
Phase one — constructing the three-story CDR addition — is nearing the "substantial completion" stage, where the space can be occupied and used for its intended function. The addition will be ready for CDR occupancy later this year, after which the second phase of the project will begin, according to the Wisconsin Cheese Makers Association (WCMA).
The renovation and addition will provide a state-of-the-art production, teaching and research facility for both CDR and the food science department's dairy plant.
The complete remodel of the Babcock Hall dairy plant, which includes the addition of a new raw room on the south end, new flooring and equipment, and remodeled office space for CDR are scheduled to be complete in September 2022.
The $72.6 million project, made possible by support from WCMA members, UW-Madison, and the state of Wisconsin, features new equipment, training space and research tools that will help CDR support innovation and global competitiveness in the dairy industry.
• University of Wisconsin-River Falls, River Falls, Wisconsin
Wisconsin Department of Agriculture, Trade and Consumer Protection (DATCP) Secretary Randy Romanski and Wisconsin Economic Development Corp. (WEDC) Secretary and CEO Missy Hughes recently visited the University of Wisconsin-River Falls (UWRF) to see the renovated Dairy Pilot Plant.
"I am excited at the prospect the renovated facility has to develop new talent for our dairy and food processor industries," Romanski says. "Now more than ever we need an educated workforce to help lead innovation for all points of our dairy industry – from the farm to product development."
UWRF renovated its 30-year old dairy plant to provide teaching and training opportunities that will give graduates a competitive edge.
"Farmers and small dairies are always under pressure to come up with unique products," Hughes says.
"This facility will enable these entrepreneurs to develop and test new products that could increase demand for Wisconsin's milk."
WEDC awarded the UWRF Dairy Pilot Plant project a $250,000 Targeted Industry Projects grant that helped fabricate the plant's high-temperature short-time pasteurization system.
"The project to transform our Dairy Pilot Plant has been an important university priority. Our students need facilities that offer modern high-quality, hands-on experiences, better equipping them to become tomorrow's leaders in Wisconsin's signature industry," says Maria Gallo, UWRF chancellor. "We are grateful to the philanthropic support of industry partners and state agencies like WEDC and DATCP for their collaboration in this renovation process."
CMN