U.S. dairy invests in facilities, employees and communities
Editor's note: Plants in Progress is a special segment spotlighting new facilities and expansion in the U.S. dairy sector. As the industry works to meet new demand, growth and expansion are inevitable. Here, we provide a glimpse into new cheese and dairy plants and expansions across the country — from initial groundbreaking to full operation, and everything in between.
By Alyssa Mitchell
MADISON, Wis. — Despite ongoing challenges with workforce shortages, more jobs are emerging in the U.S. dairy sector as manufacturers continue to add capacity in response to ongoing demand for American-made cheese, yogurt, butter and innovative dairy beverages.
From the mountains of Washington to the hills of Wisconsin to the diverse landscape of New York, U.S. dairy operations are investing in their plants, their employees, their communities and their products.
In the following pages, you'll read about companies that are moving beyond manufacturing to create destinations for cheese enthusiasts to tour, taste and learn about the products they crave. Others are adding worker amenities and new technologies to become more efficient and environmentally conscious.
One thing is common across the board — these companies are investing in their future, and the future of dairy is bright. Many of the projects profiled are taking advantage of state and local tax incentives as they add more jobs and bolster the economies in which they reside. As COVID-related restrictions ease, many dairy plants are opening their doors to consumers with viewing and tasting rooms, retail stores and educational opportunities.
Across the United States, one thing is clear: Dairy is open for business.
Please read on for more on these Plants in Progress ...
Photo courtesy of Agri-Mark
INCREASED EFFICIENCIES — Agri-Mark is nearing completion of the first phase of a $16 million expansion project at its plant in Chateaugay, New York. This phase of the project includes a new state-of-the-art cheese production room to improve plant efficiency.
• Agri-Mark, Chateaugay, New York
Agri-Mark last summer broke ground on a $16 million expansion at its plant in Chateaugay, New York. Part of a $30 million plant modernization project that began in 2016, the expansion will help the cooperative retain more than 100 full-time employees and support an additional 514 agricultural jobs in the region.
The expansion and restoration of Agri-Mark's Franklin County facility involves rebuilding the co-op's 110,641-square-foot manufacturing center, re-engineering the layout of the facility and purchasing new machinery and other equipment. This phase of the project includes $16 million for a new state-of-the-art cheese production room to improve plant efficiency.
The project is supported in part with $6 million in funding from Empire State Development, including $4 million in Economic Transformation Program funds.
Officials say the expansion is on target for completion in the last half of 2022. Additional work will need to be completed in 2023, with the project expected to be fully operational by fourth quarter 2023.
• Agropur, Little Chute, Wisconsin
Agropur last fall announced a major expansion of its facility in Little Chute, Wisconsin. Agropur is building a new state-of-the-art facility to meet growing market demand and significantly increase its production of cheese and dairy ingredients.
"Having a new state-of-the-art facility in Little Chute will help us solidify our leadership position in the dairy industry. Beyond speed and efficiency, the new processes and equipment will provide greater flexibility and will allow Agropur to offer a broader line of products to meet our customers' needs," says Doug Simon, president, U.S. operations, Agropur. "With this new plant, we're increasing production capacity so Agropur can help its clients live up to their brand promises."
The $168 million investment is Agropur's second-largest ever in the United States, after the expansion of its Lake Norden, South Dakota, facility in 2018. Agropur will be eligible for up to $4.5 million in state tax credits over the next four years based on meeting hiring and capital expenditure goals.
The new Little Chute facility will encompass more than 210,000 square feet and expand Agropur's production of cheese and ingredients — in fact, current milk processing volume should more than double, from 300 million pounds to 750 million pounds per year, Simon says. In addition, the project will involve construction of a cutting-edge wastewater treatment facility that will generate energy, supporting sustainability efforts, officials say.
The new plant is being built just north of Agropur's existing Little Chute facility at 2701 Freedom Road, and design is being led by Excel Engineering, Fond du Lac, Wisconsin. The project broke ground in mid-2021, and the expanded plant is expected to be fully operational by early 2023.
• BelGioioso Cheese, Glenville, New York
The Schenectady County Metroplex Development Authority late last year announced that BelGioioso Cheese Inc. will expand its operations in Schenectady County, New York.
The company plans to renovate Building 403, a 120,000-square-foot building located at the Glenville Business & Tech Park. The renovated building will include 60,000 square feet of new cold storage/cooler space plus offices and room for future expansion. Once the newly renovated storage facility is open, 10 new jobs will be added in Glenville.
"We are pleased to announce this new cold storage facility in Glenville to service the needs of our rapidly expanding business," says Tim Cronin, general manager, BelGioioso Cheese. "We have seen tremendous growth from our operations in Schenectady County — a testament to the commitment and leadership of our owners, the Auricchio family, our dedicated employees, dairy farm partners and our loyal customers."
LeChase Construction of Schenectady, New York, will complete the renovation work with a target opening date at the end of 2022.
Photo courtesy of Byrne Dairy
REPURPOSING — Byrne Dairy recently removed fermentation and surge tanks, which are being repurposed as batch tanks for its retooled extended-shelf-life and aseptic dairy product facility in Cortlandville, New York. The company is investing $25 million in the project, which is slated for completion in September.
• Byrne Dairy, Cortlandville, New York
Byrne Dairy Inc. late last year announced it is making another major investment in its dairy processing facility in Cortlandville, New York.
Byrne is investing $25 million to retool the facility, originally built in 2014, to produce extended-shelf-life and shelf-stable dairy products.
Expansion of the facility began in January and is expected to be complete in September 2022. New processing and filling equipment lines will be installed, and the building footprint will be expanded.
The company recently removed fermentation and surge tanks, which are being repurposed as batch tanks for the extended-shelf-life facility, says Carl Byrne, president and CEO of Byrne Dairy.
"We're excited by the growth in our extended-shelf-life and aseptic platforms," Byrne says. "This investment in our Cortlandville facility will have an instant positive impact on our ability to serve these markets."
Byrne currently employs 80 people at the facility, and the company is expected to add more as production fully resumes in late 2022. The project is expected to create 50 construction and installation jobs during the retooling process.
• Darigold Inc., Pasco, Washington
Darigold Inc. is building a new premium protein and butter operation in Pasco, Washington, that will feature a suite of state-of-the-art technologies and strategies designed to reduce greenhouse gas emissions. When operational, these strategies will cut per unit emissions by 25% compared to the company's existing baseline, officials say.
Darigold's agreement with the Port of Pasco marks another major milestone in implementing the farmer-owned cooperative's 2050 carbon neutral goals.
"Our producers have been at the vanguard of the dairy sector for over 100 years, constantly building on their outstanding record of sustainability and stewardship practices," says Stan Ryan, president and CEO, Darigold. "They are proud to boost the co-op's competitiveness with this future-forward investment in a next-generation dairy facility, preserving the legacy of nearly 350 multigenerational farms."
Part of the Seattle-based organization's wider transformation and trade-intensive growth plan, the specialized 400,000-square-foot protein and butter facility will incorporate a variety of innovative technologies and conservation strategies that combined could mitigate more than 300,000 metric tons of carbon dioxide equivalent per year, officials say.
In addition to investing approximately $500 million in the project, Darigold is expecting to create more than 1,000 on-site and indirect supply chain and service jobs. Land for the project has been secured, with a groundbreaking expected soon, and full commercial production targeted for late 2023 or early 2024, officials say.
Photo courtesy of Ellsworth Cooperative Creamery
OPEN FOR BUSINESS — Ellsworth Cooperative Creamery recently began production at its new, 60,000-square-foot cheese plant in Menomonie, Wisconsin. The project also includes a retail store where consumers can observe the cheesemaking process through viewing windows.
• Ellsworth Cooperative Creamery, Menomonie, Wisconsin
Ellsworth Cooperative Creamery recently began production at its new cheese plant in Menomonie, Wisconsin. The plant will produce natural Cheddar and American styles as well as Muenster, with initial milk intake targeted at 600,000 pounds per day, company officials say. The company also added an anaerobic digester to pretreat the waste prior to discharging it into the Menomonie water system.
The new 60,000-square-foot facility includes a retail store that features cheese as well as a grill, deep fryer and pizza oven. The entire cheesemaking process is available through viewing windows for customers to see as well.
• Great Lakes Cheese, Franklinville, New York
Great Lakes Cheese is building a new manufacturing and packaging plant in Franklinville, New York. With a capital investment of more than $500 million, the project is the largest infrastructure investment in the company's history and will nearly double the size of its current workforce in the Southern Tier of New York.
The expanded capacity and capabilities of the new 500,000-square-foot facility will support the growing Great Lakes Cheese network, company officials say. Construction is slated to begin this spring. The new plant will replace the existing facility in Cuba, New York, upon completion in early 2025.
Although the Cuba facility will cease operations with Great Lakes Cheese, discussions are underway to identify possible future uses for the site, company officials say.
This week, New York Gov. Kathy Hochul announced that the New York Power Authority Board of Trustees has approved economic development awards to 17 companies that will support more than 2,300 jobs and spur more than $671 million in capital investments, including an award for Great Lakes Cheese's Franklinville project that includes low-cost power through the statewide ReCharge NY program.
• Hilmar Cheese Co., Dodge City, Kansas
Hilmar Cheese Co. is building a new state-of-the-art cheese and whey protein processing plant in Dodge City, Kansas.
The final design is complete and construction is expected to begin in late 2022. The facility will showcase sustainable solutions that support the industry's goal to achieve a net zero dairy industry by 2050.
"This project and the associated dairy farms needed to supply the facility will bring more than $1 billion in investment and approximately 1,000 jobs to Southwest Kansas. Dodge City was selected for its central location, critical existing infrastructure, proximity to the growing local dairy industry and its business-friendly climate," says Denise Skidmore, director of education and public relations for Hilmar Cheese.
The new facility will create opportunities for the Dodge City community, promote growth for Kansas dairy producers and help Hilmar Cheese fulfill its purpose to improve lives, she adds.
Hilmar expects the facility to be fully operational in 2024.
Photo courtesy of Le Fermière
YOGURT COUNTRY — Pictured above is the Genesee Valley Agri-Business Park in Batavia, New York, the largest food and beverage greenfield in the Northeastern United States and the future site of a new 45,000-square-foot yogurt and dairy desserts production facility for France-based Le Fermière.
• La Fermière, Batavia, New York
La Fermière, a family-owned French yogurt and desserts company, has committed to building a 45,000-square-foot yogurt and dairy desserts production facility at the Genesee Valley Agri-Business Park in Batavia, New York, with plans for future additional expansion.
The total project cost is estimated at $25.8 million. La Fermière expects to be operational at the Batavia site by November 2023.
Empire State Development is assisting this project with up to $1.35 million in performance-based Excelsior Job Tax Credits in exchange for job creation commitments. Genesee County, Greater Rochester Enterprise and Invest Buffalo also are providing support for the company's growth in the state.
Founded as a yogurt producer in Marseille, France, in 1952, La Fermière was purchased by Groupe Tarpinian in 2002. In the mid- to late-2010s, La Fermière began working with a New York state-based co-packer in an effort to bring its French yogurt to the U.S. market. The company had considered site locations throughout the United States for its manufacturing facility but ended up selecting New York, the leading yogurt-producing state in the country.
"We are very excited to launch this project of building our very first (U.S.) yogurt and dessert production facility in Batavia, New York," says Jean-Jacques Tarpinian, La Fermière's president and CEO. "The Batavia site meets our main requirements for success: quality milk and large cream supply, logistics hub and workforce availability.
"Being close to local farmers, at the heart of milk production, was key for us, as we will use up to 6 million gallons of milk every year," Tarpinian adds. "Our five-year presence in the U.S. market expanded beyond our expectations. This state-of-the-art facility will help us achieve our very ambitious goal in the U.S. market, which offers large opportunities by manufacturing the best all natural yogurts and desserts, with innovative recipes and process."
The Genesee Valley Agri-Business Park was developed as the largest food and beverage greenfield in the Northeastern United States to connect the region's agricultural production, talent and transportation networks.
The 250-acre ag park and sur- rounding area has become the "Dairy Processing Hub" of the Northeast, with more than 1 million square feet of operations and approximately 1,000 workers employed across multiple production and supply chain companies.
• Leprino Foods Co., Lubbock, Texas
Leprino Foods Co. this summer plans to break ground on a new dairy products manufacturing facility in Lubbock, Texas. The project will create 600 new jobs and nearly $870 million in capital investment.
A Texas Enterprise Fund (TEF) grant of $4.2 million has been extended to Leprino Foods. Once the facility becomes fully operational in the spring of 2025, the investment will result in $10.6 billion over the next 10 years, company officials say. Roughly 200 trucks per day will be needed to service the completed facility
• Masters Gallery Foods, Oostburg, Wisconsin
Masters Gallery Foods is adding 110,000 square feet onto its packaging and distribution center in Oostburg, Wisconsin, bringing the total facility to more than 285,000 square feet.
The expansion will double the current production area while significantly adding to dry storage, bulk cheese and finished goods warehousing space.
Jeff Gentine, president and CEO, Masters Gallery Foods, says the expansion is on schedule, with project completion estimated to be within the second quarter of 2022.
"The first line installation will begin shortly thereafter with another scheduled for later this year," he says. "The coolers are being drawn down to temp, and we will immediately take advantage of the new bulk and finished goods space, which will also allow us to minimize transfers."
Gentine adds that the expansion is necessary to facilitate company growth while creating capacity for new opportunities.
"It will also relieve some pressure on our main facility in Plymouth by allowing us to better spread production and minimize transfers between locations," he says.
Initial construction of the Oostburg facility was completed in May 2018 and has led to nearly 250 new jobs for Sheboygan County since production began.
• Nestlé, Glendale, Arizona
Nestlé USA recently announced it is investing $675 million to build a new beverage facility in Glendale, Arizona.
The factory will produce high-quality creamers, including the Coffee Mate, Coffee Mate Natural Bliss and Starbucks brands, with the ability to expand to additional beverages in the future.
The facility will be designed with sustainability in mind. This includes a water recycling process to reduce water usage, a zero-waste landfill and fully recyclable product packaging made from food-safe recycled plastic. In support of the company's goal for zero environmental impact in operations by 2030, the new facility will strive for 100% renewable energy by 2025.
Arizona will provide an ideal environment for Nestlé's new operations, offering close proximity to customers and consumers in the Western United States and bringing more than 350 jobs to the community, the company says.
"We are honored to welcome the largest food and beverage company to Glendale's New Frontier. Their commitment to long-term positive impact aligns directly with the city's vision, and we look forward to having them join our community. The significant impact of their fiscal investment and the jobs created will be seen for years to come," says Glendale Mayor Jerry Weiers.
• Oregon State University College of Agricultural Sciences, Corvallis, Oregon
Oregon State University's (OSU) College of Agricultural Sciences this summer plans to commence building a $20 million state-of-the-art dairy processing facility that will further advance the university and Oregon's dairy industry as national leaders in dairy quality, innovation and sustainability.
The new dairy plant will provide researchers and students a facility to address some of the most pressing issues facing the dairy industry. The plant will be located in OSU's Withycombe Hall where an original dairy — now known as the Arbuthnot Dairy — was built in 1952.
Lisbeth Goddik, head of OSU's Department of Food Science & Technology, says operations will move out of the existing dairy this summer so the renovation can begin. It is expected to last about 18 months, with a projected move-in date in early 2024.
The $20 million dairy plant renovation includes investment from industry partners, the university and the College of Agricultural Sciences. The three lead donors, who made gifts through the Oregon State University Foundation, were Tillamook County Creamery Association (TCCA), Northwest Farm Credit Services and the Oregon Dairy and Nutrition Council.
Goddik says the facility will manufacture various types of cheeses, including Mozzarella, which will advance with the addition of a new Mozz stretcher. She notes the staff currently stretches its Mozzarella by hand.
The university also will be looking to hire a new dairy plant manager, she adds.
The new plant will allow the College of Agricultural Sciences to expand research collaborations with other units on campus to address questions such as how dairy cow feed influences the flavor of cheese.
Led by the OSU Foundation, additional fundraising is underway to supply the facility with equipment and other tools.
• Post Holdings Inc., Columbus, Ohio
Post Holdings Inc., a consumer packaged goods company, recently announced plans to open a new 215,000-square-foot protein beverage manufacturing facility in West Jefferson, Ohio. The project is estimated to cost $86 million and is projected to create 200 new jobs over the next four years. Hiring for management and production positions is expected to begin in the third quarter of 2023, company officials say.
"We are excited to begin construction on our West Jefferson property," says Steve Schonhoff, senior vice president of integrated supply chain, Michael Foods, a wholly owned subsidiary of Post Holdings Inc. "The JobsOhio team and the developer Fed One Dublin LLC have been great to work with throughout the development process. The location is a terrific addition to our supply chain."
Located at 2 Walker Way in West Jefferson, the manufacturing facility will be managed by Michael Foods Inc. The intent of the facility is to produce protein drinks for BellRing Brands Inc., which owns the Premier Protein brand. Its centralized location will help the company better serve North American customers and provide capacity for continued success in the fast-growing protein beverage category, officials say. Post's investment will go toward construction, machinery and equipment.
"Post Holdings' new facility will expand economic diversity in the Village of West Jefferson and the Columbus Region," says West Jefferson Mayor Ray Martin. "We're excited to have Post Holdings invest and grow in our community."
• Saputo Dairy USA, Las Cruces, New Mexico, and Franklin, Wisconsin
Saputo Dairy USA last year was awarded state economic assistance to expand its Las Cruces, New Mexico, manufacturing operation and add additional employees.
As part of the expansion, Saputo Dairy USA is investing up to $30 million in its existing facility at the Las Cruces Innovation and Industrial Park.
To support the company's growth, the state of New Mexico has committed $2.5 million from the Local Economic Development Act job- creators fund, including a $1 million bonus for developing the project in an Opportunity Zone, and the City of Las Cruces has pledged $300,000. The Las Cruces City Council also will consider an Industrial Revenue Bond. The expansion is expected to have a total positive economic impact on the state of $1.6 billion over the next decade, officials say.
The company also has qualified for a state Job Training Incentive Program (JTIP) Grant and the City of Las Cruces Wage Plus Program, an incentive program for hiring and paying employees above the median wage.
Saputo has been working to add infrastructure to enhance the cheese packaging process, develop an employee-friendly wellness center and expand the parking lot to accommodate additional employees. The expansion has resulted in Saputo USA filling 169 new jobs since last spring.
Saputo also is building a new production facility in Franklin, Wisconsin. Company officials say the new plant will play an integral role in Saputo's strategy to optimize its cheese network across North America, laying the groundwork for future growth.
A company spokesperson told Cheese Market News that construction is planned to commence in the first half of the year, with an anticipated groundbreaking in mid-2022. The plant will encompass approximately 340,000 square feet and will ramp up in phases. When fully operational, Saputo anticipates there will be approximately 600 employees working at the new facility.
The company aims to complete the project and begin operations in mid-2023, but the spokesperson noted this date may be adjusted based on contributing factors including weather, construction and supply chain issues.
Photo courtesy of Seven Acre Dairy Co.
RESTORING HISTORY — Nicolaas Mink, second from right, and his wife, Danika Laine, far right, have purchased a 21,000-square-foot former dairy factory on 7 acres of land along the Sugar River in Paoli, Wisconsin. They are undertaking a major restoration to get the dairy plant running again to produce artisanal butter and ice cream. The site also will be a tourist destination. Anna Thomas Bates and Anna Landmark, far left, of Landmark Creamery also are collaborating on the project and will produce the butter at Seven Acre Dairy and provide cheese from their own plant in Paoli.
• Seven Acre Dairy Co., Paoli, Wisconsin

A historic building in Paoli, Wisconsin, is getting a major makeover, thanks to a group of local entrepreneurs.
Led by Nicolaas Mink, co-founder and former CEO of Sitka Salmon Shares, and his wife, Danika Laine, a marketing executive, the group purchased the 21,000-square-foot former dairy factory on 7 acres of land along the Sugar River at 6858 Paoli Road, a short 15-minute drive from Madison.
The group initially sought to restore part of the factory, but after learning more about the building's history, they decided to undertake a major restoration of the entire building and received approval to list the property on the State and National Register of Historic Places.
"The Paoli Creamery is an essential piece of Wisconsin's dairy history. This unique plant served as the processing facility for hundreds of local farmers in rural Dane County, turning their milk into butter and cheese to be sold at market. Rehabilitating this building will allow visitors to participate in Wisconsin's proud dairy history," says Jen Davel, vice president of Heritage Consulting and expert in Wisconsin historic preservation.
"This building's history is amazing," adds Mink. "This factory evolved and changed alongside Wisconsin's dairy industry for nearly 100 years. As new technologies emerged, new product forms developed, new ideas became dominant in the dairy industry and the factory would get a new addition or annex. Over time, it became one of the largest in the state."
The entrepreneurs soon understood the building's restoration and their businesses needed to honor the building's legacy of dairy production to celebrate Wisconsin's rich heritage as a dairy state.
Seven Acre Dairy Co. was born. The venture will feature an artisanal dairy plant focused on farm-to-scoop ice cream and butter, using milk from many of the same farm families that delivered to the original factory before it was shuttered in 1980. The property also will feature a boutique hotel, restaurant and bar, café and retail store. The property's 7 acres also will boast a fully-restored oak savanna and prairie, with hiking trails, a boat landing and gardens.
"The idea is that the property has something for everyone, that it's welcoming and inclusive for all. We hope it becomes a community gathering space," Laine says.
When Mink and Laine sought to return part of the building to a working dairy, they only had to look down the street in Paoli to find their partners. Anna Thomas Bates and Anna Landmark, co-owners of Landmark Creamery, will lead Seven Acre's dairy program as the company's chief dairy officers.
"We were thrilled when Seven Acre asked us to collaborate on the dairy aspect of their program. While the project is broader in scope, dairy is really at its heart. Nic and Danika's vision is a beautiful combination of how dairy was historically produced and distributed, but with a modern twist," says Thomas Bates.
It was an opportune time to approach Landmark Creamery: The company is in the process of expanding its own operations from a retail shop and cheese aging facility to include all aspects of dairy production.
This will include buying milk from small family farms in the area, which will allow Landmark Creamery to expand its cheesemaking capacity. Landmark Creamery will run a small butter plant within the historic Seven Acre dairy building that will be entirely viewable to the public. Meanwhile, ice cream production will be handled through the Seven Acre culinary team.
"The timing couldn't be more perfect. We look forward to working with Seven Acre Dairy to make unique cheeses for their hospitality program, and crafting butter on-site at Seven Acre Dairy," Landmark says.
Seven Acre Dairy Co. plans to open this fall.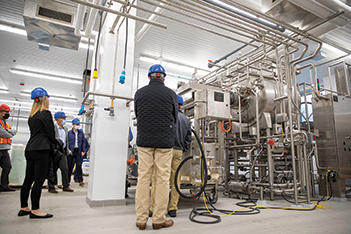 Photo by Michael P. King/UW-Madison CALS
NEW AND IMPROVED — Tour participants observe new horizontal cheese vats in the new Center for Dairy Research addition at the University of Wisconsin-Madison.
• University of Wisconsin-Madison Babcock Hall Dairy Plant and Center for Dairy Research, Madison, Wisconsin
The ongoing addition at the Center for Dairy Research (CDR) at the University of Wisconsin-Madison reached substantial completion in November 2021. Some trainings already have occurred in the new building.
Renovations of the Babcock Hall dairy plant and CDR offices continue. The floor was removed, and contractors are in the process of prepping the surface for a new epoxy finish. Insulated metal panels will arrive soon for the new cooler and ice cream freezer, and mechanical, electrical and plumbing work continues. Final substantial completion for the entire project is scheduled for September 2022.
The $72.6 million project features new equipment, training space and research tools that will help CDR support innovation and global competitiveness in the dairy industry.
CMN