New opportunities in single-serve and convenient food packaging on the rise

By Trina La Susa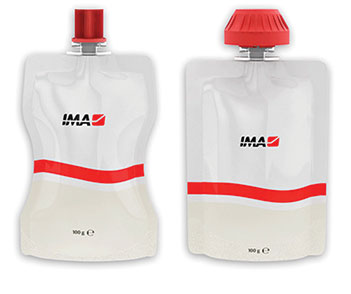 FLEXIBILITY — The Ermetika machine from IMA Dairy & Food USA has product size flexibility, and its feeding system has the capability to handle spouts and pouches in a variety of shapes and sizes at a rate of up to 480 pouches per minute.
ERMETIKA — Ermetika is a high-speed, continuous motion rotary machine from IMA Dairy & Food USA that assembles, fills and seals spouts and premade pouches in a variety of shapes and sizes. The machine provides efficient and quality results for several dairy product applications including yogurts, sour cream and dips/sauces. With four different models processing at different speeds, all handling a range of pouch sizes, Ermetika is a flexible solution with a reduced footprint.
MADISON, Wis. — As COVID-19 continues to impact consumer eating, shopping and hygiene habits, single-serve and convenience packaging are continuing to draw attention. The packaging landscape has changed, creating new opportunities in single-serve packaging such as stick packs, sachets, pouches and other on-the go hygienic but often still sustainable products, according to Jerry Watkins, area sales manager, IMA Dairy & Food USA.
Watkins led a recent webinar on "Revisiting Single Serve and Convenience Packaging," hosted by Packaging World. Watkins is a sales management veteran with extensive international experience in the packaging equipment industry and has project experience with form fill seal, vertical form fill seal, fill seal, cartoning and downstream packaging equipment. He represents IMA Dairy & Food, a subsidiary of IMA SpA based in Italy, and manages sales activities in the United States and Canada.
"Prior to COVID-19, I'd say the primary drivers in food and food packaging were focused on sustainability, recyclability, clean label and healthy food. Now it seems that our dining habits, shopping habits and hygiene concerns are changing this focus," Watkins says. "Now the focus is 'clean before green;' the idea is to sanitize everything and especially not to touch food. Our concerns about health and preventing the transmission of the virus has taken center stage over eco-friendly and green concerns."
Watkins cites a May 2019 USDA report, "America's Eating Habits: Food Away from Home," that found 49% of U.S. food spending was on foods consumed at home. In the May 2020 version of the report, that percentage had jumped to 61% of food spending on foods consumed at home. Due to the pandemic, home delivery of food via restaurants, third-party online marketplaces and e-commerce has proliferated, Watkins says.
Overall, on-the-go and convenience packaging now has greater importance, and more retailers are seeking new means and cleaner formats to sell their products, he says. From a consumer standpoint, Watkins says IMA Dairy & Food USA is currently seeing trends in convenience, clean label, on-the-go, portion control and sustainability. He is seeing more snack products packaged in single-serve, prepackaged formats, such as stick packs, sachets (also known as four-side sealed packets), pouches and portion cups.
"Stick packs and sachets provide a new format for convenience and on-the-go consumption. They've been around for awhile, but they are seeing a whole lot of demand right now," Watkins says. "These packages are easier to open than a sealed lid, they're more durable, and they ship well for e-commerce and home delivery — which is huge."
Aseptic stick pack and sachet packaging means longer shelf life and the ability to run clean label, Watkins says. He adds that form, fill and seal machines for these formats have higher speeds and outputs. Some of the various product applications for these formats include cream cheese, shelf-stable yogurt, ice cream, condiments and sauces.
Watkins notes that IMA Dairy & Food USA offers the customizable Hassia S800A form, fill and seal machine for aseptic stick packs, which can be designed to include clean-in-place and sterilization-in-place systems to ensure optimum hygiene standards for dairy applications. The S800A is capable of running 36,000 stick packs per hour, and it is fully aseptic, utilizing hydrogen peroxide as a sterilant on all sides of the packaging, and being formed, filled and sealed under aseptic conditions in a sterile tunnel. The machine also has FDA- and 3A-compliant design.
"Aseptic stick pack machines can make coffee creamers in a stick format, whereas machines for portion packs can make the little creamer cups that you see on the market," he says, noting that some of the opportunities for portion packs in North America include quick-serve restaurant dipping cups, products for home delivery,
convenience at home, creamers, butter, cheese and condiments.
Watkins notes that portion cups or portion packs are another clean, convenient packaging option that can be recyclable when produced in different materials like polypropylene. To differentiate from a cup, a portion pack is typically shallower, he says, noting both of these packaging formats ship well for e-commerce, provide an opportunity for select brands to run in single-serve formats and can offer shelf-stable product using aseptic machinery.
Spouted pouches also can offer more convenient formats than bottles for snacks and dairy beverages on the go. Watkins says spouted pouch formats are well suited for e-commerce and delivery, and they can be made out of recyclable materials as well as be decontaminated.
"Pouches are not just for kids anymore," he says. "There's a lot of adult type of on-the-go products that can go in these pouches; they're usually styled a little differently and they'll have a wider spout to get more product out of it than maybe a child spouted pouch would be."
Fillshape, an Italy-based pouch company and pouch machine maker based within the IMA Group, manufactures and designs filling systems for flexible standup pouches with and without a spout for the dairy, food and beverage markets in the United States. Watkins says two of the Fillshape systems with dairy product applications include Kompakta, a linear machine that can create up to 400 standup pouches per minute from pre-printed reels, and Ermetika, a high-speed, continuous motion rotary machine assembling, filling and sealing spouts and premade pouches in a wide variety of shapes and sizes at a rate of up to 480 pouches per minute.
"With the Ermetika, it's really kind of cool because we will start with a preformed, flat pouch loaded in a magazine. We will control that pouch, bring it to a spout or fitment, and then we'll weld that fitment into the machine," Watkins says. "The Ermetika is a continuous motion rotary machine; it's very different than other machines that form the same type of filling. We weld spouts onto pre-form pouches, and then we test each pouch 100% for leak detection."
From the standpoint of clean packaging and clean label, Watkins says IMA equipment offers decontamination features, including UVC light, pulse light and vaporized hydrogen peroxide, with the goal of maintaining the quality and the taste of the food, not extending shelf life of the product.
For more information, contact Watkins at Jerry.Watkins@ima.it or visit www.imadairyfood.com/US.
CMN