Marchant Schmidt Inc. offers complete cheese converting, packaging solutions
By Alyssa Mitchell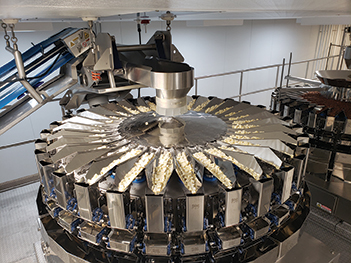 Photo courtesy of Marchant Schmidt Inc.
CONVENIENT PACKAGING — Cheese cubes on a multi-head weigher are ready to be deposited into single-serve snack packages.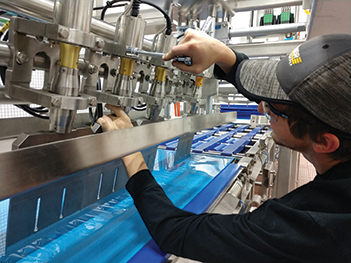 Photo courtesy of Marchant Schmidt Inc.
CUSTOM SOLUTIONS — A Marchant Schmidt employee installs ultrasonic knives on a specialty cutting machine.
FOND DU LAC, Wis. — With more than 50 years of experience serving the food and dairy industries, Marchant Schmidt Inc. (MSI) has positioned itself as a turnkey system provider that focuses on food equipment automation and convenience packaging.
MSI is a third-generation, family-owned manufacturer of converting equipment. In the fall of 1995, the company constructed a new manufacturing facility located in Fond du Lac's Southwest Industrial Park, where it remains today. An additional facility was added in 2000 to accommodate Marchant Schmidt's controls and integration division, and in 2009 the original facility was expanded to more than double its manufacturing/office space to aid in sales growth. In 2012, MSI opened its European headquarters and manufacturing facility in Birmingham, United Kingdom.
Marchant Schmidt strives to develop long-term partnerships with key suppliers that support its total commitment to its customers, employees and local community.
Richard Schmidt, vice president, notes the company's focus on cheese converting over the past several decades has honed in on hygiene, quality and robust construction, with an increased focus on full automation.
"Today a lot of that automation is being driven by our customer needs due to lack of labor, so it's been imperative that they find more efficient ways to convert their products," he says. "Due to a strong economy that has affected the labor pool along with so many new products coming to market, we have needed to adjust our focus on innovative designs through automation."
He notes MSI has been focusing on bringing more innovation in-house by investing in technologies like robotics and vision to better serve customers.
Keith Knoke, sales director, adds that Marchant Schmidt's focus has always been custom food machinery.
"We've always responded to market trends naturally as a custom provider," he says, noting convenience offerings in packaging for snack cheeses have been one of the key focuses.
Schmidt notes the market has evolved over the last 5-10 years with convenience stores offering more selections and smaller portioning of food products.
"It's about convenience to the consumer. If you go into a convenience store, you can see smaller portioning and even in club stores, you're seeing smaller and smaller products being generated. Our focus on convenient foods in the cheese industry and providing our customers with cost-effective solutions for smaller portion cutting/packaging has been a priority," he says.
"When single-serve cheese sticks came to market, we responded," Knoke adds. "And now there are more snack options than ever — the very nature of our company as a custom builder allows us to suit our equipment for these needs."
Marchant Schmidt offers an array of equipment for cheese cutting to meet growing demand for ready-to-eat products including bite-size cubes, sticks or 2-ounce portions.
Specifically, Marchant Schmidt over the past year brought to market the IDC120 Deli Cube Machine, a staggered involute blade cutting system that produces high-quality cubes and can easily integrate with existing process lines. Blocks of cheese are loaded onto the infeed belt, automatically reduced into layers, and then are continuously cut at high speed. The modular machine can be configured to make cubes with equal sides, short sticks or snack bites with a quick change of the cutting parts.
Another new offering, the MS80ie Inline Cubing Machine, was developed with an inline design and narrow footprint. The company says this system was designed to address concerns about floor loss, wire break detection, cleanable design and inline construction.
The MS80ie Inline Cubing Machine is equipped with electric servo actuators with integrated force control to maximize production, and urethane belts for better hygiene practices and easy cleaning.
Schmidt notes cheese shreds also are something for which MSI is well-known. The company offers equipment for economy cheese shredding, as well as retail and large volume foodservice.
"Our focus is on accuracy and appearance of shred and how that drives customers' profitability," Schmidt says. "We strive to maximize output and line efficiency."
Shred process lines require the Powder Dispenser to be refilled frequently. Traditionally, this has been achieved by an operator carrying a bag of powder up a staircase and dumping it into the dispenser.
With its continued focus on safety and increased automation, Marchant Schmidt now offers a Vacuum Delivery System for handling, which utilizes a vacuum conveyor mounted above the Powder Dispenser to deliver the flow agent from a floor level bag dump station or a bulk bag. The Powder Dispenser can be equipped with a scale or level sensors to control the high/low limits within the dispenser. Maintaining a more consistent level in the Powder Dispenser leads to a more accurate application rate of the powder, Schmidt says.
Schmidt notes the company believes that a world-class supply chain allows it to offer its customers world-class products and services.
"We select suppliers whose standards align with our core values, particularly with regard to business integrity," he says, noting the company conducts quarterly business reviews of its suppliers' business activities, financial stability, engineering practices and quality procedures.
"When necessary, we request third-party audits of a supplier's business operations to assess its adherence to each point of our Supplier Quality Program," he adds.
"Hygienic design has always been at the forefront for us," Knoke adds. "It seems everyone these days is using 'hygienic' in their marketing materials, but we take a very serious approach to this. We strive to ensure our equipment and systems are not only clean, but also easy for customers to clean themselves. We provide them with full access so they can be confident they don't have a risk of contamination."
Looking ahead, Schmidt says consumers' continued appetite for cheese — in particular, cheese's growth as a top choice for a healthy snack — will provide the industry opportunities to innovate with packaging and portion sizes. Marchant Schmidt intends to be at the forefront as a provider of turnkey solutions.
"We're seeing quite a high demand from customers for turnkey systems," he says.
For example, he notes a mid-size cheese converter may want to get into a new style of product but doesn't have the resources or time.
"We have a lot of experience in that area, so we give them the confidence and reduce the risk by providing a comprehensive plan to bring a product to market" he says. "They don't always have the time. They are interested in us taking the responsibility to find the right solutions."
Knoke adds that historically, companies would look to Marchant Schmidt only for converting equipment to transform blocks of cheese into cubes and shreds, but now customers expect the company also to provide the complete solution from converting to packaging.
"They are looking to us as a solution for the entire line needs," he says. "We have positioned ourselves as a great engineering and service staff that offers a complete single-source provider."
CMN