GELPAC offers optimal packaging solutions with service top of mind


Photo courtesy of GELPAC
EASY OPEN — GELPAC offers multiwall paper bags for packaging food-grade powders. This model features a pull string option for easy opening. "We create this for the end user to make sure it's easier to separate the paper from the polyethylene liner. We also have a high-quality liner in our bags to extend shelf life," says Luc Ravenelle, vice president of sales and marketing, GELPAC.
---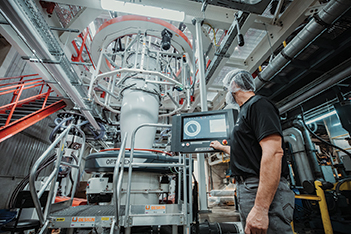 Photo courtesy of GELPAC
ADVANCED TECHNOLOGY — GELPAC offers its customers the latest 3D software, component and raw material analysis tools, as well as exclusive assembly stations and finished product testing protocols.
By Alyssa Mitchell
MARIEVILLE, Quebec — As a leading provider of innovative packaging solutions for sectors including cheese and dairy, GELPAC continues to expand its reach in the North American market through strategic acquisitions and advanced technological developments.
Just this spring, GELPAC announced the acquisition of Standard Multiwall Bag Manufacturing Co. Standard Bag's plants located in Beaverton, Oregon, and Lubbock, Texas, are recognized for their speed, flexibility and expertise in delivering high-quality products that meet the exact specifications of each client. The fit with GELPAC's comprehensive network of multiwall paper bags and polyethylene plants located in Marieville and Farnham, Quebec; Brampton, Ontario; and Haverhill, Massachusetts, is natural as each unit is a strong performer in the industry and enjoys a well-deserved reputation, GELPAC officials say.
"By combining the strengths of each of our plants, integrating our respective R&D initiatives, ongoing innovations to the manufacturing processes and procurement strategies, as well as extending our geographical reach, we will offer the best-performing packaging solutions in the market," Alain Robillard, GELPAC president and CEO, said earlier this year following the acquisition.
The addition of Standard Bag brings GELPAC's total number of locations in North America to six, reflecting continued growth for the company that began in Marieville, Quebec, in 1956.
Standard Bag is the third acquisition for GELPAC in the last six years, bringing the total number of employees at the company to 660, notes Luc Ravenelle, vice president of sales and marketing, GELPAC.
"With three plants in Canada and three in the United States, we now can cover customers from coast to coast," he says.
GELPAC is known as a major player in the North American packaging industry, he adds.
"Our ability to adapt to the needs of our customers, as well as our enthusiasm to learn and develop new technologies, have made us an essential partner," he says.
Ravenelle has been with GELPAC for nearly two decades and oversees the company's two main focus areas for food packaging: multiwall paper bags and polyethylene (poly) packaging products.
He notes that GELPAC's clients operate in various sectors of the economy. Whether it's the food industry — which must comply with strict hygiene standards — or others, GELPAC takes the unique needs of each sector into consideration when designing a packaging solution.
He adds the company is vertically integrated, with decades of experience and knowledge when it comes to packaging milk powders.
On the paper side, GELPAC offers a few different options for packaging food-grade powders, including its Pinch Bottom Open Mouth, Pasted Valve and Pasted Open Mouth paper bags.
In particular, the Pasted Open Mouth bag offers a flat bottom and includes a removeable polyethylene barrier for additional product preservation. It features a pull string option for easy opening.
Ravenelle notes GELPAC produces the poly products that go inside its bag offerings.
"We control everything in poly that goes inside our paper bags," he says. "Over the years, we've been able to maximize the design to offer unique attributes for venting and the needs of the milk powder market."
On the poly side, GELPAC offers single-layer and multilayer packaging that meets customers' specifications. Poly solutions are available as sheets, bags or tubing and are based on low-density polyethylene (LDPE), linear low-density polyethylene (LLDPE), high-density polyethylene (HDPE) or HDPE-PCR (post-consumer
recycled).
Ravenelle notes sustainability is an inherent part of GELPAC's offerings, and the company utilizes paper and polyethylene that are 100% recyclable.
"Along with our customers and suppliers, we are making every effort to reduce our environmental footprint. For the common good and the benefit of future generations, our team is committed to reducing the environmental impact of our products and processes from design to delivery, while keeping in mind the functional and economic needs of our customers," he says.
Ravenelle notes GELPAC also has innovated to reduce the ply of paper on some of its bags, resulting in less material and waste.
"We also offer an easy-open feature to make sure the paper will be removed from the plastic," he says. "We create this for the end user to make sure it's easier to separate the paper from the polyethylene liner. We also have a high-quality liner in our bags to extend shelf life."
He adds that GELPAC has ramped up its environmental, social and corporate governance (ESG), an approach that takes environmental and other issues into account when making investment decisions.
"We're also measuring our key performance indicators to ensure we are improving," Ravenelle says.
Service is another key component of the company.
"At GELPAC, attention to detail is a priority," Ravenelle says. "Our plants are inspected every year, and our staff receives full training on food safety and protection standards and procedures."
He notes another one of GELPAC's strengths is its dedication to customer service.
"We put our experienced production team, our advanced equipment, our rigorous quality assurance procedures and our expertise at your service to offer you superior standard and custom products," he says.
"We take the time to evaluate projects in order to develop a custom solution. This way, we can develop a packaging product to ensure an optimal result."
Ravenelle adds that GELPAC is committed to the quality of the packaging it delivers to its customers.
"We know that the value of their products depends on it, as well as their production costs and sales. To maintain their confidence, our quality assurance team works in our laboratories and factories to verify the composition of all raw materials and the quality of finished products. The team uses a range of equipment that meets the expertise of the best independent laboratories when required," he says.
Ravenelle is quick to add that GELPAC prides itself on voice-to-voice customer interaction.
"It's in our DNA," he says. "These days it can be tough to reach people to talk person to person. When you call here, you always reach someone who can work with you and your company. That's something we will keep forever."
GELPAC also offers on-site consultation and installation support, and offers trial services for customers who want to test new equipment.
"These products are going everywhere to feed the world, and we want to make sure our packaging solutions help to extend shelf life and keep the product protected," Ravenelle says.
He adds that the company prides itself on its involvement in dairy industry associations including the International Dairy Foods Association and American Dairy Products Institute.
"We're proud to be a member of these organizations. We like to connect with people. The majority of our sales go into our dairy offerings, so we want to learn more about the future of these products," he says.
CMN