Somic debuts name change, is well positioned to fill supply gaps

By Alyssa Mitchell

Photo courtesy of Somic Packaging Inc.
READYPACK — At Pack Expo Las Vegas, Somic Packaging Inc. debuted a new name and demonstrated its retail-ready ReadyPack display packaging machine, which was a qualified success with booth visitors, says Peter Fox, senior vice president of sales, Somic Packaging Inc. "We have customers now in a variety of markets, and our equipment has evolved so it can handle a variety of different challenges," he says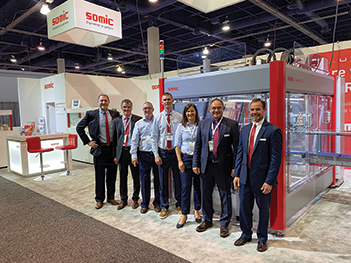 Photo courtesy of Somic Packaging Inc.
PACK EXPO — Somic Packaging Inc.'s team fielded many questions at Pack Expo Las Vegas about the company's newest version of its ReadyPack machine as well as other custom-designed, end-of-line packaging solutions. Pictured, from left, are Ryan Schumacher, East Coast sales manager; Stefan Julinek, director of sales; Mike Kurtz, field service technician; Luke Gardener, senior sales support manager; Martina Paul, senior sales support manager; Patrick Bonnetsmueller, owner, Somic
Verpackungsmaschinen GmbH & Co. KG; and Peter Fox, senior vice president of sales, Somic Packaging Inc.
EAGAN, Minn. — Following a successful experience at Pack Expo in Las Vegas this fall, Somic recently announced it has officially changed its name to Somic Packaging Inc.
The German-based provider of packaging machine technology, with U.S. headquarters in Eagan,
Minnesota, provides retail-ready packaging solutions that give customers an edge in an increasingly crowded marketplace. With more than 40 years of experience, Somic Packaging is a leading manufacturer of end-of-line packaging machine technology. Though engineering and manufacturing continues to be based in Germany, Somic in 2018 made an expanded commitment to North American packaged goods companies with the move to its Eagan headquarters. Located just minutes from the Minneapolis-St. Paul International Airport, the facility features an equipment showroom, customer demonstration center, parts inventory, warehouse space and offices to accommodate a staff of up to 30 employees.
The company's official name change to Somic Packaging was a twofold decision and involves only the name, notes Peter Fox, senior vice president of sales, Somic Packaging Inc.
"Everything else, from sales and operations to service and parts, remains the same," he says.
Fox notes the name change is in part for legal purposes, "but the bigger reason is the new name more accurately describes who we are in the packaging world.
"In my seven years here, our business in North America has grown dramatically and demand keeps increasing," he says.
"We have customers now in a variety of markets, and our equipment has evolved so it can handle a variety of different challenges. Companies today that are dealing with a shortage of qualified workers also have a better understanding how our solutions can help with their end-of-line packaging needs."
Indeed, as cheese and dairy companies have grappled with labor and supply shortages over the past several months, Fox says Somic is well-positioned to help fill the gaps with automated packaging solutions.
At Pack Expo, held Sept. 27-29, Somic demonstrated the newest version of its retail-ready ReadyPack display packaging machine, which was a qualified success with booth visitors, Fox says.
The company's more "entry level," compact case packer runs at a slower rate than Somic's standard ReadyPack machine, with forming and closing performed in one station.
"What we've found over the last six months, specifically, is that we are getting a lot of opportunities to work with companies that we typically wouldn't see as potential customers," Fox says. "The reason being that speed and performance requirements aren't as high as what we normally run at. But the new ReadyPack machine has opened up new opportunities to address challenges companies are facing with staffing and automation needs.
"Many companies are realizing it's no longer a question of 'should we automate?' but that it's now, 'we must automate,'" he adds. "There's a real labor and supply chain crisis right now."
Since Pack Expo, officials have been following up on an abundance of prospective leads and educating customers on the company name change to Somic Packaging Inc., Fox notes.
"I thought it was a terrific show. It was great to see people in person again, and the Las Vegas Convention Center is a good venue that has all the capabilities to host this type of event," he says. "Prior to the show and based on the number of people who told me they were attending, I thought we would be busy. There was a lot of anticipation that had built up since it was the first live Pack Expo event in two years. I noticed show attendance was lighter on the last day as usual, but we had consistent booth traffic all three days. In the end, our sales leads were 20% better than when we were here two years ago, and that was a very good show for us."
Fox attributes some of the booth buzz to the company's ReadyPack machine demonstration of GOYA Foods products. A source of authentic Latino cuisine, GOYA Foods, based in Jersey City, New Jersey, is the largest Hispanic-owned food company in the United States. Somic announced on the opening day of Pack Expo that GOYA had ordered a custom-built 424 T2+ case packing machine.
Developed for a wide range of products and case models, the Tray Packer SOMIC 424 T2 is equipped with individually produced format tools, allowing the company to provide nearly unlimited flexibility when it comes to developing solutions for customers' packaging requirements.
The custom machine is expected to be installed at GOYA's production facility in Seacaucus, New Jersey, during the first quarter of 2022.
"At the show, we ran the ReadyPack with stand-up pouches. GOYA's new machine is a slightly larger wraparound case packer, and they've designed it so it can run cartons as well," Fox says. "The same aspects of what led them to buying a machine is what intrigued people at Pack Expo when they saw this new version of ReadyPack. It's an all-in-one, middle-speed machine, and compact with a small footprint that requires only 70 square feet of space. Many of the people I talked to were also impressed with the automated functions and its flexibility to accommodate future packaging options."
Fox notes that in Somic's discussions with GOYA, it became clear the company needed a more compact machine to address limited space.
"That's a big advantage for us," he says. "Whenever space is limited, we're really designed to accommodate situations like that. If all goes well, I expect that we will be able to expand on this partnership in other GOYA facilities with space restrictions."
In addition to the GOYA buzz, Fox says the Somic name is becoming more known, and customers are seeking out the company for emerging solutions.
"I think we're getting good traction and customers increasingly are understanding our capabilities," he says.
Looking ahead, Fox says Somic Packaging will continue to focus on improving and shortening changeover times to make them more consistent.
"We're making a lot of changes to the functionality and simplicity with our format changeovers — making it faster and easier for employees," he says.
Fox adds that in 2022, the company will be commissioning new machines and conducting factory acceptance tests in Eagan.
"Our machines still will be assembled in Germany, but they're shipped right to us as they are completed," he says. "Customers can come to our facility in Eagan, and we have a crew here focused exclusively on our machines being shipped into North America. Customers won't have to travel to Germany for their needs. We see a big benefit there."
For more information, visit www.somic.us.
CMN