Weber turns customer feedback into innovative, holistic solutions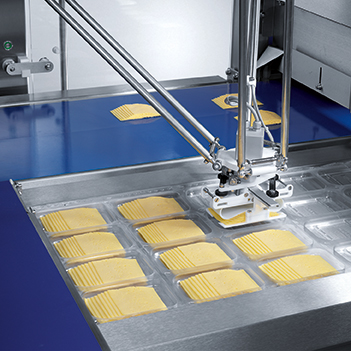 Photo courtesy of Weber
AUTOMATED SOLUTIONS — Pictured above is Weber's wePICK robot. From stand-alone solutions in a compact footprint to fully integrated systems with Weber's wePACK thermoformer, the Weber Pick Robot family is the industry's leading solution for performance, hygienic design and reliability, the company says.
By Alyssa Mitchell
KANSAS CITY, Mo. — Weber, a global leader in complete slicing and packaging lines for processing food products, has experienced a rapid evolution over the past five years as it has expanded its offerings and turned customer feedback into innovative, holistic solutions.
The German-based, family-run company has U.S. headquarters in Kansas City, Missouri, where its square footage will nearly triple after completing a renovation of an adjacent building to offer customer demos and other innovations. The new space is slated to open in early 2023, according to Brad Neil, director of cheese solutions for Weber.
"Globally, Weber has put significant resources, research and development into the cheese/dairy market segment," Neil says.
He notes that while cheese has been a focus for the company for some time, over the last few years, Weber has routinely received feedback on how it could do "solutions" differently, tying its unparalleled slicing know-how with its innovative process and solutions to upset the status quo.
"Solutions in general have been Weber's focus, and, especially in the cheese industry, we've seen the results of the solution-oriented mindset — how a true partnership with the industry, including great feedback, open-minded listening, high-level execution and a spirit of continuous improvement can bring innovation and set new standards for performance," Neil says.
• Expansion into packaging
In 2017, Weber acquired Schröder, adding decades of thermoforming experience, manufacturing and tooling/die know-how to the company's existing and product offerings. The Weber wePACK, launched internationally at IFFA in 2019 and to the North American market at Process Expo 2020, is the result of the Weber team's complete overhaul of the thermoforming platform, aligning the product more perfectly with Weber's line solution philosophy while simultaneously introducing significant innovation in the thermoforming space.
When it comes to packaging, cleanliness, ease of maintenance and service, as well as an intelligent hygienic design, are as important as efficiency and flexibility, Weber notes. The high level of automation of its thermoforming packaging machines also guarantees the highest level of food safety, and its thermoformers process all common and sustainable packaging materials and enable customers to produce individual packaging designs for attractive product presentations at the point of sale.
At the recent Pack Expo International trade show in Chicago, Weber showcased its Weber PACK 7000. The wePACK 7000 thermoformer offers high-speed, state-of-the-art packaging specifically designed for slicing applications. Built to the exacting hygiene standards for which Weber is renowned, the thermoformer offers maximum output in a machine that can be fully integrated into a slicing line. It uses the same operating system as that employed in Weber's range of slicers, with a high degree of commonality of electrical and pneumatic components to ensure ease of integration and operation. Full line operation is achieved via the Weber Power Control system.
"The wePACK has been an extremely successful addition to our overall product portfolio," Neil says. "Some key highlights include the thermoforming industry's most rigid machine frame design — facilitating great performance at a point in the process easily disrupted by lack of machine stability; a simple, clean and innovative lifting station that we believe is industry leading considering its performance and ease of maintenance; game-changing cutting solutions, saving both time and waste; and, most importantly, Weber's absolute lack of compromise with regards to hygienic design. Our customers are continuously telling us that the wePACK is the most hygienic thermoformer on the market.'
He notes the development of the Weber wePACK was focused intently on the requirements of customers.
"The result is a packaging machine that is consistently geared to slicing applications and delivers maximum output, as well as ease of operation and servicing," Neil says.
In addition to an appealing presentation at the point of sale, the protection and shelf life of sliced cheese are particularly important success factors, he adds.
"For customers, this means more profitability and sustainability, and for end consumers, more food safety and taste," Neil says.
Regardless of whether customers use a paper-based foil, PP, mono-PET or APET, or want classic MAP, skin or vacuum packaging, Weber's thermoforming packaging solutions ensure that customers' lines also are equipped for future requirements, he adds.

Photo courtesy of Weber
FULLY INTEGRATED LINES — Weber's Streamloader is part of its fully integrated cheese line. As cheese presents a different, individual challenge at every processing step, Weber's integrated line solutions help customers master the daily challenges of cheese production with portion tracking from slicer through to flow wrapper.
• Holistic solutions
All of these offerings come together to meet Weber's mission of making life easier for the customer, Neil notes.
"We think that with our unique approach relative to line solutions, we do that," he says. "Philosophically, we see that we're different; I'd say it's a little more holistic — thinking about solutions that are mechanically, electrically and now digitally integrated. We want to maximize the customer's footprint, help them reduce or leverage labor elsewhere and utilize capabilities we have in house — like vision, for example — to reduce the need for human interaction with the system wherever possible."
Neil adds Weber is positioned to bridge the gap between more automated industries, such as automotive, and the food industry, given the company's in-house capabilities and the breadth of its portfolio.
" It does set us apart. It's a big shift, but ­— having been in the industry for 15 years or so now — I can say firsthand that the solutions we bring today are truly game-changing capabilities and systems that were only dreamt of when I first started," he says.
The company's innovative and automated solutions result in a nearly 99.9% success rate in reducing "giveaway" or wasted product, something that is virtually unheard of in the industry, he adds.
Neil notes that while automation always has been a big part of Weber's business, the COVID-19 pandemic pushed industry demand for it exponentially.
"I think everyone is aware that labor is often hard to find and keep in the post-COVID era, and it changes the math a little bit relative to return on investment in automation," he says. "Customers are pursuing automation more aggressively — it's a conversation on every line now, which was not always the case in years past. That said, with every solution we design with our customers, our goal is to bring a system that meets the objectives — systems that are simple, efficient, reliable and that maximize output in each footprint with the minimum amount of labor possible."
Another aspect of its complete customer solutions are Weber's digital offerings.
The Weber Portal and Factory Cockpit are two product offerings within our continuously evolving digital portfolio that we believe make customers' lives easier," Neil says. "The portal is the customer homepage, where they can go to quickly access information on their Weber (and also non-Weber) assets or machine manuals, for example. Further, they can order parts and track other interactions with us. It's really a seamless way to interact with Weber 24/7."
Meanwhile, Factory Cockpit is Weber's digital performance tracking solution that allows customers to see, in real time, performance, status and key performance indicators (KPIs) of a machine, line(s) or a multiple-factory network of Weber solutions.
"I think in general, Weber's digital product offering is one of, if not the most innovative and exciting, addition to our product portfolio as it continuously promotes transparency, helping us be an even better partner to customers," Neil says.
CMN