Industry experts share outlook on dairy ingredients in ADPI seminar
Editor's note: Welcome to Ingredient Innovation, CMN's new segment exploring recent innovations and trends in the dairy ingredients sector. For this segment, we will profile a leader in the ingredients industry as well as share updates on mergers and acquisitions and new offerings for cheese and dairy in ingredients — where flavor begins.
By Trina La Susa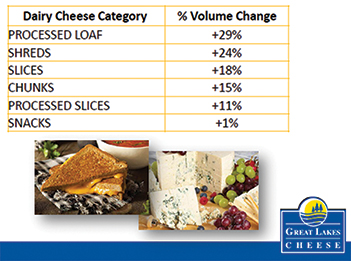 Nielsen Syndicated POS Database – Total US incl Conv L52W WE 10/31/20 – Dairy Cheese Category
Graphic courtesy of Great Lakes Cheese
PRODUCT DEMAND — During the cheese ingredients outlook at the American Dairy Products Institute's virtual Dairy Ingredient Seminar, El Khattary of Great Lakes Cheese referenced data from the Nielsen Syndicated Point-Of-Sale Database showing the last 52 weeks of point-of-sale data for the week ending Oct. 31, 2020. This covers all cheese items in the dairy category with a Universal Product Code (UPC) label in the United States across all channels (grocery, mass, drug, dollar, club and convenience).
Image courtesy of American Dairy Products Institute
LEADING THE CHARGE — Steve Gulley, chief marketing officer, DairyAmerica, says the United States is leading the charge of delivering dairy nutrition to the global market. "That's not only because we are a consistent and reliable supplier, but the resilient and consistent demand for dairy nutrition that we've seen across the globe has allowed markets to return to balance after the initial shock of COVID-19," he says.
ELMHURST, Ill. — Throughout the past year, the cheese and dairy ingredients industry has stepped up to overcome challenges associated with COVID-19 — including price volatility, new consumer behaviors, increased production costs and supply chain disruptions — to continue to service customers and keep products moving during the pandemic and beyond.
El Khattary, vice president of sales and marketing, Great Lakes Cheese, along with other dairy ingredient experts from around the country, reflected on the resilience of the ingredients industry throughout the past year and discussed what opportunities and challenges lie ahead for the rest of 2021 during the virtual American Dairy Products Institute (ADPI) Dairy Ingredient Seminar last month.
"During the later stages of the pandemic, I think we had a lot of U.S. shoppers trying new cheeses, new cheese styles and new packaging styles that will stick with us on the retail side, and I believe that has been very impactful and will help the overall growth of the cheese category going forward," Khattary says.
On the foodservice side, Khattary says he expects to see some contraction in the number of dairy items included on restaurant menus.
"We as an industry need to be creative to bring efficient solutions to those customers so that they can put us back on the menu so we're in more places than we were before and recapture our share," Khattary adds.
Khattary says the U.S. dairy case exploded at retail after the first few weeks of COVID-19 in early 2020, due to a period of panic buying that put stress on the supply chain, retailers and the cheese industry to keep shelves stocked.
Cheese in the retail space performed well in 2020, and Khattary expects retailers will continue to invest in what has worked well for them, such as curbside pickup, delivery and online grocery. Total U.S. cheese sales in retail are up during the pandemic, with processed loaves and shreds experiencing the highest growth, Khattary notes.
"Processed loaf cheese, well known by a wonderful brand called Velveeta — growing 29% — has the highest growth in the U.S. cheese category," Khattary says, referencing Nielsen data showing the last 52 weeks of point-of-sale data the week ending Oct. 31, 2020, covering all cheese items in the dairy category with a Universal Product Code (UPC) label in the United States across all channels. "That has to do with the fact that it is well known, it is convenient and there are a lot of applications — queso dips, macaroni and cheese, loaded baked potatoes and many more. People went back home, were cooking at home and were very familiar with the said product, and as a result, that product has taken off as an ingredient in cooking."
Meanwhile, Khattary says that overall U.S. deli sales are about even year over year, due to some states, cities and retailers shutting down deli counters at the beginning of the pandemic; however, he notes that business to deli counters is slowly coming back, and the specialty category within deli has seen about 2% growth.
Khattary adds that there wasn't much cheese snacking going on during the early days of the pandemic, which resulted in a dip for snacking cheese categories that has since come back as of December 2020.
While total U.S. foodservice is down 29% due to the impacts of lockdowns and limited capacity at restaurants, Khattary says demand will be coming back as restaurants return with new, innovative and cost-conscious business models to run their businesses differently than before.
"The estimate is that 100,000 restaurants will have closed permanently due to COVID-19. The strong will survive and become more innovative and efficient at doing what they do. I am very optimistic that by mid-2021 or Q3 (July, August and September) there will be a lot going on in that space, and we're all going to enjoy that and return to some form of normalcy," Khattary says.
Meanwhile, the growing whey ingredients market has experienced some unique challenges in recent years, according to Billie Shaffer, senior director, product strategic management, Glanbia Nutritionals.
Shaffer says from 2016-2020, global whey product volumes have increased, with global production for dry whey approaching the 7 billion pound mark and global production for lower protein whey protein concentrate (WPC) products topping 708 million pounds. Both segments have grown modestly over the past four years and represent a large portion of the whey solids processing in the United States, she notes.
"In contrast, we've seen significant growth in higher protein WPC and WPI (whey protein isolate) processing. High protein WPC 80 production is nearing the 800 million pound mark, and WPI has topped 201 million pounds. There is notable expansion in high protein production in Europe over the past few years," Shaffer says, noting that she expects this global shift into higher protein levels to continue.
"While the domestic market for whey products is sizable, our industry is heavily reliant on the export market. If you look at the aggregate volume of all dairy exports, whey products represent around 25%," Shaffer says.
"Following several years of expansion, we faced significant challenges in 2019 related to African Swine Fever and retaliatory tariffs in China."
In 2020, the whey ingredients market made significant progress in recovering, and Shaffer says the market now has seen record monthly export volumes in recent months.
When it comes to domestic and export whey product utilization, Shaffer says lower protein WPC continues to dominate infant formula demand; higher protein WPCs are a staple of the domestic sports nutrition and ready-to-mix beverage market; and WPI's functional attributes offer advantages in nutrition bar applications. Export opportunities for higher protein ingredients include dairy beverages, bars and infant formulas, she adds.
Reliance on these markets proved challenging in 2020 due to the pandemic's impact on consumer behavior and buying habits as less people were going to the gym, causing sports nutrition products to not fair as well in the second and third quarters of 2020, Shaffer says. In addition, she says work-from-home consumers are not commuting, and consumption of grab-and-go, ready-to-eat nutrition bars has been impacted significantly.
"COVID-19 has presented a new challenge for high protein whey products especially. We anticipate an eventual consumer behavior normalization as the vaccine deployment progresses," Shaffer says.
Another global area of opportunity lies in the lactose and permeate ingredient market. Global lactose production has been increasing at a pace of 3-5% year over year since 2016, and from 2016 to 2020, it has increased about 17% to 3.5 billion pounds globally, according to Chris Deegan, sales and category manager of commodities at Agropur Inc., who manages Agropur's U.S. commodity ingredients produced at its seven cheese and ingredient plants.
"Looking ahead, we can expect overall lactose production to increase at around 3.5% per year. The main driver for this global production growth has been steady year-over-year increases in both European and U.S. milk outputs," Deegan says. "A lot of that milk is going into cheese vats and further processed downstream into whey ingredients and lactose."
Deegan says global permeate production had been increasing at an average pace of 4% until 2019, when there was a production decline of about 8% from 2018; however, production was still up 2.5% to about 1.77 billion pounds in 2020 from 2016. Looking ahead, he expects overall permeate production to increase 2.5% year over year for the next few years.
"The whey permeate market was negatively impacted by African Swine Fever that devastated the world's hog population, permeate being a key ingredient in piglet starter diets, so a huge decline in demand happened in 2019," Deegan says. "The hog markets still are not yet fully recovered, but the Chinese pork industry is well on its way to a full recovery."
Globally, Deegan says total U.S. lactose exports totaled nearly 661.3 million pounds in 2019 with China, Japan, Mexico and Southeast Asia as top destinations, and total U.S. permeate exports totaled nearly 550 million pounds in 2019 with China, Southeast Asia and Mexico as top destinations.
"Modernized Chinese hog farming is driving whey permeate demand higher, potentially 700,000 metric tons, roughly just a hair over 85% of the global permeate production, which is huge, to meet demand," Deegan says.
"China approved whey permeate for human consumption in 2020. While this market is still in its infancy, we are excited for the potential as we continue to promote whey permeate and its benefits to the Chinese food industry into 2021."
Meanwhile, nonfat dry milk and skim milk powder have returned to a more balanced market after years of subdued exports from the United States, according to Steve Gulley, chief marketing officer, DairyAmerica Inc.
Gulley says the United States has seen very robust milk powder markets since the initial COVID-19 shock, and since then, milk powder has returned to a more balanced market on a global scale with a bit of a bearish undertone.
Exports continue to be key in the global milk powder market, with the United States exporting more than 70% of its total milk powder production in 2020, Gulley says. He encourages dairy ingredient producers to talk to local, state and federal representatives about more dairy market access to continue to grow milk powder exports.
CMN