Ice cream demand heats up with classic flavors, global influence

Editor's note: Welcome to Ingredient Innovation, CMN's new segment exploring recent innovations and trends in the dairy ingredients sector. For this segment, we will profile a leader in the ingredients industry as well as share updates on mergers and acquisitions and new offerings for cheese and dairy in ingredients — where flavor begins.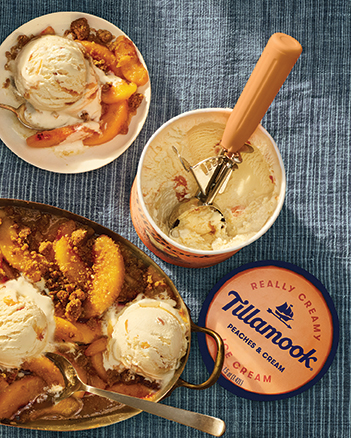 Photo courtesy of Tillamook County Creamery Association
COMFORT CLASSICS — "Part of our brand identity for ice cream is really just a solid version of the classics, fun plays on Americana," such as the Peaches & Cream ice cream variety pictured above, part of the "Best of the Classics" line from Tillamook County Creamery Association, says Justin Laabs, senior product development manager at Tillamook.
---
By Alyssa Mitchell
MADISON, Wis. — As temperatures start to rise across the country, ice cream manufacturers continue to see increased demand from consumers for classic comfort flavors as well as new, bold varieties in the frozen dessert space.
Comfort food and internationally inspired flavors rose to the top in the International Dairy Foods Association's (IDFA) annual Innovative Ice Cream Flavor and Innovative Cultured Dairy Product competitions held earlier this spring.
The competitions, co-sponsored by Dairy Foods magazine, took place in front of more than 200 dairy foods professionals during IDFA's annual Ice Cream Technology Conference and Yogurt & Cultured Innovation Conference. (For contest results, see "IDFA announces winners of innovative ice cream, cultured dairy contests" in the April 8, 2022, issue of Cheese Market News.)
"Consumption of ice cream and cultured dairy products is on the rise, and that's because dairy companies continue to innovate and adapt quickly to meet consumers' expectations and preferences," says Joseph Scimeca, senior vice president of regulatory and scientific affairs at IDFA. "What we have seen over the past two years of the pandemic includes a marked shift back to comfort foods that bring us joy. The products featured in this year's Most Innovative Product and Flavor contests demonstrate how quickly dairy companies can recognize and meet new preferences."
This year's contest featured some entries with a nod to family occasions and comfort food with flavors like Strawberry Rhubarb Cobbler, Brown Sugar Apple-Berry Hand Pie, Monkey Bread, Summer Berry Cream Cake and Buttered Cornbread. Entries also showcased innovation with botanicals, such as Blue Jasmine Tea and Lavender Blue with Lemon, while some contestants found inspiration in international flavors such as Ube Coconut Swirl, Thai It All Together and Peanut Butter Miso Cookie. The international influence also came through in the cultured contest, with Fresas Con Crema Dessert and Mango-Carrot Licuado among those entries.
Scott Rankin, chair and professor of the Department of Food Science at the University of Wisconsin-Madison, says ice cream is the ideal "blank slate" for flavor innovation.
"Savory flavors continue to be more and more of interest," Rankin says. "Certainly at one time, when we would think about ethnic flavors, we'd think about Mexico or Canada, but now we're looking at Asia, Russia, South America — many different flavors and countries. It's become much more impactful in terms of the world influence on our flavor systems. Even foods like curry have found a home in ice cream."
While the sky may be the limit when it comes to flavors in ice cream, some consumers crave the classics.
"Vanilla is always a top seller because it goes with so much," says Justin Laabs, senior product development manager at Tillamook County Creamery Association, Tillamook, Oregon.
Laabs notes Tillamook has three different varieties of vanilla in its family size — Old-Fashioned Vanilla, Vanilla Bean and French Vanilla — and each has its own distinct taste.
He adds comfort flavors continue to resonate with consumers, such as Tillamook's Peaches & Cream, Oregon Strawberry and Marionberry Pie varieties, part of the company's "Best of the Classics" ice cream and frozen custards, which are made with at least 16% butterfat.
"We lead with cream in our ice cream mix," Laabs says. "A secondary component of the mix is egg yolks in both our custard pints and our ice creams. That complements the dairy solids and fat, and the yolks act as a natural emulsifier. So with a really well-crafted mix, we're able to have a very good clean label foundation that carries the rest of the flavors we have."
For additional ingredients, Tillamook looks closely at its sources.
"We want to start with something that's comprised of the right quality ingredients that meet our stewardship charter and what consumers are looking for," Laabs says.
Tillamook's 2021 Stewardship Report notes that it requires suppliers to meet or exceed strict quality requirements in the company's Supplier and Contract Manufacturer Food Safety and Quality Expectations Manual.
Especially in the midst of ongoing supply chain challenges, Tillamook also has emphasized supplier diversity, as a diverse supply base results in a sustainable future, its stewardship report notes.
"Diverse supply relationships are critical to drive value, bring innovation and deliver security of supply while also aligning with our values," the report adds.
"Part of our brand identity for ice cream is really just a solid version of the classics, fun plays on Americana," Laabs says, adding that Tillamook tries to reflect local or regional tie-ins in its labeling where possible.
For example, Tillamook's Oregon Strawberry features strawberries that are truly locally grown in Oregon. To equip the company with a reliable supply to make its Peaches & Cream variety, Tillamook opened its sourcing nationally, but its peaches still are sourced 100% domestically.
The company also offers many varieties featuring chocolate, nuts, caramel and cookie flavors, but its classic offerings are its niche, Laabs says.
Burlington, Vermont-based Ben & Jerry's also is tapping into the classic trend with the release of its new Limited Batch Cherry Crumble, featuring buttery ice cream with cherries and swirls of oat crumble.
"We were inspired by spring, fresh fruit and the memory of taking a fresh cherry crumble out of the oven," says Flavor Guru Colleen Rossell, Cherry Crumble's creator. "With so many caramels, chocolates and peanut butter flavors available, this is a refreshing choice with the right amount of sweetness, fruit and rich indulgence."
Since ice cream is frozen and has a neutral pH, it's a safe home to preserve things, so many fragile bioactive ingredients have a good home in ice cream, Rankin notes.
He's quick to add ice cream is another category that is seeing more influence from plant-based varieties as well.
"You can't get very far in any food category and not encounter plant-based proteins and ingredients," he says.
"Many dairy plants make these products because they are set up to process frozen desserts or beverages, so non-dairy protein sources also are a part of that dynamic. We need to be thoughtful of their presence and use."
Rankin says he also is seeing more of a trend toward decreasing the amount of lactose in ice creams for those consumers who might otherwise veer away from the product due to dietary restrictions.
However, traditional ice cream also provides natural dairy-forward health attributes such as calcium and protein, he adds.
"The milk used in ice cream is rich, and the ice cream itself, the base mix, has a lot of calcium in it and is calorie dense," he says.
Beyond ice cream, Rankin notes frozen novelties also are seeing an increase in demand as well as innovation.
"Things like frozen water pops and dove bars — that medium for ice cream is increasingly important. It's convenient, single-serve and high quality — I think it's an area we should keep our eye on," he says
Donna Berry, a food scientist and editor, consultant and food guru at Dairy & Food Communications Inc., says single-serve varieties in the frozen dessert space are really taking off.
"The pint and smaller containers as well as novelties are really fueling a lot of innovation," Berry says. "With those packages you can put a lot more in them because it doesn't collapse or fall apart in the package.
While once considered a kids' category, novelties now often are premium products designed for adults, she adds.
"They assist with portion control so are ideal for indulgent formulations where the consumer wants a treat without the temptation to grab another scoop," Berry says. "They function as a grab-and-go snack and should be marketed as such."
She notes one of the biggest opportunities with novelties is better-for-you concepts.
"This might be in the form of high protein, probiotics, botanicals, fortification, etc. It also might be about low- or no-added sugar or the inclusion of fruits, nuts and other whole food ingredients that are identifiable. The consumer knows just what they are getting in this portion pack," Berry says.
She notes swirl varieties also are increasing in demand, such as a new Dipped Duos product from Turkey Hill Dairy featuring two premium ice cream flavors swirled together in one bar and covered in a rich milk chocolate coating.
Wells Enterprises also introduced a similar product earlier this year, Blue Bunny Twist Cones, featuring a sugar cone filled with two flavors of soft-serve dairy dessert along with a ribbon of either fudge or strawberry.
Tillamook also has a place in the novelty space with its ice cream sandwiches, which feature a twist on the classic cookie sandwich with a waffle cone outer layer.
Ice cream is a classic American story, as the majority of U.S. ice cream and frozen dessert manufacturers have been in business for more than 50 years, and many are still family-owned businesses, IDFA notes, adding that the average American consumes approximately 23 pounds of ice cream and related frozen desserts per year.
"New ice cream flavors are paramount to keeping your brand relevant," Berry says. "Anything goes with ice cream flavors, and those that provide shock value make for great limited-edition offerings. Investing in public relations prior to the launch provides the marketing hype to make the flavor a success and creates anticipation for the next concept in the pipeline."
CMN