Paz Ingredients focuses on nutrition, integrity as it approaches 25th year
Editor's note: Welcome to Ingredient Innovation, CMN's new segment exploring recent innovations and trends in the dairy ingredients sector. For this segment, we will profile a leader in the ingredients industry as well as share updates on mergers and acquisitions and new offerings for cheese and dairy in ingredients — where flavor begins.
By Alyssa Mitchell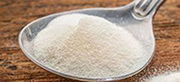 Photo courtesy of Paz Ingredients
WHEY POWDERS — Some of the key ingredients Paz Ingredients offers include whey powders — such as the whey protein isolate-90%, left, and whey protein concentrate (WPC)-80% pictured above. "Be it dairy protein, plant protein, butter or cheese, we aim to exceed customers' expectations," says President and Founder Mark Paz. "Our goal is to provide our customers with a simplified source of ingredients that suits their functional food and beverage application."
CORONA DEL MAR, Calif. — Paz Ingredients Inc., a leading provider of quality dairy ingredients and products, is marking 25 years in business in 2021. The company has built its reputation on providing quality ingredients for nutrition, health and wellness, and has kept its finger on the pulse of evolving trends in this sector, says Mark Paz, president and founder, Paz Ingredients.
When founding the company in 1996, Paz says he noticed a need to service upcoming high-value-added markets and worked to build a functional protein distribution and processing center geared toward food, wellness and nutrition.
"Pursue excellence in everything you do with integrity, dedication and service," reads the company's mission statement on its website.
"True to our mission statement, our primary goal as a company was to process and supply premium quality nutrition with integrity, dedication and premium service," Paz says. "The other key part was to execute on customer contracts."
He notes integrity is the underlying core of the business.
"Another core value is focusing on developing premium dairy ingredient clientele with a 'no order is too small' philosophy," Paz says. "Some of our original accounts have converted into some of our large long-term clients today. We evolved by building relationships with smaller nutritional/sports performance accounts. Through this we hoped to target developing and emerging international markets."
Paz notes in the late 1990s, India was emerging as a player in the dairy ingredients industry and developing casein/whey and milk powder plants and several greenfield production facilities.
"After several visits to India and other countries, general networking and trade shows, we worked hard to connect the dots and initiate relationships in India for our business," he says. "India at that time was very keen on finding a U.S. partner that would help develop key accounts, handle imports and logistics, and service contract manufactures and end users. An important part of this approval process was developing dairy ingredients that functioned well and that could be modified or tailor-made to discerning clients' requirements."
Throughout its time in the dairy industry, Paz Ingredients has identified a demand in the small niche premium nutrition and health/wellness sector.
"This was critical to our success at Paz Ingredients. We explored dairy ingredients both domestically and internationally that would separate us from mainstream dairy commodity markets," Paz says.
Paz notes the company played a small role in influencing whey protein concentrate (WPC)-80 instant plants it represents overseas and domestically to switch from using soy lecithin (soy allergen) as an instantizing ingredient to sunflower lecithin (allergen free) from the mid-1990s to the early 2000s.
"This was also another way of separating ourselves in the wellness and health nutrition sector," he says.
In the early 2000s, grass-fed, organic and non-GMO dairy proteins started to pick up momentum, and Paz Ingredients has kept its finger on the pulse of these trends, Paz notes.
"Grass-fed, non-GMO and rBST-free dairy ingredients were trends that converted to mainstream products over the next 3-6 years," he says.
Today, Paz Ingredients has domestic and international partners distributed throughout Europe, Asia and South America, and the company's partners and staff of experts have more than 100 years of industry experience.
Photo courtesy of Paz Ingredients
FAMILY-OWNED — Paz Ingredients is a family-owned business marking 25 years in 2021. In addition to Founder and President Mark Paz, center, other family members on the team include Mark's sister Teresa Britt, left, who handles business development and logistics, and his daughter, Paris Paz, right, administrative assistant, as well as his wife, Karla Paz, COO (not pictured), and his brother Mario Paz, CFO (not pictured).
• Family-owned
"Integrity is the main word when it comes to our business," says Paz, who notes his parents raised a family of 10 in the heart of Los Angeles.
Paz's mother, the late Sally Paz, is the backbone of Paz Ingredients, he says, noting she served 20 years as the director of domestic development for the company and was the original employee of Paz Ingredients.
In addition to Mark Paz as founder and president, other family members in key executive roles include his wife, Karla Paz, COO; his brother Mario Paz, CFO; and his sister Teresa Britt, who handles business development and logistics.
"Being raised in a Catholic Christian household, ethical values were core to our family, and this still holds true in our business," Paz says. "We can credit our success as a dairy ingredient distributor and processor to keeping our word and maintaining our notable reputation. We have been a family-run business from the inception of our company. We continuously are building this further with an additional employee, my daughter, Paris Paz, this year."
Paz notes service, value, integrity and dedication are what the company holds true and dear as its business philosophy.
"Likely, with the number of children I have and several siblings, we will continue to add more family and hopefully have them run the business one day," he says. "We would love the opportunity to prove our commitment to quality and service to any new prospective customer."
• Offerings
Paz ingredients provides fats (butter, anhydrous milkfat, cream), proteins (casein, caseinates, milk protein concentrate), cheese solids, buttermilk and much more to the dairy sector.
"The key ingredients we offer daily are our rennet casein, acid casein, whey proteins — including non-GMO — organic grass-fed butter, sodium caseinate (quick hydration) and milk protein concentrate (MPC) 70%-85%," Paz notes.
The company also provides ingredients for yogurt and ice cream/novelties, bakery, sports nutrition and the pharmaceutical sectors, as well as frozen, finished and packaged foods.
Paz notes the company understands that each application requires unique ingredients.
"Be it dairy protein, plant protein, butter or cheese, we aim to exceed customers' expectations," he says. "Our goal is to provide our customers with a simplified source of ingredients that suits their functional food and beverage application."
• Customer-centric
Paz notes Paz Ingredients is "customer first"-centric and manages each order with a strong sense of pride, ownership, integrity and service.
"We work diligently to make sure our customers know this is how we operate and deliver on our commitments. We value our relationship by being professional with an additional touch of personal care and dedication to each customer's requirement," he says.
This year, as the industry has grappled with the COVID-19 pandemic, Paz notes a primary challenge has been logistics and overseas container and customer delays.
"Freight from overseas as well as domestic trucking has been challenged with delays at the port and short staffs across the board," he says. "The pandemic has all of us working harder and with less people to cover the increased demand in ingredients. We've worked through this by communication, communication and did I say communication? Unfortunately, it is difficult to pair up specific production dates with constant delays at warehouses, transportation and the ports. The key is to stay very close to our supply chain, customs and the customer."
He adds the company works very hard to communicate realistic expectations ahead of time to make sure everyone is on the same page in terms of delivery schedules.
"We suggest organizing backup safety stocks to all our customers," he says.
Looking ahead, Paz says a key focus for the company is to expand the ingredients it offers to food, beverage and nutrition clientele.
"We have focused on the increased demand in immunity-building ingredients and processing," he says, noting Paz Ingredients recently built a contract manufacturing plant in Vancouver, Washington.
"This plant is a powder blending and capsule and tablet manufacturing facility. Immunity building is a hot trend in today's pandemic," he notes. "I am seeing an increased usage for 'on-the-go' nutrition. For example, similar to Keto-like diets, I see an increase in new hybrid plant-based and dairy-based products. I notice our consumers are more health conscientious, looking for new trends that offer better choices of foods, beverages and protein snacks. The society we live in now is on the lookout for healthier nutrition that you can pack in your work lunch box or your children's lunch bag.
Paz says the company hopes its new facility in Vancouver will continue to increase in capacity.
"We will expand size and increase volume with new products that meet this ever-changing demand for on-the-go nutrition," he says.
CMN