Ornua Ingredients North America's customer partnerships drive growth

Editor's note: Welcome to Ingredient Innovation, CMN's new segment exploring recent innovations and trends in the dairy ingredients sector. For this segment, we will profile a leader in the ingredients industry as well as share updates on mergers and acquisitions and new offerings for cheese and dairy in ingredients — where flavor begins.
Photo courtesy of Ornua
TAILOR-DESIGNED — Ornua Ingredients North America's (OINA) expertise in R&D enables it to help customers determine what cheese works best in their environment. OINA helps to tailor-design products to meet its customers' requirements and applications, creating cheeses that meet specific taste, texture, flavor, melt, color, cost, shelf life and label requirements.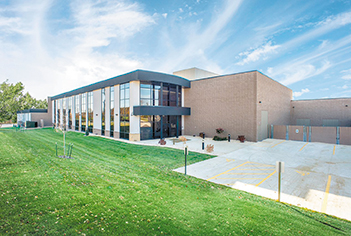 Photo courtesy of Ornua
GROWTH MODE — Ornua Ingredients North America now has a total of six U.S. facilities, including its Hilbert, Wisconsin, headquarters pictured above. In addition, the company has two plants in Whitehall, Wisconsin, one in Hillsboro, Wisconsin, one in Byron, Minnesota, and one in Slippery Rock, Pennsylvania.
---
By Rena Archwamety
HILBERT, Wis. — A leading provider of customized functional cheese solutions for U.S. manufacturing and foodservice, Ornua Ingredients North America (OINA) is building on decades of experience to continue expanding its research and development (R&D), product solutions, packaging options and processing capabilities for its customers in the United States, Canada and Central and South America.
A division of Irish dairy cooperative Ornua, the North American ingredients business has had a U.S. presence for more than 50 years, and taking into account its acquisitions, a total of 80 years of experience in the functional cheese space. And while it is owned by the Irish co-op, OINA's dairy ingredients are procured from all over, including cheese from the Midwest United States, offering a diversified and reliable supply chain.
Last year Ornua acquired Whitehall Specialties, now integrated into OINA, which added the capacity of four new production sites as well as new capabilities in packaging and formats. OINA now has a total of six U.S. facilities in Byron, Minnesota; Hilbert, Whitehall (2) and Hillsboro, Wisconsin; and Slippery Rock, Pennsylvania.
"The acquisition brought together two market leaders and their technical expertise and innovation platforms," says OINA President Rick Pedersen, who adds that in the last five years, business had doubled organically and then again through acquisitions.
"In the last 10 years, we've made $100 million in capital investments," he says. "Our customers steer us to where we invest. It's not 'Make it and they will come.' We want to support our customers, and when our customers are going toward a direction, we develop capabilities around that."
• Winning platforms
Each year, OINA helps to tailor-design around 50 new products to meet its customers' requirements and applications, creating cheeses that meet specific taste, texture, flavor, melt, color, cost, shelf life and label requirements. Its solutions can include processed, analog or plant-based cheeses, and it supports its customers from the idea stage to commercialization.
Pedersen emphasizes that OINA is focused more on technologies and capabilities than specific products. Its trademarked Cheddariffic is one of these platforms, which offers customers an alternative to club cheese, improving food safety and quality.
"It improves the shelf life of that ingredient, helping to manage inventories and supporting our customers' needs," he says. "Inside that umbrella, there are a lot of flavors and textures. It was created with the understanding that club cheese comes with challenges in various customers' environments."
Another offering Pedersen highlights is OINA's trademarked @Home clean label technology, which was developed to be made with ingredients most people are familiar with or already have in their pantry.
"They know what those ingredients are, and there is nothing that sounds odd," Pedersen says. "It's for customers who are looking for a clean label. We can take that technology and push it in various ways."
He adds that consumers engage with products developed around these platforms on a daily basis, from pizzas, burgers and sandwiches to breakfasts, mac and cheese and other meals, to soups and sauces. OINA's customers range from well-known national brands to smaller local and regional customers.
"Our products are widely available — people just don't know it's us," he says.
• Developing partnerships
As OINA continues to expand, it has added more people and capabilities in its R&D department, helping to find solutions that work from development all the way through to the commercial space and beyond. To do this, the company often develops and promotes talent from within.
"Many in R&D came from the production floor," Pedersen says. "People on the bench are helping to develop product they have worked with on the floor, so they know how to develop that product, if it is viable and if it will work."
At its core, OINA is a customer-centric and solutions-focused company, and its R&D function is critical to this, Pedersen says.
"We've invested in the people and equipment to help us develop solutions for the customers' needs, and we're here for the long term," he says.
One of the company's mantras is "IRR" — not internal rate of return, but in this case "Innovation, Responsiveness and Reliability."
On the innovation front, OINA brings a solutions mindset to its customers. This includes bold new solutions and innovative ideas — beyond what is being done in the industry today — to support its customers and determine what cheese works best in their environment.
"It's not just 'what's the next big thing,'" Pedersen explains. "If a customer has a challenge and we find a solution, that's innovative to them. We think of a creative way to drive those solutions."
Responsiveness to OINA means that the faster it can provide a solution, the faster its customer can get a product to market.
"Everyone has new products they're trying to launch and time windows, and we appreciate and understand their pace," Pedersen says. "That responsiveness to customers' needs helps us win in the marketplace. They don't have that waiting time to get a response."
Finally, products need to be reliable, performing not only in OINA's production site, but also in a customer's environment, with quality, consistency and effectiveness.
"We're thinking of it from the beginning, and we're thinking of the after care," Pedersen says. "Once a product is sold to a customer, we will be there to support them throughout the supply chain. When we're speaking their language and they achieve what they want to achieve, everyone in the value chain wins."
• Future growth
When Ornua acquired Whitehall Specialties in October 2021, it gained not only additional manufacturing capacity, but also new capabilities in sliced, dried and grated products and other new formats and sizes of packaging. The acquisition also included Whitehall's NewFields division, adding more plant-based solutions to OINA's portfolio and for its customers.
Pedersen says Ornua will continue to look at new merger and acquisition opportunities to continue its growth with its existing customers and to make new customers aware of its capabilities. The company will look for where OINA can accelerate growth and bring in new technologies, capabilities and capacities to help it grow alongside its customers.
"Our mission statement is to enable customers to bring their products and innovations to life," Pedersen says. "We don't take the term 'partner' lightly. If we help our customers be successful, we will be successful."
He likens OINA's partnerships to those with a trusted auto mechanic.
"If you find a good auto mechanic who's doing the right thing, and their solutions allow your car to continue to be on the road at a reasonable value, when something happens, there's only one person you will be calling," Pedersen says. "If you have a problem, give us a call. We won't just develop a product and bring it to life, we'll keep it moving throughout that product's lifecycle."
CMN