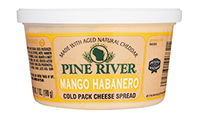 Photo courtesy of Pine River Pre-Pack Inc.
HOT NEW FLAVOR — In August, Pine River Pre-Pack launched its newest variety, Mango
Habanero Cold Pack, made with habanero mango jam and available for a limited time.
---

Photo courtesy of Pine River Pre-Pack Inc.
FUTURE OWNERSHIP — The Lindemann family have started working with four longtime employees on plans for future ownership of Pine River Pre-Pack. They are pictured above (left to right) with current leadership: Director of Operations Chauncey Behm, President and CEO Phil Lindemann, Warehouse and Maintenance Manager Cory Meyer, Treasurer Barth Lindemann, Chief Financial Officer Scott Caliebe and General Manager Ian Behm.
By Rena Archwamety
NEWTON, Wis. — Pine River Pre-Pack Inc. has earned a strong reputation for its award-winning cold pack and cheese spreads. From its top-selling classic Port Wine to the more recently trending Spicy Beer and Ghost Pepper flavors, Pine River is constantly innovating based on customer feedback.
In August, Pine River launched its newest variety, Mango Habanero Cold Pack, currently available for a limited time.
"That flavor is made with a habanero mango jam," says Brittany Requejo, marketing manager, Pine River Pre-Pack Inc. "You get the sweetness of the mango and then a spicy kick from the habanero, all combined with a creamy Wisconsin Cheddar. We have received a lot of good feedback on the sweet and spicy combination."
Pine River also recently re-released its Dairy Fudge Cold Pack, which currently is available on its website and will be sold through the holiday season.
Marketing Director Mary Lindemann notes that this variety, which has been available at various times in the past, can be enjoyed in a similar manner as popular chocolate spreads like Nutella. The company recently showcased the Dairy Fudge flavor on social media as a more meltable chocolate alternative to use in s'mores.
"When we made it before, it was hard to get people to grasp the idea of a cheese spread that tastes like chocolate," Lindemann says. "But once you eat it, you'll want more of it. It actually tastes like brownie batter."
• Business evolution
Pine River Pre-Pack Inc. was incorporated in 1963 by Lindemann's father-in-law and Requejo's grandfather, Philip C. Lindemann. It started out as a cut-and-wrap operation, making cheese spread on the side from leftover trim pieces. By 1980, the cheese spread was outselling the cutting and wrapping business, so Pine River transitioned strictly to spreads. The company's products soon went nationwide after they were discovered by an Ohio broker looking for a cheese spread to include in fundraisers. In 2011, the company built a new state-of-the-art facility that doubled its production.
"One of the big turning points, besides the fundraising industry growth, was when we started to exhibit at food shows," Mary Lindemann says. "Dairy Farmers of Wisconsin provided us additional opportunities to exhibit at multiple national shows. It made such a difference for people to taste the product and learn how to use it, not just on crackers."
The trade shows also provided an opportunity for Pine River to network with brokers and distributors, as well as keep a pulse on the latest trends in food, adding new flavors from seeing what people wanted and what restaurants were using.
"Our clean label line came out of seeing the clean label trend at shows, as well as hot flavors ... Ghost Pepper, Spicy Beer and Pepper Jack flavors along the newer end of our offerings. People continue asking for stronger flavors," Requejo says.
Pine River launched its line of clean label spreads in 2017, based on requests it had received from customers. These Cheddar-based spreads are rBST-free and contain no preservatives, artificial flavors or artificial colors. They are cold-pressure treated for safety, allowing for an extended shelf life of 330 days.
In addition to the original and clean label line of spreads, Pine River offers a Gourmet Snack Spread that is shelf-stable, ideal for gift baskets or displaying outside of the cheese case throughout the grocery store. In late 2019, the company reformulated this shelf-stable spread so it would have a flavor and texture similar to its traditional refrigerated cold pack cheese food.
"We increased the amount of Wisconsin cheese and butter. This allows the product to have a creamy, smooth, dippable texture and a delightfully robust Cheddar flavor," Requejo says. "Stores love it because they do not need to worry about refrigerated space for these items. They can sell these delicious cheese spreads anywhere in the store: produce section, chips and snack aisle, or on shelving in the dairy section. We also had a lot of interest in these shelf-stable products from our customers who put together gift baskets. They fit in nicely with any type of sausage, crackers, jams, etc."
Quality control and safety are top priorities at Pine River Pre-Pack. The company has been SQF Certified since 2014, ensuring its plant follows the highest level of food safety protocols. Earlier this year to address COVID-19 concerns, Pine River implemented the use of separate entryways and staggered staff hours to ensure proper distancing and the health of its employees.
Lindemann says employees always are reminded that quality comes before speed. Pine River would rather make 10 perfect batches in a day than make 40 mediocre batches.
"The biggest thing our customers appreciate is our high-quality products," she says. "They know it's going to be good and the same every time. They know they can talk to us if they have a problem. We're a small company in that sense. We listen, and that's how we find out how we can help them more. We're known for our customer service, fast shipping, and quality and consistency of our products."
• Future transition
In addition to its recently-added flavors and formulations, Pine River last year built a new, larger lunch room for its growing staff; added a new warehouse to assist with flow efficiencies and to age the 40-pound blocks of Wisconsin Grade A Cheddar used in its spreads; and launched a new website with a new recipe section at pineriver.com. Additionally, Pine River has added a new member, Kayla Bohn, to its sales team to help manage nationwide growth opportunities — particularly on the West Coast, where Pine River is working with DPI Specialty Foods and Le Grand Marketing to expand its clean label line of cold pack spreads in this market.
The Lindemanns also have started working with four longtime employees on plans for future ownership of Pine River Pre-Pack: Chauncey N. Behm, Ian R. Behm, Scott M. Caliebe and Cory J. Meyer. Collectively, the four partners have been with the company for more than 30 years, and over the last decade they have been learning and growing the business under the guidance and mentorship of the company's president and Mary's husband, Philip A. Lindemann.
"We've started transition discussions, and it's very exciting. They know our philosophy and have lived it for a number of years already. They do a great job with cleanliness, team effort with employees and quality," Mary Lindemann says.
There is no turnover date set and it will take some time, Lindemann notes. Even after the new partners take ownership, the Lindemanns plan to remain involved in an advisory capacity with mentoring, marketing and flavor development.
"We want to be involved in some capacity in the future," Lindemann says. "This company has been our life's work and we've grown wonderful relationships with our extended cheese family; it would be hard to completely walk away from that. But, we know we've selected partners that will build upon Pine River's foundation of excellence, continue to elevate the company's national presence, and are committed to producing quality, award-winning products consumers expect for years to come."
CMN