Photo courtesy of Arla Foods
HAVARTI SPECIALIST — Arla Foods specializes in Havarti, made in its Hollandtown plant in Kaukauna, Wisconsin, using its traditional Danish recipes. Arla offers several formats and flavor varieties for both retail and foodservice under its own brand or private label.
---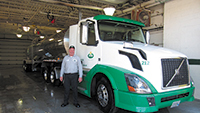 Photo courtesy of Arla Foods
LOCAL MILK — All of Arla's milk in the United States is sourced from 24 farmers located within a 25-mile radius of its Hollandtown plant. The Wisconsin facility, which makes Havarti, Gouda, Edam Fontina and Muenster, processes between 770,000 and 1 million pounds of milk each day.
By Rena Archwamety
BASKING RIDGE, N.J. — The mild, creamy and approachable Havarti might not be as well-known to U.S. consumers as staples like Cheddar, Mozzarella or even Gouda. However, Arla Foods — a leading manufacturer and provider of the Danish-style specialty cheese — is changing that by growing its domestic and imported Havarti among more mainstream U.S. consumers.
"We're really trying to build our brand awareness and cheese awareness in Havarti," says Arla Foods Senior Associate Insights and Brand Manager Joshua Rosen. "Some people may be unfamiliar with Havarti. It's a creamy, buttery, approachable cheese that is perfect for melting. We're educating consumers about Havarti cheese to help increase our customers' sales."
Arla Foods has held its philosophy of producing natural, healthy and high-quality dairy products dating back to the 1880s when the cooperative was formed by dairy farmers in Denmark and Sweden. Now one of the largest global dairy companies, Arla Foods is owned by more than 9,700 dairy farmers with production facilities and distribution all over the world.
In 2006, Arla purchased Hollandtown Dairy in Kaukauna, Wisconsin, where it produces Havarti using its traditional Danish recipes. In addition to Havarti, Arla also produces Gouda, Edam, Fontina and Muenster at its 110,000-square-foot Hollandtown plant. All of the milk for these cheeses is rBST-free and sourced from 24 farmers located within a 25-mile radius of the Hollandtown plant, which processes between 770,000 and 1 million pounds of milk each day. Arla's cheeses boast "No artificial flavors, preservatives or hormones used" and "No GMO ingredients."
The Wisconsin-made cheeses are sold at club stores under the Arla brand, while the company's Castello brand features mostly imported varieties such as Havarti, Blue and Feta sold at national retailers.
Arla's cheeses have a history of winning awards at international cheese competitions. At the World Championship Cheese Contest held earlier this year, Arla won first-place awards in the Feta, Spreadable Flavored Natural Cheeses and Unsalted Butter categories; second in the Smoked Gouda and Spreadable Natural Cheeses categories; and third in the Spreadable Natural Cheeses and Surface Ripened Mixed Milk Cheeses categories. Some of the company's Edam, Gouda, Dill Havarti and Smoked Havarti varieties also won gold medals at the 2020 Los Angeles International Dairy Competition.
Arla is working to expand its footprint across the cheese industry by offering high-quality Havarti and other specialty cheese types for retailers growing their private label brands.
"We have several formats available to foodservice operators and delis to be used for sandwiches or as an ingredient in recipes," Rosen says, noting Arla has been scheduling virtual meetings with several companies interested in its foodservice products. "During COVID it has been a little more difficult for restaurants, with limited people who can come inside, changing the whole landscape of the foodservice industry. But it is still in demand, and we're still getting inquiries."
For all its cheeses, Arla also has the capability to smoke or add a number of different flavor varieties.
"We have a smoke stack in the dairy facility in Wisconsin. We can take Gouda cheese and smoke it for 43 hours with hickory chips to give it a nice smoky flavor," Rosen says, adding that the company always is tracking trends in flavors to stay ahead and offer what consumers are looking for. "We produce a variety of different flavors of Havarti and Gouda cheese, including jalapeño, cracked pepper and chipotle — if it's not on our capability list, we can do the research to see if a certain flavor will work. We're always open to exploring new things."
In addition to expanding its foodservice business, Arla is seeing more demand for private label as retailers are shifting to focus on their own branded products. Arla is working on reaching new retail partners to share what they offer for private label business, calling out Havarti as its main cheese type and its position as the market leader. Rosen notes that Havarti is a growing cheese type within the specialty cheese retail world, growing 13.4% in dollar sales over the last 13 weeks (Nielsen Answers, total U.S. xAOC L13W 10/3/20). He adds that for Havarti, private label slices are the No. 1 selling item.
"Arla is a great supplier of Havarti or Gouda due to our capabilities and willingness to work with customers to help grow their own brands. We work with our customers on special request projects as they arise," Rosen says.
While slices lead private label demand, Arla also offers opportunities in its private label program for cut-and-wrap in store, 7-ounce chunks or larger blocks.
"We are seeing a lot of growth across private label cheese — especially in the retail channels," Rosen says. "We are constantly innovating and investing to bring capabilities to our Hollandtown plant to meet the needs of our customers."
Rosen says Arla has been very careful to adhere to local government guidelines to keep its employees safe during the pandemic. As for sales, the company hasn't seen any slowdown in demand for its cheese. In fact, its branded business has grown, particularly within the club channel.
"If anything, during the spike in mid-March to April, people were going out to club stores and stocking up," he says.
As Arla works to grow the presence of its domestic Havarti, Gouda and other cheeses in retail and foodservice, it also continues to promote its specialty and imported cheeses under its Castello brand, driving consumer awareness of these cheeses in the United States. This year, Castello has been partnering with food and lifestyle influencers to help educate followers about Havarti and its versatility, developing recipes to show how Castello Havarti can be used in everyday meal preparation.
"Part of our big goal, especially with the Castello brand, is to bring more awareness to Havarti. If you were going to make a grilled cheese sandwich, in a side-by-side comparison with a processed cheese product, with Havarti you see a much better melt and much creamier product," Rosen says. "It's definitely a type of cheese that is very approachable. People are surprised as to why they haven't tried it before. It has a rich, buttery flavor and creamy texture that is perfect for the whole family."
CMN