SALEMVILLE'S BLUES: Salemville Cheese Cooperative makes four Blue and Gorgonzola products.
---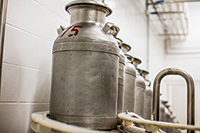 TRADITIONAL FARMING PRACTICES: Salemville Cheese Cooperative's members are Amish families who handmilk their cows. Then, rather than the milk being pumped away to a conventional cooling tank, the milk is poured into traditional cans, which are chilled in 50-degree well water baths until picked up by milk can trucks and delivered to the plant.
By Kate Sander
CAMBRIA, Wis. — Salemville Cheese Cooperative recently completed a construction project that added 15,000 square feet to its award-winning Blue cheese creamery. More than doubling its size, the expansion gave the co-op the opportunity to retool and improve its entire production facility.
Nelson Schrock, operations manager, Salemville Cheese Cooperative, says the new production facility has been operational since the beginning of April. In addition to increased capacity, the new facility — now a total of 28,000 square feet — has improved processes and has added an enclosed milk receiving bay.
While the first few weeks of production in the new facility were trial and error, Schrock says he is now thrilled with the quality of cheese coming off the new line.
"It's met and exceeded our expectations," Schrock says.
For a creamery that's SQF Level 2 certified and regularly wins awards for its Blue and Gorgonzola, that's saying a lot. The co-op's most recent win was a best of class award for its Salemville Gorgonzola at the U.S. Championship Cheese Contest this past spring, but the co-op's cheeses have won dozens of awards over its storied history, including best in the Gorgonzola class at the 2012 World Championship Cheese Contest.
In addition to the many awards over the years that attest to the cheese's quality, Salemville Cheese Cooperative offers consumers a compelling story that has helped lead to increased demand.
---
"It's met and exceeded our expectations."
Nelson Schrock
SALEMVILLE CHEESE COOPERATIVE
---
Salemville Cheese Cooperative isn't an average dairy cooperative. Its 64 members are Amish families who live in a settlement in south central Wisconsin that was founded in the late 1970s. They are Old Order Amish with a traditional lifestyle — horses plowing the fields, handmilked cows and few telephones. Rather than milk being pumped away to a conventional cooling tank, milk is poured into traditional cans, which are chilled in 50-degree well water baths until picked up by milk can trucks and delivered to a plant.
By the mid-1980s, surrounded by a world with increasingly stringent food safety demands, the members of the community determined that if they were going to preserve the ability to handmilk their cows and sell their milk in milk cans, they needed to buy their own plant. A small shuttered dairy plant in Cambria presented the right opportunity at the right time.
Upon purchasing the plant, two members of the Amish community, LaVern Miller and William Schrock, became the head cheesemakers. Prior to moving to Wisconsin they had no prior experience with Blue cheese. But while they learned the craft and excelled at making cheese, selling the product in those early years proved difficult, according to Nelson Schrock, who describes the late 1980s as "rocky" years with the co-op's employees — who weren't experts in dairy marketing — making phone calls to market and sell their cheese.
The co-op's trajectory changed, though, in 1990 when the co-op formed a marketing relationship with dairy marketer Dan Carter. Dan Carter Inc. acquired the Salemville brand, while the plant and its assets remained with Salemville Cheese Cooperative.
Carter had the cheese packaged in small retail sizes and focused on the retail segment, which provided better returns. With the marketing prowess of Dan Carter Inc., later known as DCI Cheese Co., sales of Salemville products began to flourish.
Over the years, the cooperative began to make a few additions — adding more cold storage space and a small retail store. Each addition was a little larger than the last as demand grew.
In 2011, DCI was purchased by Saputo Cheese USA Inc.
Today, the Salemville brand continues to benefit from Saputo's strong national sales and marketing teams. With the strength of a multinational company behind the marketing of the product, the Amish cheese cooperative can focus on what it does best — making quality cheese.
In its recently enlarged but still unassuming plant, Salemville Cheese Cooperative makes just four Blue and Gorgonzola products that are unique to one another and all critically acclaimed.
Salemville Blue cheese is recognized for its well-balanced, earthy flavor and picturesque veining.
---
"We understand that this is not a venture where we're the biggest Blue cheese vendor. How we feed our cows, how we handle our milk, how we handle and package our cheese — that's what makes our
product different."
Nelson Schrock
SALEMVILLE CHEESE COOPERATIVE
---
A rich and smooth rbGH-free cheese, Salemville Blue is delicate with a slightly tangy flavor, Saputo marketing materials say.
Meanwhile, Salemville Gorgonzola is savory and slightly piquant with a rich, earthy flavor. Its creamy texture and consistent veining make it the perfect addition to a fruit-based cheese plate, Saputo says.
Salemville Reserve, an extra-aged Blue cheese, undergoes a closely monitored extended aging process to further develop the cheese's well-balanced flavor. The result is a rich and creamy texture and a piquant flavor that is both earthy and savory, Saputo says.
The company also offers a smoked Blue, Salemville Smokehaus Blue, which is applewood smoked to give the cheese a sweet, slightly smoky flavor.
Coinciding with the plant expansion, Saputo recently has invested in new packaging for the entire product line. Saputo recently launched new re-sealable packaging for Salemville brand's four award-winning blue-veined cheeses. These new containers offer easy access for quick and convenient dining. And once you are done, just snap the lid back into place and return the cheese to the refrigerator for your next meal.
While the Salemville plant doesn't have internet access and keeps its processes simple, Saputo continues to use its marketing reach to spread the word about the product line across all marketing channels.
A new website for the brand will launch this summer, and recipe videos are being featured on social media. An influencer marketing campaign will be tied to a holiday sweepstakes promotion.
Salemville products are marketed through in-store promotions, social media, influencer marketing, and print and digital ads.
Schrock believes the handmade, low impact nature of the cheese's production will continue to benefit sales and marketing.
Each of the Amish families cares deeply for its herds, which range from four to 25 head, with an average size of 15, Schrock says. At the plant, as much as possible is done by hand instead of using machines.
At the same time, the company offers major food safety certifications: It is GFSI certified and is working on taking its SQF Level 2 certification to Level 3, the highest level.
"We understand that this is not a venture where we're the biggest Blue cheese vendor," Schrock says. "How we feed our cows, how we handle our milk, how we handle and package our cheese — that's what makes our product different."
CMN