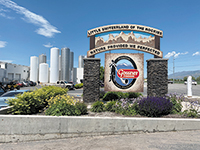 Photo courtesy of Gossner Foods
STRONG FOUNDATION — Gossner Foods processes numerous cheese varieties and formats, as well as aseptic milk, at its main facilities in Logan, Utah (pictured above). Gossner also has a cheese plant in Heyburn, Idaho. The family-owned company has built its reputation over more than five decades through consistent, quality products and customer service.
---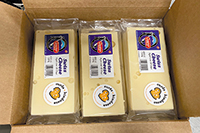 Photo courtesy of Dairy West
COMMUNITY GIVING — Gossner Foods is a participant in Dairy West's Curds + Kindness program, where milk that otherwise would have been dumped is purchased and made into cheese to be distributed to area food banks. Gossner also has been providing food staples and other essential items to its employees during the COVID-19 crisis.
By Rena Archwamety
LOGAN, Utah — For more than 50 years, Gossner Foods has built its success as a leading Swiss cheese and aseptic milk processor on strong relationships with its customers, farmer suppliers, employees and family owners.
Founder Edwin Gossner started Gossner Foods in 1966 after bringing his family tradition of cheesemaking from Switzerland and working as a cheesemaker and plant manager for more than 30 years at other companies in Wisconsin, California and Utah. Gossner's daughter, Dolores Wheeler, became president and CEO of Gossner Foods in 1982 and oversaw unprecedented growth, from the addition of a fluid milk plant to additional construction projects that took place nearly every year of her 36-year tenure as leader of Gossner Foods.
In 2018, the same year Wheeler passed away, her granddaughter — and Edwin Gossner's great-granddaughter — Kristan Earl was elected president and CEO by Gossner Foods' board of directors, establishing the company's fourth generation of family leadership.
Earl, who grew up next door to her grandparents, was raised on her family's farm and remembers working the fields with her grandfather on his tractor. At Gossner Foods she spent summers working at the retail counter and kitchen, and in high school working on various office projects from accounts payable to cheese quality. She later joined the accounting department and, after graduating from Utah State University, moved into milk procurement. She had a desk just outside her grandmother's office.
"From Dolores I learned that the success of our business is directly related to the success of our employees and milk producers," Earl says. "Our obligation to the community is to create a premium market for the milk produced in our area and to provide a safe work environment for our employees. Dolores left behind a group of talented and dedicated employees who feel passionate about producing a high-quality product."
Gossner Foods produces its famous Swiss, Muenster and other varieties at cheese plants in Logan, Utah, and Heyburn, Idaho, and shelf-stable milk products at its aseptic milk plant in Logan. The company processes and packages all of its cheese, offering sliced, block, shredded and deli loaf formats of Swiss, Cheddar, Colby Jack, Hot Pepper, Muenster, Monterey Jack, Mozzarella and Provolone. The company has built its reputation by providing the same consistent flavor of dairy products each week, says Jason Simper, sales manager, Gossner Foods.
"Our cutting operation has always gone the extra step to ensure what the customer is getting and has been able to move quickly when short lead orders come in," Simper says. "Our employees have always found a way to get things done, and our customers have recognized this."
Earl notes that the strength of Gossner Foods is in the relationships the company builds.
"We are flexible and exceed expectations to fill the needs of our customers, ensuring the customer has a good experience with our milk and cheese," she says.
To help continue to meet its customers' demands and exceed their expectations, Gossner Foods is undergoing expansions at both its cheese and aseptic milk plants in Logan. The milk plant is just completing a new 60,000-square-foot warehouse that will handle additional production coming from new production lines.
Gossner Foods recently added a new Tetra Liter Edge production line and added capacity for its 250-milliliter Prisma with DreamCap aseptic milk products. In July, Gossner will start production on a new Scholle Bag in Box line, and in August it will launch a new Tetra 250-milliliter strawless production line.
Gossner Foods' Logan cheese plant in April started construction on a 25,000-square-foot cooler expansion, which will allow additional cold storage for packaged cheese. This addition, scheduled for completion in July, will allow the company to continue to grow and expand product offerings to its customers.
"We continue to seek and find ways to be more competitive in the market," says Dave Larsen, vice president, cheese operations, Gossner Foods. "Our recent focus has been improving efficiency using automation, longer run times by increasing lead times to two weeks and other ways to reduce costs. We recognize the value in high-quality, consistent dairy products, and even though we continually seek ways to be more competitive, sacrificing food safety and quality is not an option we will consider."
Larsen adds that Gossner Foods plans to launch a new cheese variety this summer. The company currently has samples available, though it still is working on a launch date.
"It is a white cheese with a mild creamy flavor that melts and stretches fantastic," Larsen says. "It functions amazing on quesadillas, tacos, pizza and sandwiches."
The recent COVID-19 crisis has both increased and disrupted demand as Gossner Foods has worked to shift channels as well as help its employees, producers and community-at-large through the challenges of safety, social distancing and food security.
"We have been extremely fortunate. We have diversity in customers and flexibility in packaging options that we were also able to quickly transition from foodservice channels to retail packages," Earl says.
Larsen notes that demand for milk and cheese dramatically increased in February as orders for retail products reached unprecedented levels, and Gossner's employees were able to fill orders quickly and effectively. At the same time orders for retail cheese increased, foodservice orders dried up, though many of Gossner's cheese lines were able to convert from running foodservice to retail.
Aseptic milk items also have been high in demand with the COVID-19 crisis, says Kelly Luthi, vice president, aseptic operations, Gossner Foods.
"We have seen three times normal demand as retailers have seen customers flocking to stores to purchase food staples and food banks facing the perfect storm coping with increased demand due to job changes and shortages in the food supply," Luthi says.
Gossner Foods is working with two groups to help minimize the amount of milk dumped by dairy farmers in its area. It has teamed up with The Church of Jesus Christ of Latter-day Saints to purchase milk at a reduced cost from them and sell back the equivalent in cheese production. This cheese will be available through the religious organization's welfare distribution. Gossner also is participating in Dairy West's Curds + Kindness program, purchasing milk that would otherwise be dumped and producing cheese sold at cost to Dairy West, which will be distributed to area food banks.
Employee health and safety remain Gossner Foods' top priority, Larsen says. The company has implemented several changes to keep employees and their families safe by evaluating employee health daily, practicing safe social distancing, offering face masks, altering the start times of shifts to reduce employees in common areas, and increasing sanitation and cleaning of common areas.
In March Gossner determined there was a need to provide essential hard-to-find items for employees to help them during the difficult time and decrease the risk they would have to shop for these items.
"We started to provide toilet paper, potatoes, milk, cheese, rice, chicken, peanut butter, pork, beans, macaroni, bread, eggs, cookies, cereal and a number of other items," Earl says. "Our employees have been incredible during this time to support each other and to help reduce the risk of contracting and spreading the virus."
Earl applauds the commitment of Gossner employees to utilizing all the milk produced by the farmer suppliers and to taking steps to stay healthy inside and outside the workplace.
"As a nod to the strength of our Gossner Foods family, a number of masks were made and donated by the families of our milk producers," she says. "They understand the importance of keeping our employees healthy and safe, in order to keep the milk moving."
CMN