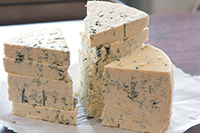 Photo courtesy of Kingston Creamery
CHEESE HERITAGE — The Kingston Amish community has been producing award-winning Blue and Gorgonzola cheeses for decades at its facility in Cambria, Wisconsin. In 2019, the community launched the Kingston Creamery brand of Heritage Blue and Gorgonzola cheeses.
---

Photo courtesy of Kingston Creamery
THE GOOD LIFE — Kingston Amish generally report higher levels of butterfat and protein from the mixture of Jersey and Holstein breeds in their herds. The average lifespan of a Kingston farm milk cow is 10 years.
By Rena Archwamety
CAMBRIA, Wis. — A new cheese brand, Kingston Creamery, has deep roots in the Kingston Amish community near the Cambria area that is about an hour north of Madison, Wisconsin.
When the Kingston Amish community was established in 1978, there were five dairy plants within a 20-mile radius that received canned milk and provided support for the Amish traditions of hand milking. As dairy farming in Wisconsin and across the nation became more mechanized, local creameries made the decision to no longer accept canned milk, jeopardizing the dairy traditions of the state's Amish farmers.
Seeking an opportunity to preserve and maintain their way of life and livelihoods as dairy farmers, the Kingston Amish made the decision to build and independently operate a creamery in the heart of their community. They broke ground in June 1984 at the current site in Cambria, and from the very start, Blue cheese was made from milk exclusively supplied by the Kingston Amish community.
For six years, the Blue cheese made at this factory was sold exclusively for industrial use. In 1992, recognizing an opportunity to expand sales to retail, the creamery formed a partnership with Dan Carter Inc. (DCI). The Salemville brand was developed and labels were designed for retail distribution, launched mainly in Kroger stores.
"It's astounding to recognize that the Kingston Amish, without the benefits of modern technology, have managed to develop, maintain and operate food safety systems at the Cambria plant that meet and exceed the requirements of industry and regulatory agencies," says Nelson Schrock, operations manager at the plant. "It's a testament to our dedication to excellence, patience and cooperation."
After 19 years of sales growth and expansion across national markets, ownership of the Salemville brand changed hands. This provided the opportunity for the Kingston Amish to reflect on making the shift from their role as a manufacturer of private-label Blue cheese to the possibility of developing their own identity and brand recognition.
• New identity
In 2019, the community officially launched Kingston Creamery as a proprietary brand, posting their new road sign in the parking lot of the creamery cheese store and continuing to produce award-winning Blue cheese using traditional methods and milk from the Amish dairy farming community.
Kingston Creamery Amish cheesemakers are experienced licensed technicians who believe that the "journey really matters," Schrock says.
"That journey starts with high-quality canned milk, extends to the milk flow into the cheese vats where the milk is transformed into curds and whey, and ends on the cheese hooping table where the curds are carefully formed into wheels and transported to aging rooms for the final stages of flavor and texture development," he says.
Through years of practice, flexibility and patience, the Kingston Amish have refined their milk quality and developed cheesemaking techniques and recipes that produce award-winning Blue and Gorgonzola. In 2019, Schrock recalls that a technical cheese judge at the American Cheese Society competition described the Blue cheese they make at the creamery as "'the most table-ready Blue cheese' that he had ever judged — high praise for an award-winning cheese!"
Kingston Blue cheeses are crumbly, while at the same time creamy and unctuous, Schrock notes. The pre-packed wedges and crumbles aren't gas flushed, so oxygen isn't displaced, allowing for the flavor profile and texture of Kingston Blue to continue improving even while still in retail packaging.
Schrock adds that his favorite way to enjoy the cheese is to top homemade toasted wheat bread with Kingston Heritage Blue, homemade grape jam from the family grape arbor, and an over-easy farm egg, made and served to him by his 10-year-old daughter Norma.
Seventy-five local Amish farm families either contribute to the Kingston milk supply or are directly impacted by jobs provided at the plant and cheese store.
"That economic opportunity contributes to the prosperity of the entire community and preserves a lifestyle that ties directly to our way of life and helps sustain our way of life," Schrock says.
Kingston Amish community members work in all skilled aspects of the plant, from cheesemaking to hand cutting and packaging. The Kingston Creamery country store offers the entire Kingston lineup, plus a wide variety of Wisconsin cheeses and cut-to-order options. The store, which is attached to the cheese plant, is experiencing record sales since the pandemic started due to both increased local shoppers and a sharp increase in tourist traffic from as far away as Illinois.
"Typically a spike in sales is expected in the summer months after school lets out, but the increase in customers started immediately in March and April and hasn't shown any signs of letting up," Schrock says.
"The cheese store is developing plans to expand its product selections to include even more Wisconsin-made cheeses and locally-produced gift and food items."
• Quality milk
The unique quality of Kingston Creamery cheeses comes not only from the craftsmanship of expert cheesemakers, but also from high-quality milk produced with traditional, sustainable methods. Milk is sourced from an Amish cooperative of farms, each with between 4-25 cows.
"A leading tenet in the Kingston Amish community is that impact on the land be minimal and that all farming practices follow that basic rule," Schrock explains. "The Kingston Amish use centuries-old traditional methods which follow the cycle of seasons and protect the water table, nearby streams and rivers."
In a normal pasture season, the animals feed on summer crops like silage and hay grown on the farms.
Kingston dairy farmers grow winter feed for their dairy cows using traditional horse-drawn equipment, and cows are allowed to graze freely on pasture in the months when grass cover is abundant. Bedding for the small herds is grown on the farm as well and returned to the fields, plowed under along with the prior year's field stubble to naturally replenish soil nutrients.
"Though there may be times that an Amish farmer needs to supplement from the local feed store, the basic adage is, 'Grow what you feed, feed what you grow,'" Schrock says.
As for the cows they milk, Kingston Amish generally report higher levels of butterfat and protein due to the healthy mixture of Jersey and Holstein breeds in their herds. A natural approach to the animals' welfare and comfort prevents disease and stress, which contributes to longer herd health. The average lifespan of a Kingston farm milk cow is 10 years.
"Kingston Amish milk cows are granted a lifestyle equal to — and in some cases better than — today's organic herds, which allows them to flourish beyond the few years that they are at the peak of their milking capabilities," Schrock says. "Kingston cows are part of the traditional Amish farming ecosystem and not simply an economic commodity."
Members of the Kingston Amish community continue to hand milk their cows, in part as a way to ensure family unity, Schrock adds.
"Twice a day, the family gathers in the barn to hand milk their cows and to do farm chores together," he says.
"The gentle connection between the animals and the family is a hallmark of the Kingston Amish community, where harmony with farm animals and the cycles of nature is always the priority."
CMN