Guest Columns
Perspective:
Dairy Markets
Dairy caught in trade war crossfire
Eric Meyer
Eric Meyer is president of HighGround Dairy*, Chicago, a firm which specializes in dairy hedging, risk management and market analysis services. He contributes this column exclusively for Cheese Market News®.
From a cheese manufacturer or on-farm perspective, June was a "disaster," to quote one of President Trump's favorite words. He typically uses that term to describe an old policy he does not agree with or the unfair trade deals made by past administrations. To place global trade on a more level playing field and protect American interests in his vision, Trump's White House has levied tariffs on steel and aluminum while also levying tariffs on $50 billion worth of Chinese imports, causing a backlash from some of the United States' largest export customers.
Keeping the conversation specific to dairy in this article, Mexico was the first to retaliate with 10 to 15 percent tariffs on virtually all U.S. cheese and that is poised to increase to 20 to 25 percent today. Mexico imported slightly above 200 million pounds of cheese from the United States in 2017, nearly 1.6 percent of our total production last year.
China also issued a list of more than 600 products that would be subject to retaliatory tariffs, including nearly every dairy product with exception of lactose, casein and high concentrated whey proteins (80 percent and above). Most impacted by these tariffs would be U.S. sweet whey powder, permeate and whey protein concentrate 34/35 producers, of which more than 640 million pounds of their products were imported by China last year. These tariffs also are subject to take effect today.
Chicago Mercantile Exchange (CME) spot cheese markets made a short-term top mid-May and fell throughout much of last month. Protectionist trade policy talk is just that — talk — but there is a sense of reality when specific products are placed on a tariff list and deadlines are set when duties are to be charged for those products. Physical and derivatives traders decided that the new reality was enough to lighten long positions and take a risk-off approach to let the dust settle, and within weeks, CME barrel Cheddar prices went from $1.65 per pound May 10 to a nine-year low of $1.2050 June 26, wiping out 27 percent of value in just seven weeks.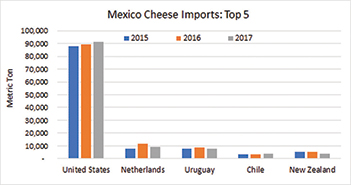 Let's not kid ourselves, trade policy alone has not caused the washout; fundamentals also played a key factor in the recent declines. Milk production in the United States outperformed expectations late in the second quarter as did milk flows in Europe with a late spring peak season. New Zealand also found its footing late in the season as better weather and a very profitable milk price kept farms humming late into the season.
Demand for specific dairy products has been tepid and the release of nearly 100,000 metric tons (220 million pounds) of EU Intervention skim milk powder (SMP) thus far in 2018 has finally caught up to the market as SMP and NDM prices roll back toward the lower end of this year's range.
The verdict is not yet back if playing the protectionist angle as leverage to hammer out fairer trade deals will be successful, but this is not what dairy manufacturers were hoping for after spending years developing new markets overseas. Those that import dairy products from the United States subject to their countries' retaliatory tariffs have three options: 1) continue purchasing from the United States at a 20-30 percent premium, 2) search for substitutes, alternatives, or source similar products from other countries or 3) ramp up domestic production. For Mexico and China, finding alternative sources for cheese and whey products from other countries to make up the volume from the United States may prove to be a challenge. That said, higher prices as a result of import tariffs may curb demand if they get too high.
But the uncertainty of what lies ahead from the government's actions (or what could turn out to be inaction, Trump has been known to be unpredictable …) provides a dose of volatility to the markets that is unprecedented in modern times. There is no historical comparison to draw from if a trade war breaks out and lasts for months, or even years, and what impact that may have on dairy commodity prices. For dairy speculators, physical and derivatives traders, this uncertainty has likely forced them to take a "risk-off" approach, which has led to wider intraday/weekly price ranges, sharply lower spot prices and record futures/options volume at the CME last month. The market is doing its job by allowing participants to obtain coverage and manage their risk with record liquidity, which is a good thing!
Like many others in the dairy industry, I am hopeful that calmer heads prevail, and a trade war with our largest trading partners is averted. When good old-fashioned free market economics, product innovation and sheer hustle are utilized, the U.S. dairy industry has a fighting chance to find necessary homes for its products and compete in the global markets, where demand is undoubtedly expanding.
CMN
The views expressed by CMN's guest columnists are their own opinions and do not necessarily reflect those of Cheese Market News®.
*These observations include information from sources believed to be reliable, but no independent verification has been made and therefore their accuracy and completeness cannot be guaranteed. Opinions and recommendations expressed are the opinion of the authors and are subject to change without notice. The risk of loss in trading futures contracts or commodity options can be substantial, and investors should carefully consider the inherent risks of such an investment in light of their financial condition.