Guest Columns
Perspective:
Dairy Markets
Notes from the Bearish Underground
Dave Kurzawski
Dave Kurzawski, a senior broker with FCStone, Chicago, contributes this column exclusively for Cheese Market News®.
Writing a column on milk prices that are anything but vehemently bearish this week is a serious challenge.
Cheese inventories are heavy, milk production and weather are by and large very good, demand is soft. World powder prices are collapsing. European Union (EU) intervention is back on the table for discussion.
GDT fell so hard this past Tuesday the group that runs the deal had trouble accounting for the decline. And if those normal metrics were not enough to make you a big dairy market bear, we can glance to our friends south of the border.
The United States relies on Mexico to clear a lot of product, and Mexico has historically relied on the United States for a lot of its supply. Since 2013 the United States has supplied 90-96 percent of Mexico's skim milk powder imports, with the EU being the next largest supplier. Looking across all products, the United States has been supplying between 78 percent and 86 percent of Mexico's imports on a milk-equivalent basis with anhydrous milkfat from New Zealand and cheese from the EU taking some share in recent years (when U.S. prices have been higher than EU/Oceania). The United States has owned the Mexican whey/whey protein concentrate market with market share between 96 percent and 99 percent in recent years.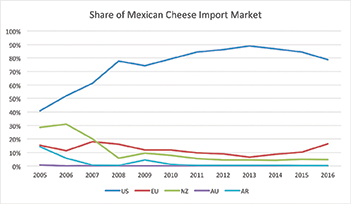 U.S.-Mexico relations are strained, and business dealings are in turmoil — or worse, in jeopardy — as President Trump continues to push for a "retooling" of NAFTA ahead of Mexican gubernatorial races in June of this year. The anti-NAFTA rhetoric along with concerns around the strength of the Mexican economy right now have dialed up concern from U.S. dairy suppliers to Mexico. And we won't even get into the confusing border tax adjustment discussion today.
The uncertainty with our largest trading partner has exacerbated price pressure on nonfat dry milk prices and Class IV milk, which has in turn been at least part of the reason for pressure on Class III and cheese markets.
It didn't take long for the U.S. cheese market to say "maybe $1.85 is too much."
You read that correctly. Spot block cheese hit a 2017 high of $1.85 on Feb. 2. In just five weeks the spot market is down more than 25 percent to $1.3600 as of Wednesday. The price of barrel cheese just hit $1.3750, the lowest price since May 23, 2016. Suddenly crazy block/barrel spreads seem to be the least of our problems.
But should we just throw in the towel and say $1.20 cheese is where prices should go? Is the answer to finally sweep the leg on U.S. milk production and chop down the inventory overhang?
With milk production globally still down versus year ago levels, I'd disagree that prices need to go that low. But that is the widely accepted chatter out there today.
Consider a slightly different perspective. Remember those things we don't necessarily have data points for yet. And those things that are not dairy specific. Who can tell what the weather will bring? I'm talking about the stuff we do know about but may not impact our thinking today. Here are a few:
Consider the wall of cash held by both China and Japan as a result of their pro-inflation policies of the past few years. What about the European Central Bank, which will do whatever it takes (its language not mine) to underpin its economies? The world has printed a lot of money over the past few years. What happens when that wall of money tips over on the world?
What about labor? Economic growth between 2.5 percent and 3.5 percent will increase the demand for working to levels not seen since early 2000s. This is a good problem to have, but does that mean worker shortage for you? I can tell you this is a major worry for many U.S. dairy farmers out there.
Core producer prices rose the most in more than 10 months according to the Labor Department this week. Prices for final goods rose by 0.3 percent in February. This was slightly lower than the 0.6 percent jump we saw in January. For the past 12 months, producer prices have risen about 1.8 percent. That's slightly behind the 1.9 percent inflation rate expectations — but both have been accelerating in the past four months.
Industrial demand for metals also is improving this year. Year-to-date aluminum prices are up 19.8 percent, copper is up 18.0 percent, nickel is up 11.4 percent, lead is up 34.8 percent, and zinc is up 52.9 percent! There are several "face-value" reasons for this, but there also is perhaps a larger undercurrent — and it ought to be on the minds of all commodity buyers.
Finally, think about the wonky relationship we have with Russia right now. Yes "political quagmire" comes to mind, but let's not ignore the friendly relationship between the Trump administration and Russia. Election scandal notwithstanding, sanctions may already be on the chopping block. Some estimates suggest that the full removal of sanctions could increase global dairy prices by some 20 percent.
So when every discussion you're having revolves around 'milk flush' and "$1.20 cheese," take a slightly wider stance on the circumstances that confront you today. There are plenty of areas of the economy that want to accelerate. In this writer's opinion, these are issues that may affect you and your bottom-line sooner rather than later.
CMN
The views expressed by CMN's guest columnists are their own opinions and do not necessarily reflect those of Cheese Market News®.