State of the Industry
Florida dairy industry strives for stability amidst the waves
Editor's note: As part of our "State of the Industry" series we take a look at the cheese and dairy industry across the United States. Each month we examine a different state or region, looking at key facts and evaluating areas of growth, challenges and recent innovations. This month we are pleased to introduce our latest state — Florida.
By Rena Archwamety
MADISON, Wis. — In Florida, known for its theme parks, snowbirds and citrus crops, dairy can be an underappreciated commodity, according to those in the industry.
"Florida is an agriculture state. A lot of people don't realize that," says Geoff Dahl, professor and chair of the Animal Science department, University of Florida. "In terms of overall agricultural enterprise, it's very strong from animals through forestry through ornamental crops."
Dahl adds that working with people from the legislative and regulatory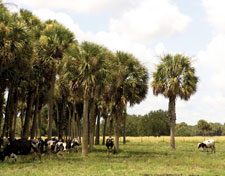 TROPICAL PASTURES — Some Florida dairy farms have started pasture grazing to help cut back on overhead costs, meet environmental regulations and expand herds.
perspective can be a challenge for Florida's dairy industry.
"Sometimes there's a lack of understanding of the importance agriculture in general and the dairy industry is to Florida's economy," he says.
Florida's 140 dairy farms in 2008 produced 2.06 billion pounds of milk, and it leads the Southeast region in cow numbers, production and fluid milk manufacturing. Approximately 80-90 percent of the state's milk goes to Class I utilization.
Florida dairy farms and product manufacturers contributed a combined output of $2.94 billion and 17,450 jobs to the state's economy in 2005, according to a University of Florida report on economic contributions of the Southeast dairy industry, published in 2008.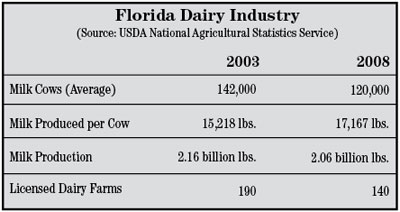 While production has dropped somewhat over the last several years, those in Florida's dairy industry predict numbers will remain stable in the future. That stability, however, has not come without challenges, hard work and planning.
Florida's year-round warm climate makes it possible to grow year-round forages and house cows outdoors or in freestyle barns. However, the hot and humid summers take a toll on production, and hurricanes, such as the three that hit Florida in a span of six weeks during 2004, remain an annual threat (see "Dairy industry stays prepared through hurricane challenges," Sept. 5, 2008, www.cheesemarketnews.com).
"I personally think it's the toughest part of the country to make milk," says Matt Lussier, dairy farmer in Hawthorne, Fla., and president of Dairy Farmers Inc., Florida's checkoff organization. "It's hot and humid. The sandy soil helps as far as cow comfort, but as far as forage production it's a hindrance."
Despite these challenges, one major boon to the dairy industry is the demand for milk with a population of more than 18 million. Population growth over the past decade has been rapid, and Florida is home to four of the 10 largest school districts in the nation. Nearly all the milk produced in Florida is consumed in state, yet Florida still imports approximately 30 percent of its milk and that proportion is growing, and according to the Florida Department of Agriculture and Consumer Services.
"It's the toughest part of the country to make milk, but I think we have the best Class I fluid market," Lussier says.
The rising demand is giving dairy farmers incentive to grow. Lussier is working to expand his farm from 500 to 650 cows to take advantage of the low cattle prices and to make room for his 15-year-old son, Kevin, who is interested in entering the family business when he's older.
"We have a vibrant younger group of farmers who are in this for the long haul. That as a proportion is more than in other parts of the country," Dahl says. "We have more expanding family operations, but we also have a smaller group that have started their own operations down here."
Even with the expansion, Lussier considers his operation a "small family farm" compared to the average dairy farm size in Florida of nearly 1,000 cows. The largest single operation in the state has about 4,500 dairy cows.
"Florida has lots more in common with dairy farmers in the West and Southwest than with other parts of the Southeast," says Calvin Covington, CEO of Southeast Milk Inc., the sate's largest dairy cooperative.
Covington says part of the reason for the large farms is the climate, where it is easier to add cows outdoors, as well as the ability to buy larger blocks of land and contiguous acres.
"If you think about the state of Florida, it was developed and settled much later than other parts of the Southeast. Because of that we have much larger land holdings," Covington says. "You would start with 100 cows, add another 100, and it just keeps getting larger."
Southeast Milk is Florida's primary dairy cooperative, claiming almost all of the state's dairy farmers as members, and the cooperative has two fluid processing plants in Florida. Other major dairy processors in Florida include Dean Foods, Publix and National Dairy Holdings Group.
Southeast Milk works closely with the University of Florida to support research, Dahl says, and its members seem pleased with what it does for the industry.
"I'm very proud of my co-op," says Lussier, who is a board member of Southeast Milk. "I think they do a tremendous job and return over 90 percent to their membership on a very consistent basis. They've done a lot to keep the dairy industry sustainable in the Southeast."
Lussier adds that Southeast Milk and its cooperation with other co-ops to the north have added to other factors that keep Florida's milk price strong.
The high in-state demand and the strong Class I utilization help give Florida among the highest producer milk prices in the nation, and the projected average milk price for 2009 is $17.08 per hundredweight. However, like the rest of the nation, Florida farmers currently are struggling with falling milk prices against rising overhead.
The Florida Senate Committee on Agriculture published a report earlier this month on the challenges of low milk prices on Florida's dairy industry. Total revenues on Florida dairy farms were approximately $526 billion in 2008, the report says, but revenues are expected to fall below $380 billion in 2009 as a result of low milk prices.
Recommendations listed in the report to help the Florida dairy industry included assistance in installing environmental and renewable energy technologies; tax incentives for dairy farmers updating or expanding their facilities; government purchases of and help to open markets in Caribbean countries for Florida milk; and a recognition of the economic importance of the dairy industry to the state of Florida.
"Even though dairy is a big business, we tend to be inland, and most of the people are on the coast. We have a lot of Floridians who don't know we're here," says Joe Wright, a dairy farmer in Avon Park, Fla., and president of the board of Southeast Milk.
"Most of the people in Florida are not originally from Florida," Wright adds. "They don't know our history or have a sense of appreciation, not only for the product we make, but also that we're good environmental stewards of the land."
Tight environmental regulations, costs of importing feed from out of state and other rising overhead costs have prompted many dairy farms in Florida to set up or shift to grazing operations.
Wright, who since 2003 has used freestyle barns for the 1,400 cows on his dairy, says his electric bill is twice what it was in 2003. He now is switching from a freestyle to a grazing dairy, and by the end of November he expects to have his cows back outside where he can grow perennial grasses 10 months out of the year and cut back on overhead costs.
"Most of the actual new dairies (in Florida) have been grazing style. It's the wave of the future," he says. "Due to environmental issues, and rebuilding after the hurricane, there have been more freestyle, tunnel ventilation barns, or growth in grazing dairies."
Dahl says dairy research at the University of Florida focuses largely on how to manage heat stress as well as forages that grow well in a sub-tropical environment to support production.
"Some things people need to realize is the year-round opportunity for forage growth, which is an opportunity for anyone making milk," Dahl says.
"I'm pretty bullish, and I think Florida's dairy industry will maintain or grow, particularly for folks interested in taking opportunities to grow forage," Dahl says, adding that there probably is more interest in taking advantage of the local production niche in Florida than natural or organic dairying.
Covington says the Florida dairy industry is very price sensitive and acts as a sort of bellwether for how the milk prices are doing.
"In Florida, a lot of operations can expand or contract quickly," he says. "With the setup of dairy farms, they can close their facilities, or open when the price improves, and cut or add cows."
Over the long haul Covington says he doesn't see a lot of growth due to the impact environmental regulations have on expansion, but he does see production stabilizing.
Lussier says while Florida dairies are challenged right now like everyone else in the industry, he also sees stability in the future.
"The ones that are left are pretty well established," he says. "We've seen these cycles, prepared for these cycles. When we're at the peak of the milk price, we prepare for the valley because we know the valley's coming. Florida reacts pretty quickly to volatilities, spikes and dips, so we're used to riding that wave."
CMN