State of the Industry
California dairy is on wave of big challenges, opportunities
Editor's note: As part of our monthly "State of the Industry" series we take a look at the cheese and dairy industry across the United States. Each month we examine a different state or region, looking at key facts and evaluating areas of growth, challenges and recent innovations. This month we are pleased to introduce our latest state — California.
By Rena Archwamety
MADISON, Wis. — California has long been seen as a land of opportunity, and the "Golden State" has provided plenty for those in the dairy business.
A warm year-round climate has attracted many large-scale dairy producers, and in 1993 California surpassed Wisconsin to become the nation's leader in milk production. In 2008, California produced more than 41 billion pounds of milk. It is the second-largest cheese producing state, and ranks first in production of Mozzarella, Monterey Jack and Hispanic-style cheeses. It also is the nation's leading producer of butter, ice cream, yogurt, nonfat dry milk and whey protein concentrate.
The success of California's dairy industry, however, has not come without challenges. Tough environmental regulations result in higher overhead costs for dairy producers and processors. Urban and activist populations have challenged the agricultural community with animal welfare initiatives. And growth in production combined with a shortage of plant capacity have resulted in an oversupply of milk in California.
Responding to these challenges, industry organizations are looking for ways to keep California dairy competitive while helping its producers survive, particularly in challenging economic times.
"Milk prices have fallen so fast, and the cost of producing milk has not slackened," says Michael Marsh, CEO of Western United Dairymen (WUD), a voluntary membership organization that represents more than 60 percent of milk produced in California.
Rob Vandenheuvel, general manager of Milk Producers Council (MPC), another membership organization that represents about 100 dairy families in southern and central California, agrees that the biggest concern of members is the falling milk price.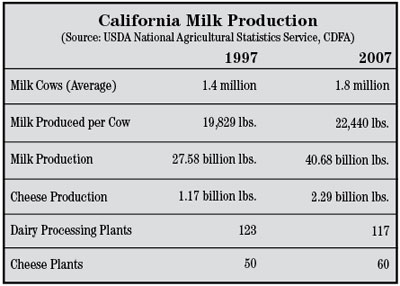 "Right now we're looking at a January milk price in the mid $10 per hundredweight and talking about a $9 range in February," Vandenheuvel says. "There still is a very large gap between the cost of producing milk and the price we're receiving for milk. That is priority No. 1 for the producers here."
Marsh says many producers in California are worried about short-term survival. He estimates that an average 1,000-cow dairy in the state will lose $100,000 in January and $150,000 in February.
• Debate over milk prices
California operates its own pricing structure that is not part of the federal milk marketing order system. Last summer, WUD, the Alliance of Western Milk Producers and the California Dairy Women Association submitted a joint petition to the California Department of Food and Agriculture (CDFA) requesting a temporary price increase to help producers survive the tough economic conditions, including rising costs of feed and transportation.
However, during an October hearing CDFA held in response to the petition, other groups argued that prices needed to decrease in order for California to remain competitive with surrounding states. In December, CDFA Secretary A.G. Kawamura ruled in favor of modest Class 1 price reductions, saying it would help lessen financial hardships to producers while allowing California prices to remain competitive. (See "CDFA decreases Class 1, 2, 3 price formulas, Dec. 19, 2008, www.cheesemarketnews.com.)
Neither side responded favorably to CDFA's decision.
"We're very concerned that the secretary of CDFA, while producers are having no luck at all making ends meet, would cut the price further," Marsh says. "It didn't sit well with dairy producers in the state."
Processor groups, on the other hand, believe the price cut wasn't enough to make a meaningful difference.
"It was a small step, but it was not adequate enough to address the situation," says Rachel Kaldor, executive director of the Dairy Institute of California, a trade association that represents dairy processors with plants in California in regulatory and legislative issues.
• Oversupply and demand
California recently has been particularly challenged, Kaldor says, because it has been producing an oversupply of milk while there is a lack of plant capacity.
"Price levels were not as responsive to oversupply as they should have been. They were too high relative to the amount of milk that the state was producing," Kaldor says.
"When California grows production, that's big growth," she adds. "What we've known for a while is our rate of production is outpacing plant capacity."
While producers and processors might seem to be in a constant tug-of-war over where to set the price, both groups in California agree that the state must correct its oversupply of milk, and both are working on solutions.
Vandenheuvel says there has been a growing discussion over putting together a California federal milk marketing order to prevent a "race to the bottom." He also advocates a better system of supply management. Last year major cooperatives in California set base production levels, charging a penalty for any production over that base. And MPC has started promoting a growth management plan for the dairy industry, modeled by Cornell University, that it is working to promote throughout the country.
"We've got a real opportunity to make structural changes, not just in California, but throughout the country as well," Vandenheuvel says.
Kaldor says California needs to have the tools, whether they be competitive prices or reasonable regulations, to draw more plant capacity to the state.
"We know there still is interest in coming to California, but we know the industry and regulators are going to have to do a better job of creating a favorable environment," she says.
• Urban ideals vs. rural economy
Another challenge California's dairy industry has had to face is strict environmental and animal welfare policies, many of which the industry has argued are not in tune with the agricultural community. Last November, Californians voted by almost two-thirds for Proposition 2, making certain confinement practices of farm animals illegal. While this did not directly impact dairy farms, many in the industry fear dairy will be targeted in the near future.
"At times California seems to be on the crest of a wave," Kaldor says. "These issues are not exclusive to California, but we seem to be first in line to deal with them.
"Our struggle with issues that are aimed at agriculture, like animal welfare and air quality, most likely stem from being a large, mostly urban state," Kaldor adds. "It is a challenge to keep the message of agriculture's importance to our economy and our consumers front and center."
The dairy industry is a large part of California's economy as its leading agricultural commodity, generating $7.3 billion in annual sales in 2007, according to CDFA. Approximately 47 percent of the state's milk supply goes to cheese production, which continues to grow. According to the California Milk Advisory Board (CMAB), cheese production in the state grew by 226 percent between 1990 and 2007, from 702 million to 2.29 billion pounds.
• Promoting 'Real California'
Despite the economic downturn and pricing concerns in the industry, Mac Moore, vice president of Chateaux Cheese Corp., Vernon, Calif., says business still is strong.
"Demand has been pretty steady, even with all the prices, and both foodservice and industrial accounts are still in growth patterns," Moore says.
It helps that Chateaux has good access to many manufacturers and is located in the Los Angeles area, home to one of the biggest food markets in the United States, Moore says. Chateaux also recently started labeling its cheeses with the "Real California" seal, a marketing tool sponsored by CMAB that indicates dairy products that are sourced entirely from California milk.
"It's the best milk in the world, I don't know what else to say," Moore says.
"California has some pretty strict standards," he adds. "I think consumers associate the branding as a seal of confidence."
California's promotion of quality products made with milk from its "happy cows" has been successful both in and out of the state, and the "Real California Cheese" and more recent "Real California Milk" seals have helped provide a competitive marketing edge to the state's dairy industry.
"We tend to believe our producers are the best in the world at what they do," Marsh says. "We just encourage consumers to buy Real California. Producers are thrilled with it, and consumers look for it."
"California dairy products are known for their freshness and great taste, and research shows that consumers around the U.S. find it appealing to purchase dairy products made with California milk," says Carissa Tourtelot, communications consultant, CMAB.
In addition to its appeal to consumers who want to buy fresher, locally-produced dairy products, Marsh says California's reputation for quality has reached as far as China, where export opportunities are growing.
Marsh joined several other California dairy industry representatives on a trade mission to China in November to investigate and promote trade opportunities and the Real California Milk seal. Currently California exports a number of dairy products to China, including butter, Mozzarella for pizza, specialty cheeses and commodity cheeses.
"Longer term, California, sitting on the West Coast, has excellent marketing opportunities available in the Far East," Marsh says, adding that in China there is a perception of quality associated with anything made in California. "It was very interesting to be in a Chinese supermarket and see the rapid pace at which consumers would buy anything from the United States, and especially from California."
Vandenheuvel also sees opportunities in the export market, especially as California processors increasingly are building and expanding powder facilities.
"The state is kind of grappling with 'Where is our future going?' West, the export market, may be our future," Vandenheuvel says.
California is an attractive place to be for those in the dairy industry, Kaldor says. However, the industry also knows there are nearby areas that are able to serve the same markets very effectively.
"Some people say California has a challenging business environment. That's true, but much of that can be overcome," she says. "Our key challenge is to remain as competitive as possible and maintain that edge."
CMN