State of the Industry
Dairies attracted to grazing lands in Arkansas, Missouri
Editor's note: As part of our "State of the Industry" series we take a look at the cheese and dairy industry across the United States. Each month we examine a different state or region, looking at key facts and evaluating areas of growth, challenges and recent innovations. This month we are pleased to introduce our latest states — Arkansas and Missouri.
By Rena Archwamety
MADISON, Wis. — The end of World War II marked the peak years of dairy production for Arkansas and Missouri. Arkansas' dairy industry hit a peak in 1945 with almost 500,000 dairy cows and 1.5 billion pounds of milk. Missouri's industry at the time was home to more than a million milk cows that produced around 4 billion pounds of milk annually in 1944 and 1945.
"Most people say Missouri's dairy industry started after World War II," says Dave Drennan, executive director, Missouri Dairy Association and Missouri Dairy Growth Council. "When the soldiers came home, they were looking for a job, and Missouri had land and grass. People came to the Ozarks. They needed a job, and they started dairying."
Since that peak, and particularly over the past several decades, the dairy industries and milk production in both states has substantially declined. Arkansas' milk cow and production numbers reached an all-time low in 2008, with 15,000 head of milk cows and 195 million pounds of milk.
"In terms of production, we're decreasing about 15 percent a year on average," says Jodie Pennington, extension dairy specialist, University of Arkansas. "Twenty years ago dairy farmers produced the amount that we processed in the state. Now they produce 15-20 percent of the milk that is processed."
Missouri's milk production has declined to 1.6 billion pounds in 2008, about 60 percent from what it was in the 1940s. And its cow numbers are a mere tenth of what they were at their 1944 peak.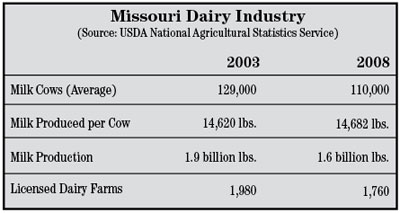 "Missouri's dairy industry has gone from the top 10 in the country 40 years ago to 24th," says Joe Horner, dairy and beef economist in the commercial agriculture program, University of Missouri. "In the 1940s, there were over a million dairy cows. There are 110,000 or so left now. We're on a long-term trajectory of losing 10,000 cows a year."
Widespread factors such as retiring farmers and recent low milk prices have contributed to some of the decline in these states, but more regional challenges have added to the downturn as well.
Pennington says Arkansas' dairy industry has seen a lot of decrease since 2000, when the federal milk marketing order changed and caused prices in other parts of the country to increase more rapidly than prices in Arkansas. In the past nine years, the state has lost more than half its milk cows and production, Pennington says.
Public acceptance of large dairy farms has been a challenge for Missouri's dairy industry, Horner says.
"A lot of counties have made it very difficult to grow dairy on a larger scale, which has pushed dairy operations to other states," he says. "Specific counties have adopted proposals that are more stringent than state or federal regulations to put in a confinement operation."
Additionally, the region's climate has challenged production volume. The heat and humidity in the summer dampen production per cow, particularly since many of the region's dairies have remained on pastures while many others across the country switched to confinement in the 1970s, Horner says.
Despite these challenges, both states have taken advantage of the region's benefits — including the long growing season for pastures — to work toward revitalizing and stabilizing their dairy industries.
"We have had growth in recent years in grazing," Pennington says of the Arkansas dairy industry. "We have the advantage of a longer grazing season, and we take advantage of it to provide more pasture for cows. Most of our dairies have a certain amount of pasture. Over 80 percent have pasture most of the year for cows."
Missouri, particularly in the south and southwest regions where most of the dairies are located, also has capitalized on its ability to provide quality pasture land for dairies. With an average herd size of 67 cows, the state's small dairy farms — many of them in Amish and Mennonite communities — have found grazing more economical and suited to their small herds.
In 1999, the University of Missouri started a rotational grass-based dairy at its research center in Mount Vernon, Mo., which has provided a valuable resource for existing dairies in the state. The research center and the Missouri Dairy Growth Council that was formed in 2003 also have helped attract and support dairy farmers who have relocated from other states and countries, including New Zealand.
"We've had success with pasture-grazed dairies, redefining the model to what dairy looks like with lower production per cow, and more interest coming in from other parts of the country," Horner says. "Most of the growth in Missouri has come from grazing dairies."
Primarily through new grazing farms, Missouri has been adding about 5,000 new milk cows per year to help slow its attrition rate. While more grass-fed herds have pushed down per-cow production, the state's total milk cows only dropped by 2,000 head and its licensed dairy herds increased by 40 from 2007 to 2008.
The University of Missouri Extension, Dairy Farmers of America (DFA) and other sponsors are hosting the Missouri Dairy Grazing Conference July 8-10 in Joplin, Mo. (for more information, visit http://agebb.missouri.edu/dairy/grazing/conference/). The conference, which features national and international grazing experts, in the past has attracted more than 200 attendees from across the United States.
Both Missouri and Arkansas lawmakers recently voted on dairy stabilization bills that were drafted to help support the states' milk producers by supplementing income when milk prices dropped below certain levels.
The Arkansas Milk Stabilization Board, representing interests of dairy farmers, processors, retailers and consumers, was formed out of legislation passed in 2007 to help stabilize the Arkansas dairy industry and serve as an advisory committee for the state legislature.
The board proposed a milk stabilization program that will provide extended payments to help balance milk production costs for dairy farmers. The legislation for the program passed both the state House and Senate and was signed earlier this spring by Arkansas Gov. Mike Beebe, who allocated money left over from an alternative fuels fund for the program (see "Arkansas governor finds money for dairy stabilization fund, avoids taxing dairy products," April 3, 2009, www.cheesemarketnews.com). The program, which is still being interpreted by the attorney general's office, is expected to start in July and begin making payments by the end of August or early September.
"Primarily these will be stabilization payments, the price of milk relative to cost of production," Pennington says. "The cost of production in Arkansas is quite a bit above average. It's the combination of the heat and humidity in the summer, and the feed quality here being not as good as in the Upper Midwest or places that grow corn silage and alfalfa. The production level is less."
Pennington adds that the legislature will have to continue renewing the stabilization program, which is only in effect for two years.
"I hope the milk stabilization program will result in stable milk production over the next couple of years," he says. "If incentives don't continue, I would expect milk production in the state will continue to decrease."
Missouri's lawmakers also recently reviewed a similar bill designed to provide a safety net for dairy producers via tax credits for the next two years. The bill, backed by the Missouri Dairy Association, a statewide dairy commodity organization, passed the state House and a Senate committee, but it was unable to achieve a vote in the full Senate before the end of the session.
"We were very disappointed in that and appreciated all the efforts of the legislators that did support us," Drennan says. "Bottom line is we are continuing to lose dairy farms in the state and lose that economic activity which will continue to add to our imports of milk and milk products from other states."
Both Missouri and Arkansas have excess processing capacity, and plants in both states remain stable but have to import most of their milk supply from states such as Texas, Kansas and New Mexico.
Major dairy processors in Arkansas include a Kraft plant in Bentonville, Yarnell's Ice Cream Co. in Searcy and Coleman Dairy in Little Rock.
"Milk supply is an issue," says Mike Flagg, general manager, Coleman Dairy. "Life would be easier if we had enough fresh local milk to satisfy our needs."
Another challenge, Flagg says, is that Arkansas is not a very populated state, with only slightly more than 2 million people and many rural areas.
However, Arkansas does have its advantages, and Coleman has continued to expand since it was founded in 1862.
"It's centrally located, so it's very easy for us to ship to many different states," Flagg says. "Milk typically flows south, and we have enough territory south of us that we can go south with our sales."
Coleman has expanded its markets and now ships product to eight states as well as the Bahamas and Caribbean.
The fluid milk plant, which is the largest in Arkansas and the oldest west of the Mississippi River, processes 150,000 gallons of milk a day and has 225 employees. Coleman underwent a complete remodel in 2003 that doubled the size and capabilities of its previous facility.
"We're very aggressive every year upgrading technology and facilities to keep them state of the art," Flagg says. "We have the mind set that if you're not growing, you're shrinking."
In Missouri, many major dairy processors are joint ventures between DFA, which is headquartered in Kansas City, and Illinois-based Prairie Farms. DFA and Fonterra own a joint venture DairiConcepts cheese plant in Monett, Mo. In addition, dairy product facilities also include a Kraft plant in Springfield, a Schreiber cheese plant in Monett, and several others throughout the state.
Missouri has maintained a strong dairy infrastructure from its heyday as a top 10 dairy-producing state, and in addition to processors, many equipment suppliers and industry organizations remain in the state.
"There is more infrastructure here than would be justified by today's production," Horner says, adding that the state needs to import a significant amount of milk to keep its cheese and bottling plants open.
"Old timers used to tell me they referred to Springfield, Mo., as 'Little Madison,'" Drennan says. "There used to be a lot more in Springfield because of the dairy industry."
Arkansas has a similar need for more local milk production.
"It would be good if we produced enough in the state to provide for the needs of the processors," Pennington says.
Drennan says the Missouri dairy industry will continue its recruiting efforts as well as its support of existing dairy farmers.
"We think there's a heck of an opportunity here for people to locate or expand dairy in our state, even during these tough economic times," he says. "The associations are ready to help in any way we can. The picture hasn't been rosy, but we continue trying to make leaders here in the state aware of dairy's potential, where we've come from, and what that's meant to our state."
CMN