State of the Industry
Growing demand, expansion help Midwest dairy industry
Editor's note: As part of our monthly "State of the Industry" series we take a look at the cheese and dairy industry across the United States. Each month we examine a different state or region, looking at key facts and evaluating areas of growth, challenges and recent innovations. This month we are pleased to introduce our latest states — Illinois, Indiana and Ohio.
By Rena Archwamety
MADISON, Wis. — Remote regions of the United States might offer inexpensive land and few neighbors, but urban centers stretching from Chicago to Indianapolis to Cleveland and Columbus, Ohio, also have drawn new dairies to Midwestern states where opportunities are growing along with the population.
"You can locate where you don't have neighbors, but that's the problem — there are no neighbors, no culture, no place to see a professional baseball game or the opera," says Jim Fraley, manager of the Illinois Milk Producers Association. "In Illinois, you're never far from a great university system, entertainment or a metropolitan area. People want the social aspects as well."
Growing demand for dairy products from these high-population centers also is providing opportunity, and the dairy industries in Illinois, Indiana and Ohio are looking to take advantage of that opportunity for growth.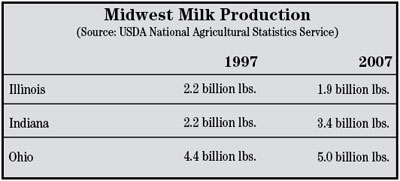 Ohio's milk production has increased from 4.4 billion pounds in 1997 to nearly 5.0 billion pounds in 2007 and ranked 11th in the country for milk production in July (Indiana ranked 14 and Illinois ranked 20th), according to USDA's National Agricultural Statistics Service (NASS). Indiana's milk production also has grown, from 2.2 billion pounds in 1997 to 3.4 billion pounds in 2007. Both states also have seen an increase in cow numbers as large farms come in, many recruited from the Netherlands by Vreba-Hoff Dairy Development, Wauseon, Ohio.
In the past 10 years, Indiana has seen the arrival of 10 dairies in the 3,000-head range, plus a number of 1,000 to 1,500-cow dairies and expansion of existing farms.
"It's been a growing industry," says Mike Schutz, associate professor of animal sciences at Purdue University in West Lafayette, Ind. says. He adds that Indiana also has ranked in the top 10 to 15 states in recent years for milk production per cow. "It's a combination of both. Milk production per cow has increased pretty substantially in Indiana."
Maurice Eastridge, professor in the department of animal sciences, Ohio State University, says many dairies start smaller with the intent to expand. In addition to Vreba-Hoff's recruitment efforts, he says Vreba-Hoff also has helped with expansion, design and financial aspects of the dairies moving into Ohio, Indiana and surrounding areas.
"A lot are looking at 1,000 to 1,500 cows, but if you have over 700 cows, you need a special permit to operate," Eastridge says. "So most dairies coming in are looking at smaller numbers, getting the permit, and then growing."
Illinois dairy has not grown like the other two states, with less cows than a decade earlier and dropping from 2.2 billion pounds of milk produced in 1997 to 1.9 billion pounds in 2007, according to NASS. However, the opportunity for growth and demand for dairy remain strong, according to Illinois industry experts.
"We really have a very large, strong demand," says Dave Fischer, University of Illinois extension dairy educator. "Our milk per capita is far below what is needed, so a lot of milk and dairy products are coming in from neighboring states. Chicago makes a big dent there."
Illinois also has been increasing its dairy recruitment efforts and is entering its third year of recruiting at the World Dairy Expo and the World Ag Expo.
"Recently there has been a lot of focus on growing the dairy industry in the state," says Jim Fraley, manager, Illinois Milk Producers' Association. "We've been pretty aggressive in trying to attract producers from other states and assisting with producers growing their businesses here in Illinois."
Processors also are drawn to the large population centers and central access of the Midwest states. Major processors in the region include Dairy Farmers of America (DFA), Prairie Farms, Kroger and a number of more regional plants.
Ohio has long been the top state for Swiss production, and the state has many cheese plants, including Brewster Dairy's cheese plant in Brewster, Middlefield Cheese in Middlefield, Great Lakes Cheese in Hiram and Guggisburg Cheese plants in Millersburg and Sugarcreek.
"Ohio is a crossroads of the Midwest, and we are able to get milk from just about anyplace," says Richard Guggisburg, president of Guggisburg Cheese. "It's good in the other direction, too. It's a good point to distribute our product from."
Guggisburg is most known for its Swiss cheese, particularly its Baby Swiss.
"The part of the country we're in, Eastern Ohio, is very hilly, very close to the terrain and climate of Switzerland, and just a good place to be making cheese," says Richard Guggisburg, whose father Alfred moved from Switzerland to Ohio in 1947 and took over the cheese company soon after.
"Swiss immigrants settled in a region right around Canton, Ohio, about 60 years ago," says John Epprecht, vice president, co-manufacturing, Great Lakes Cheese.
Hans Epprecht started Great Lakes Cheese in 1958, filling a need for the further packaging and distribution of Swiss cheese produced in that region.
Three generations of the Epprecht family now are involved in the business, which now has seven plants across the country and celebrates its 50th anniversary this year. Great Lakes packages natural cheese from all over the United States, but the Swiss still predominately comes from Ohio and Western Pennsylvania.
"Ohio is still the largest state in the United States that produces Swiss cheese. That's still a great part of Great Lakes' business today," John Epprecht says.
Illinois processes mostly fluid milk, with 70 to 80 percent Class I utilization, according to Fraley. Prairie Farms and DFA are major milk processors in the state, while Stockton Cheese, owned by Brewster Dairy, is one of the larger cheese plants. Kraft Foods also has a process cheese plant in Champaign, Ill., and its company headquarters is in Northfield, Ill.
Indiana traditionally has been strong in ice cream production, ranking second in the nation. The state is home to Edy's and Good Humor/Breyers plants as well as a recently-built Nestlé plant for coffee creamers and Nestlé Quick that handles milk from approximately 35,000 cows. Fair Oaks Farms, Fair Oaks, Ind., takes in milk from its 30,000 dairy cows on 10 separate sites to process its cheese as well as milk and ice cream.
Indiana also is a center for dairy technology, with the pharmaceutical company Eli Lilly and its animal health division Elanco based in the Indianapolis area. Elanco recently acquired the rbST brand Posilac and also manufactures Rumensin, which is used for parasite control, and Micotil and Tylan, which are used to control respiratory diseases in animals including dairy cows.
"We've been very fortunate; the Indianapolis area has a very good high-tech sector. People in Indiana recognize the role of agriculture. It's a very progressive state in the development of technologies," says Dennis Erpelding, manager of corporate affairs, Elanco.
"Indiana's put a lot of resource commitment to growing the dairy sector and agricultural sector in the past years," Erpelding adds. "The state has increased its production very significantly over the past five years."
The rapid growth of the dairy industry in the region does present some challenges, particularly in community and neighbor relations. Schutz says he has seen a decrease in welcoming, dairy-friendly communities in Indiana.
Eastridge says he has seen similar challenges with dairies moving into communities in Ohio.
"With the large population of people in Ohio, it's getting hard to get away from people and find large land bases," he says. "Some local dairy farmers that expand have been quite well received. Sometimes with larger operations moving in from other countries or states, there has been concern from the community: Will they be good neighbors?"
Other more rural areas, however, still are looking to attract neighbors in the dairy industry.
"It's been very encouraging to see (grain) producers coming to us wanting to attract a livestock operation," Fraley says, adding that the high cost of fertilizers are driving an increased demand for manure, while producers also benefit from not having to transport their grain and feed as far.
With easy access to feed, transportation and cities, and a continued demand for milk, all three states predict more growth in the future.
"Ohio will continue to be a leader in the dairy industry. The farms will continue to get larger, and at least in the near future we will continue to see an increase in the number of cows in the state, which will continue to increase the amount of milk being produced," Eastridge says.
Schutz also says he continues to see continued interest in dairy farms moving to or expanding in Indiana as well as tremendous diversity, from smaller organic farms to large operations.
In Illinois, Fraley says he has seen momentum building. Right now milk comes into the state from all over the country, but many see the opportunity to grow the industry from within.
"I think we are turning a corner," Fraley says. "Once people see the success that the new modern dairy farm operations are having here in Illinois, we will see growth. As one dairyman said, 'Illinois will be a mecca for the dairy industry.'"
CMN