State of the Industry
New England dairy industry finds success in 'buy local'
Editor's note: This is the final installment in our "State of the Industry" series, where for the last two-and-a-half years we have taken a look at the cheese and dairy industry across the United States. Each month we have examined a different state or region, looking at key facts and evaluating areas of growth, challenges and recent innovations. We hope you have enjoyed this criss-cross tour of the nation, and we are pleased to introduce our final three states — Massachusetts, Rhode Island and Connecticut.
By Rena Archwamety
MADISON, Wis. — In the population-dense New England states of Massachusetts, Rhode Island and Connecticut, the dairy industry faces the challenges of coexisting in close proximity to its urban and suburban neighbors. In addition to the occasional tensions over smells and noises, this proximity also results in higher land prices and costs of production, and a shortage of labor as dairies compete with higher-paying city jobs for workers. And as numbers of dairy producers have dwindled, so has the infrastructure.
Despite the pressures of encroaching populations, the dairy industries in these states have adjusted to and even thrived from living near centers of demand, particularly a growing demand for locally-produced dairy products.
"It's a great opportunity because Massachusetts is No. 1 in direct sales from farm to consumer," says Carrie Sears, extension educator in dairy, livestock and 4-H for the University of Massachusetts Amherst. "People are more interested in knowing where their food comes from."
Peter Orr, the owner of Fort Hill Farm, Thompson, Conn., milks 200 cows on the border of Connecticut and Rhode Island and focuses on reaching out to the public through a diversified farm, activities for visitors and a busy retail area.
"We are farming in the suburbs — none of the areas are really rural. I would say some of the farms are even in some urban areas," says Orr, who also is a member of the Connecticut Farm Bureau Dairy Committee.
Orr says while there can be individual issues, overall people seem to have an appreciation of dairy farms as stewards of the open spaces in Connecticut and like to see dairy farms in their communities.
• Striving for stability
Farm sizes vary and are distributed in different areas of all three states, though herds of more than 1,000 are sparse due to the topography and social climate. Dairy herds in Rhode Island average about 60-70 head, those in Massachusetts tend to be in the 100-200 head range, and herds in Connecticut trend larger, toward 300-1,000 head, according to Bob Wellington, economist for Agri-Mark, the major milk cooperative in all three states. Dairy Farmers of America and Dairylea also have members in this region.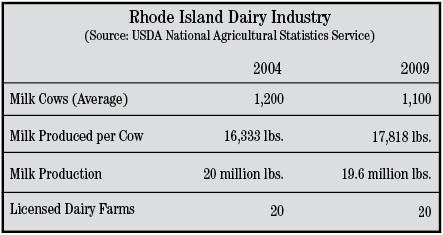 In 2009, Rhode Island dairy farms produced 19.6 million pounds of milk, Massachusetts produced 246 million pounds and Connecticut produced 355 million pounds. All three state have experienced a decline in production and cow numbers over the last five years.
To help mitigate the loss of dairy farms, particularly during the challenging past few years, both the Massachusetts and Connecticut Legislatures passed safety net programs to help provide emergency relief and stability as milk prices fell well below cost of production.
Orr says the Connecticut safety net program, which passed last year, provided funds that immensely helped the state's dairy farmers.
"If that program had not passed, there would have been some dairy farms in the state that would have exited," Orr says, though he adds that it is not yet clear how long the program will last. "It does have a sunset provision in about a year from now. But possibly, even before the sunset, there may not be funding because of the budget situation in the state."
In May 2007, Massachusetts declared a crisis in the dairy industry in response to a petition for relief from the state's dairy farmers, and the Legislature established a Dairy Revitalization Task Force. That June, $3.6 million in emergency dairy farm relief were distributed. The next year the governor signed the Dairy Farm Preservation Act into law, which among other things created the Massachusetts Dairy Promotion Board and an income tax credit for dairy farmers that kicks in when milk prices fall below the costs of production.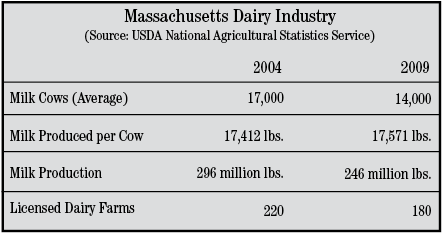 "The legislatures and government agencies are very supportive," Wellington says of the New England states. "There is a limited amount of funds, but they have been very supportive, especially the legislatures in Connecticut and Massachusetts."
• Value-added opportunity
Major dairy processors in the region include Agri-Mark, Garelick Farms (owned by Dean Foods) and H.P. Hood in Massachusetts and Guida's Milk and Ice Cream in Connecticut. Stew Leonard's, a grocery company with three stores in Connecticut and one in New York, also owns the largest dairy farm in Connecticut and processes its own milk.
Several farms in these states also have become producer-handlers, and a number of small dairy farms sell raw milk directly to consumers in Connecticut and Massachusetts, where it is legal.
Scott Soares, commissioner of the Massachusetts Department of Agricultural Resources, says the state has seen tremendous growth in artisan cheese producers and sales. Currently the state has about 18 artisan cheese producers who make about 75 varieties of artisan cheese, and artisan cheese sales reached almost $5.1 million in 2008. Soars compares this to $1 million in sales and nine artisan cheesemakers in the state in 1999.
"It really is providing a great opportunity for those looking to pursue value-added products," Soares says, adding that the state's Farm Viability Enhancement program helps with funding and assistance for producers wanting to develop cheese operations or other businesses on their farms.
• Cooperative marketing
Some dairy farms in this region have found increased success and stability in partnerships with other dairy farms to bottle and market locally-produced milk and other products. These small marketing cooperatives are present in all three states: Rhody Fresh in Rhode Island, Our Family Farms of Western Massachusetts/Pioneer Valley Milk Marketing Cooperative and The Farmer's Cow in Connecticut.
These cooperative arrangements make economies of scale more viable for smaller farms, help to maximize and stabilize milk prices, and take advantage of the high demand for local products from surrounding populations. Most of the producers also are members of Agri-Mark, where they sell their extra milk.
Wellington says Agri-Mark has helped coordinate hauling and given marketing advice to these co-ops, but the efforts are 100 percent owned by the farmers.
Our Family Farms of Western Massachusetts, the oldest of the three co-ops, started 13 years ago when members of eight family farms were looking for a way to make more money to keep their farms viable. By selling under their own label and reducing middle-man costs, they were able to get more of the retail dollar for their farms.
"The dividend returned to our farmers increased significantly since we started, especially in the last couple of years where wholesale prices have been so volatile," says Angie Facey, manager, Our Family Farms.
"When people support Our Family Farms, the profit is distributed among our farmers to keep them viable in years when we don't meet our wholesale prices and cost of production,
Facey adds. "Without the co-op, several of us would be out of business."
Rhody Fresh, which has nine members, started marketing its milk in July 2004. The idea started after federal milk marketing order changes took place in 2000 and the farmers saw fairly significant swings in prices.
"With the prices we were receiving, finally the group in Rhode Island said, 'What can we do?' Rather than fighting the system, we worked through the system," says James Hines, executive director, Rhody Fresh.
Rhody Fresh members sell their milk wholesale to Guida's Dairy in New Britain, Conn., where it is stored separately in its own silo. After it is processed, the cooperative buys its milk back at the Class I price and markets it under the Rhody Fresh label.
"This past year we saw such wild swings and low prices," Hines says. "More than one farmer in our group has said they would not have made it in 2009 if not for Rhody Fresh."
While these small marketing cooperatives may not be able to compete with larger labels on price, they hold their own through consumers' desire to buy local.
"The public is crying for it," says Orr, whose farm is one of the six members of The Farmer's Cow cooperative, which started about four-and-a-half years ago.
"The only reason we've grown is there's good public reception about our product. We continue to experience sales increases," Orr says.
The Rhode Island and Massachusetts co-ops also have seen increased interest in buying local.
"We've tripled our sales since early going," Hines says of Rhody Fresh. "The people of Rhode Island, they've been unbelievably supportive of local products and farmers. As far as percentage of sales that is local, I think we have one of the highest percentages in the country. Our people support local agriculture."
Facey says it also helps that customers can see they are supporting their local communities.
"We have a very loyal following, especially in Pioneer Valley where people can see our farms and see that they're keeping us in business," she says. "People like that it's local, and in turn it's supporting the community."
In turn, the farmers appreciate seeing the demand for their products and potential for future success.
"I think the biggest dividend from our early years is largely psychological. For us to see there is a demand for our products and anticipating that we're going to have a bright future, that's huge," Orr says. "When faced with diverse times, The Farmer's Cow is certainly a sunrise for the attitude of the farms that belong to it."
CMN