State of the Industry
Urban centers are both boon, burden to mid-Atlantic dairies
Editor's note: As part of our "State of the Industry" series we take a look at the cheese and dairy industry across the United States. Each month we examine a different state or region, looking at key facts and evaluating areas of growth, challenges and recent innovations. This month we are pleased to introduce our latest states — Delaware, Maryland and New Jersey.
By Rena Archwamety
MADISON, Wis. — Delaware, Maryland and New Jersey are states rich with history, urban centers and waterways flowing east. Large cities in the region draw people and suburban sprawl to the region, while tourists flock to Chesapeake Bay and beaches along the Atlantic Ocean.
However, despite — or because of — the densely-populated market of consumers, the dairy industries in these states have experienced a slow decline in both farms and cow numbers over the past several years.
According to USDA's National Agricultural Statistics Service, licensed dairy farms in Delaware have gone from 90 in 2003 to 55 by the end of last year; Maryland licensed dairy farms have declined from 715 in 2003 to 570 in 2008; and New Jersey licensed farms declined from 130 in 2003 to 110 last year.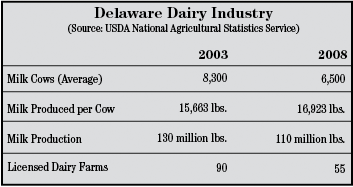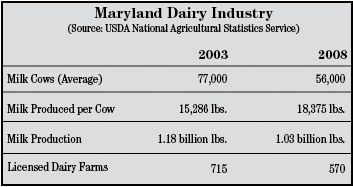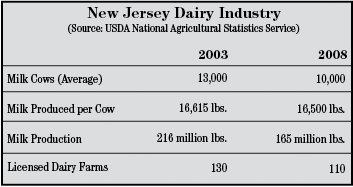 "I hate to be a pessimist, but the trend certainly is there for a decline," says Bob Peters, professor and dairy extension specialist, University of Maryland.
"One of our biggest advantages is proximity to the consumer, where the market is for milk," Peters says of the area that includes Washington DC, New York, Baltimore and Philadelphia. "The disadvantage is it's hard for our farmers, because of the price of land, to grow dairy herds to the sizes thought to be more competitive with the Northeast and Midwest, where there is more of a growing dairy industry."
In addition to high land prices and encroaching population centers, dairy farmers in these states also cite challenges such as high taxes, rising production costs vs. low milk prices, and environmental regulations as reasons for the industry's decline.
"We have the market, but it's getting increasingly hard to stay in business," says Owen Pool, a fourth-generation dairy farmer in southern New Jersey whose farm has been operating since 1870.
While Pool says it is not a rosy picture anywhere in the country for dairy farmers, he points to New Jersey's high taxes, strict nutrient management ordinances and dwindling infrastructure as presenting particular challenges in New Jersey's dairy industry.
"I use a vet out of Maryland, 70 miles away. If you want feed, it has to be hauled in from Pennsylvania. Fertilizer has to come in from Maryland or Delaware," Pool says.
The densely concentrated population of the region and bodies of water like Chesapeake Bay contribute to stringent environmental regulations for dairy farmers.
"We are subject to a lot of regulations because of Chesapeake Bay," says Laurie Savage, secretary/treasurer of the Maryland Dairy Industry Association (MDIA), which recently sent a letter to Sen. Benjamin L. Cardin, D-Md., against a bill he recently introduced to expedite the cleaning of the bay.
"We agree the bay needs to be cleaned, but we believe a lot in the bill will be burdensome to farmers," Savage says. "It's a wonderful thing to have in this state, but farmers are bearing a big brunt of the cleanup even though they've already done a lot."
Susan Garey, extension agent, animal science, University of Delaware, also says the state's farmers have to work hard to meet environmental regulations.
"Our farmers have some additional environmental pressures. With the Chesapeake Bay and beach areas, water quality is a big issue here," she says, adding that Delaware also has nutrient management laws. "Farms with certain amounts of animals have to have a plan filed every year on the nutrients produced, what to do with it, and soil tests."
• Support for dairy farmers
Efforts are taking place in all three states to help sustain the dairy industry and support its farmers, especially in these difficult economic times.
The Maryland Dairy Industry Oversight and Advisory Council, which was established in 2006 to help communicate to lawmakers issues of and strategies to help the state's dairy industry, recently presented its third annual report to Maryland Gov. Martin O'Malley. (See "Maryland Dairy Industry Oversight and Advisory Council gives annual report to governor" in last week's issue of Cheese Market News).
The council's recommendations include: fully fund the Maryland Dairy Farmer Emergency Trust Fund as soon as fiscally possible; establish uniform gross weight limit rules for raw milk haulers on highways; and do not allow the sale of raw milk in the state.
"The governor is definitely listening to us and wants to do what he can," Savage says, adding that with the economy as it is, there just isn't much funding available.
"In our state we were able to get legislation through to establish the dairy farmer emergency fund," she says. "It was approved, but it's still not funded."
Savage says the sale of raw milk, which currently is illegal in Maryland, is an issue that came up in the legislature last year and is expected to come back again. At this point, she says, MDIA as well as the Maryland Farm Bureau are against legalizing raw milk sales.
"I would say most farmers are against the sale of raw milk because of the litigiousness of it," Savage says. "There are some who would like it. Especially with prices so low, it's an economic issue."
The New Jersey Department of Agriculture's Division of Marketing and Development last week held a hearing to receive testimony from all interested parties on the current condition of the state's dairy industry. The testimony will be used to determine whether the state should impose an over-order premium as well as to give an idea of what levels and sources of assistance are needed.
"The first thing we would like to do is try to get off the roller coaster of highs and lows and become more stable," says Jeff Beach, spokesman for the New Jersey Department of Agriculture. "We're seeing the lows are getting longer and deeper and just hurting the farmers. The bottom line is to find a way to help the farmer that doesn't negatively impact other parts of the marketing chain."
Beach says the farmers that testified at last week's hearing were concerned that regardless of where their price is going, they don't see a lot of difference on the price of milk on shelves at the store. Meanwhile the cooperatives and processors that testified didn't want to be in a position where they can't remain competitive, as only 8 to 9 percent of the milk used by the state's major Class I processors comes from New Jersey.
Major processors with plants in New Jersey include Cumberland Dairy, which testified last week; Farmland Dairies, which was purchased by Grupo LALA in 2009; Readington Dairy, which provides milk for ShopRite supermarkets; and Garelick Farms, owned by Dean Foods.
New Jersey is holding at least one additional milk hearing tentatively scheduled for Dec. 8 since there was not enough time to fit everyone in who wanted to testify last week. A decision will be made within 15 working days of the final hearing.
"Cooperatives, food councils and the industry have been supportive of the hearings and trying to find some way to minimize the exodus of dairy from New Jersey," says David Lee, professor in the Department of Agriculture and Resource Management and cooperative extension agent, Rutgers University.
Lee says funding also is needed for the Garden State Dairy Alliance, a program that was funded through the legislature to bring together resources from the department of agriculture, Rutgers Cooperative Extension and other groups to support the dairy industry. The dairy alliance was in place for the past decade but recently has been stagnant due to lack of funding.
Lee adds that the state and industry are working on how to use New Jersey's population as an advantage for dairy marketing.
"The price of doing business in the most densely-populated state is a challenge. But in the same token, that should be our benefit, too," Lee says. "We haven't been able to capitalize on it, but that's what we're working on."
With just three counties and about 50 dairy farms, Delaware doesn't have a very large industry, but its size is an advantage when it comes to personalized assistance.
About five years ago, University of Delaware's extension had a meeting with dairy farmers to assess what they wanted. They asked for an unbiased second-opinion on farm management from someone not trying to sell something. The extension started doing dairy team visits, bringing teams of about six experts from various fields such as agronomy, business and animal science to do farm walk-throughs on every dairy farm in the state. After the visits, the farm receives a letter from the entire team with specific recommendations.
"The population is small enough that it's not impossible to pay individual visits to the farms," Garey says. "We try to get to every farm once every two years."
Garey adds that the University of Delaware also has been supportive of the state's industry. The university has made many improvements on its own dairy farm on campus, including putting in a new state-of-the-art milking parlor, putting in a sand-manure separator system to recycle sand for bedding, installing solar panels to power the separator, and working on a new creamery that will use the milk from the university's dairy herd to make ice cream to sell on campus.
The university currently is giving its milk to an outside processor to make into ice cream, but the new creamery on campus is expected to be built in six months to a year, according to Limin Kung, professor of dairy nutrition at the University of Delaware and a member of the oversight committee for the new creamery.
"We're really proud of our accomplishments," Kung says. "To have state-of-the-art facilities that are environmentally-friendly and people-friendly sends the right message to students who will be our future leaders. All these improvements are at a little dairy in a little state without many cows."
• On-farm processing
Many dairy farmers in Delaware and Maryland ship their milk for processing to Land O'Lakes, Dairy Farmers of America, and Maryland & Virginia Milk Producers Cooperative Association. However, several dairies across the region also are looking at on-farm processing as a way to take advantage of the market.
Garey says two Delaware dairy farmers in more populated areas of the state also recently went into marketing ice cream. One raises Jersey cattle milk specifically for ice cream, and another large production herd has started producing ice cream to the large population that comes to the beaches in the southern part of the state for vacation in the summer.
Maryland also has seen more dairy farmers interested in direct marketing to consumers, with at least nine licensed on-farm dairy processors and about 12 with permits pending, according to the Maryland Department of Health and Mental Hygiene.
Savage says this is where Maryland dairy farmers come to a double-edged sword with the large population.
'The population is growing and land is outrageous here in Maryland," she says. "It's very hard for new dairy farmers to come on board."
However, a big advantage is that local market.
"We have a lot of farmers looking into on-farm processing," Savage says. "A lot are looking into processing and bottling milk and making cheese and ice cream for people looking for local dairy products. It's definitely a plus for the area."
CMN