State of the Industry
Gulf Coast states fight dairy decline and work for renewal
Editor's note: As part of our monthly "State of the Industry" series we take a look at the cheese and dairy industry across the United States. Each month we examine a different state or region, looking at key facts and evaluating areas of growth, challenges and recent innovations. This month we are pleased to introduce our latest states — Louisiana, Mississippi and Alabama.
By Rena Archwamety
MADISON, Wis. — The dairy industries in the Gulf Coast states of Louisiana, Mississippi and Alabama are small, and some dairy experts fear the industry has become too small.
"Where is the industry going? That's a hard question to answer," says Gary Hay, professor and dairy extension specialist, Louisiana State University. "The industry is not going to survive the way it is today."
Economic challenges have led to a sharp decline in the number of dairies in all three states during the past decade. All three states have less than half the number of milk cows now as they did 10 years ago, and all rank in the bottom third portion of the United States in milk production — Louisiana ranked 36th, Mississippi 38th and Alabama 44th in 2007. The handful of dairy processors in the region are forced to transport most of their milk in from Western states because of the dwindling supply.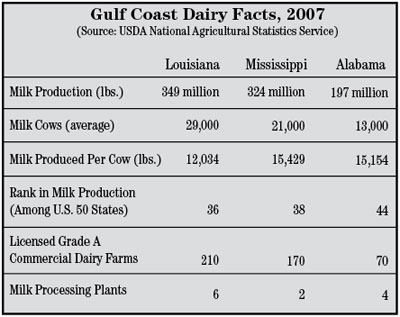 Sections of the region's dairy industry were hit hard in 2005 by Hurricane Katrina, which contributed even more to the decrease in farms.
"The main path of Katrina hit right through the heart of the dairy industry in southern Mississippi and southeast Louisiana," says Bill Herndon, professor of agricultural economics, Mississippi State University. "We saw an immediate drop of about 20 farms. About 25 percent of the farms in the Louisiana/Mississippi 'New Orleans Milkshed' went out of business within 16 months."
Other long-term factors have long contributed to the continued decline in dairying. In addition to the nationally widespread problems of high feed and fuel prices and an aging population of farmers, the Gulf Coast states also face climate, land and policy challenges that make expansion difficult.
"We have challenges being able to maintain adequate high-quality volumes of summer grasses and forages," says Lamar Adams, extension director for Walthall County, Miss. "We don't have the luxury of growing alfalfa — it's not suited for our climate."
Rather than pay to ship feed in from other parts of the country, many dairy farmers in the region maintain pasture-based farms, planting ryegrass in the fall and grazing their herds through May (About 95 percent of Louisiana's dairy farms are pasture-based). Pasture-based farms, however, can limit the size and production of dairy cows.
"With pasture-based farming, you don't get as much out of the cows," Hay says, adding that the production per cow in Louisiana barely increases each year, while nationally cows increase milk production an average of 2 percent each year.
"It's almost impossible to milk 500 to 1,000 cows on a pasture-based dairy. You can't produce enough forage," Hay says. "With the milk per cow not going up and production not going up, guys are getting the same amount of income today as they were 20 years ago. With rapidly increasing costs, it becomes pretty obvious pretty quick why we're seeing a decline of the industry in the Southeast."
Some dairies that want to expand also are limited by the price and value of the land. As the region is experiencing some of the largest population growth in the country near its major cities, dairy farmers have found it more lucrative to sell their farms than to buy land to expand.
"Land prices have gone through the roof," Hay says. "Dairymen who want to expand and buy more land can't afford it."
"It gets to the point of having to remodel vs. reselling," says Boyd Brady, dairy extension specialist at Auburn University in Alabama. "Almost all have sold out instead of going back and remodeling."
Dairy organizations are working to convince state legislatures to pass promotion and assistance programs to help regional dairy farmers to expand and to recruit dairies from outside states.
In Louisiana, the legislature passed a tax credit incentive in 2007 that gives a rebate based on the cost of production. Smaller incentives for infrastructure development and roads also are available. The Mississippi legislature recently passed a $20,000 maximum no-interest loan program to assist in transportation costs. Alabama dairy producers are trying to convince their legislature to pass a tax incentive program for dairies to expand or for new dairies to come in, but have been unsuccessful in their attempts over the past 10 years.
"Being very optimistic is hard after being shut down for so long, but we're regrouping and trying again," Brady says of incentives that would help the Alabama dairy industry. "With the situation now, most people cannot afford to expand."
While working to overcome the challenges, members of the region's dairy industry are looking to harness some of the area's unique attributes to attract and promote growth.
The states are promoting their natural and abundant grasslands to draw farmers who are interested in raising grass-fed dairy cows, with the hope that these farmers also will bring new practices to help expand the industry and technology.
"In an environment with extremely high feed costs, dairies are rethinking if they can make that transition back to pasture-based dairy," Herndon says. "There are several New Zealanders that have positioned themselves in southern Georgia and Missouri, and they are actively looking for opportunities elsewhere in the Southeast. They are trying to adapt the New Zealand pasture grazing model across the Southeast where they can see we have opportunities."
In Mississippi, the industry is eyeing the Delta region as a spot for new development.
"The Mississippi Delta traditionally has not had many dairy farms, but with rich crops available such as corn, we are interested in trying to recruit farms to that area," Adams says. "There is a considerable amount of good agricultural land well suited to dairy farms that is available."
Adams also says that while the region suffers some summer heat stress, Mississippi generally has a mild climate with mild winters and an abundance of cool season ryegrass for eight months out of the year.
Alabama's dairy industry also is doing some promotion to bring farms to its Black Belt region where grazing land is readily available.
"If the situation is going to be a grass-based dairy, we are ideally set up for that with our growing season," Brady says. "With a warmer climate, we do have a longer growing season."
Brady says Alabama also has an advantage for farmers over some surrounding states with its lower land tax and insurance rates.
One advantage all three states have is a ready demand for dairy. None of the states are able to provide their processors and growing populations all of the milk that is needed, and with the cost of transporting fluid milk continuing to rise, experts predict local producers will become more competitive.
"I think we're going to see a turnaround in the industry based on feed and transportation cost. For the entire Southeast, we're talking about importing more than half the milk they're using here to meet demand for our consumers. Milk is coming from farther and farther distances," Herndon says. "As costs get higher and higher, local dairy farmers have more comparative advantages to produce locally."
"With diesel over $4.50 per gallon, it makes it attractive to be closer to milk facilities in the state," says Guy Hall, director of Alabama Dairy Producers. "A lot of states are trying to promote the dairy industry coming back into the area. I think it may come back to roost because of transportation charges."
The dairy industry in the Gulf Coast states is almost all focused on fluid milk, and major processors in the region include plants owned by Dairy Farmers of America and Dean Foods, as well as regional distributors such as Barber's Dairy and Dairy Fresh. There is little in the area of cheese production, though a handful of value-added producers of artisan cheese and dairy are giving hope to local farmers.
Louisiana-based culinary entrepreneur John Folse, owner of John Folse and Co. Manufacturing and Bittersweet Plantation Dairy, says he acquires the milk used in his dairy products mostly from Louisiana family farms.
"The butterfat content, the color of the milk is just absolutely gorgeous," Folse says. "There's also the realization that you can follow that milk to the source. You can go pat the cow on the head rather than just pull the milk out of a tanker."
Part of Folse's inspiration for starting his cheese and dairy line was to help support the state's struggling dairy industry as well as revive the region's history of fine cheeses.
"At one point in time, most of the great cheeses came from Louisiana, the French, the Spanish, the English," Folse says. "It piqued my interest in what I can do as a manufacturer and chef to bring these wonderful products back to market."
Folse's line includes high-end cheeses and other dairy products that showcase traditional flavors of Louisiana's culinary heritage. He says he has seen an increased interest from the region's restaurants and specialty markets in artisanal cheeses, particularly cheeses produced locally.
"It's really wonderful to walk into a restaurant in New Orleans and see Bittersweet Plantation cheese on the menu, and hear the waiter say this cheese is produced in Louisiana," he says. "People are excited about eating local cheese; it's a huge circle that works really well."
The key to growing the region's dairy industry, Hay says, is in showing people opportunities they might not have seen before.
"I think we have some tremendous opportunities in the Southeast, areas that are very conducive to production. Labor is less expensive, costs are less, and we do have a tremendously fast-growing market," Hay says. "There's a lot of opportunity here, it's just a matter of getting people to take a look at it."
CMN