State of the Industry
Alaska, Hawaii look for ways to keep dairy industries alive
Editor's note: As part of our monthly "State of the Industry" series we take a look at the cheese and dairy industry across the United States. Each month we examine a different state or region, looking at key facts and evaluating areas of growth, challenges and recent innovations. This month we are pleased to introduce our latest states —Alaska and Hawaii.
By Rena Archwamety
MADISON, Wis. — Two words characterize the dairy industries and challenges in Alaska and Hawaii: small and remote. With five to six dairy farms currently operating in Alaska and a mere two dairy farms left in Hawaii, both states' dairy industries have reached a point where they must grow or at least sustain numbers, or risk disappearing altogether.
• Low numbers, high costs
Earlier this year Pacific Dairy, the last dairy remaining in Oahu, closed. Hawaii now has only two dairy farms remaining on its Big Island — Clover Leaf Dairy in Upolu, with 650 milking cows, and Island Dairy in Ookala, with 500 milking cows. A new dairy of about 50 cows also is anticipated to open by the end of this year in Oahu.
"We have, in the last 25 years, seen 40 dairies close here," says Bill Steiner, dean of the college of agriculture, forestry and natural resource management, University of Hawaii-Hilo. "We have two left, they're both in trouble, and the problem seems to be feed costs."
Hawaii's tropical grasses are not ideal for dairy cows, and producers in the state pay approximately $500 to $650 per ton of feed imported from the mainland, $250 to $280 of which is shipping cost alone. This contributes to the high price of locally-produced milk, which can run $7 to $8 a gallon at Hawaiian grocery stores. High costs and limited availability of land is also a challenge for Hawaiian dairy farmers.
Alaskan dairy producers face high costs as well to import feed, such as soybean meal and cotton seed, to provide a higher protein mix to supplement locally-produced barley and hay. With rising import costs and declining dairy numbers, the state's other agricultural sectors have felt the pinch, too.
"Dairies have been a vital link for barley producers and hay producers," says Phil Kaspari, district agriculture agent, Delta Junction, Alaska. "Whenever livestock numbers slip, that sends ripples through the agriculture industry. It's such a small industry here that when one farmer goes down, it affects others."
• Transition in Alaska
The success of dairy processors also is an important link in Alaska's dairy industry, and when the troubled state-run Matanuska Maid closed at the end of last year, some feared the dairy industry would go under as well. Matanuska Maid bought 2,000 gallons of milk per day and was the largest dairy processor in the state and the only processor in the Matanuska Valley, where most of Alaska's dairy farms are located.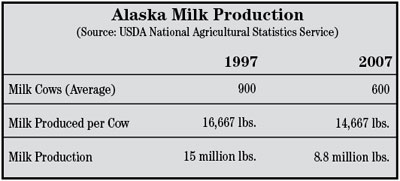 Fortunately for Matanuska Valley's four remaining dairy farms, a new creamery was in the process of opening. Former Alaska dairy farmer Kyle Beus received a USDA rural development grant to help establish Matanuska Creamery, which opened earlier this year. The creamery processes about 2,000 gallons of milk a day, producing Cheddar, fluid milk and, most recently, ice cream.
The dairy farmers received some assistance to stay afloat during the interim between the old creamery closing and the new creamery opening. A "Cheese Futures" program through Alaska's non-profit Alaska Farmers and Stockgrowers Inc. allowed the farmers to be paid for cheese ordered in advance from Matanuska Creamery. Additionally, the Creamery Corp. Board of Alaska's Department of Natural Resources helped compensate the farmers for milk that was not purchased as expected.
"Startup is always difficult, but we're getting there," Beus says. "The farmers up here were dumping their milk — there was no transition from the old processor to us."
The Matanuska Valley dairy farms occasionally send milk to another, smaller processor, Northern Lights Dairy, in the Tanana River Valley area around Delta Junction. Northern Lights Dairy has been operating for about 35 years and sells fluid milk and ice cream. It also provides milk to the three military posts in Alaska. The dairy takes in about 1,200 to 1,300 gallons of milk every other day.
The Tanana River Valley is where Alaska's other concentration of dairy farms is located, but the numbers there are dwindling as well.
"For years, there were five dairy farms here in Delta," Kaspari says. "But we had a disastrous cropping year around 2000."
The number of dairy farms fell to three, but recently one of those had a fire and is in the process of rebuilding. Another soon will be closing because of the lack of a steady cash flow, Kaspari says.
Don Lintleman, owner of Northern Lights Dairy and a 130-head dairy farm, says the lack of infrastructure and competition with mainland milk make dairying a challenge. However, he says the region could use more dairy farms and there is a demand for local milk, which sells for $1 to $2 more than milk from the Lower 48. The wholesale prices are approximately the same, but grocery stores use imported milk as a "loss leader" to bring in shoppers, while they sell the local milk as a higher-priced premium product.
"We've got a lot of local people that would rather have fresh milk than milk that's brought in from 3,000 miles away," Lintleman says. "It's like the farmer's markets in the Lower 48 states. We're doing a good job of it here."
• Home-based value in Hawaii
Milk imported to Hawaii from the mainland has to be repasteurized, and many consumers have complained that it often goes bad before the printed expiration date.
"It's pasteurized twice, once on the mainland and once here. It sits at least a week on the ship," says Erik Cleveland, associate professor of animal science, University of Hawaii-Hilo. "The locally-produced milk here is more expensive, but you get what you pay for — a better quality milk."
Hawaii's one major dairy processor, Meadow Gold, processes approximately 13 million gallons of milk a year. The state also has handful of smaller cheese and dairy operations. Cleveland says consumer support of local products plays a big role in the fate of the industry.
"The consumers should support the local dairy industry. If they don't, there won't be any dairy industry," he says.
Hawaii's dairy farmers were given a boost by the government a little more than a year ago with a two-year subsidy act that provided about 40 percent of their feed costs, excluding transportation. The program is now into its second year, and Jeri Kahana, branch manager of commodities, Hawaii Department of Agriculture, says she does not expect the subsidy to continue because of state budget cuts. She says Hawaii also is looking at revising its Milk Control Act to assist dairies, but does not know yet what the changes will include.
With the shortage of dairies and processors, locally-produced milk under Meadow Gold's Island Fresh label currently only is available on Hawaii's Big Island.
"Hopefully we can get more statewide distribution of milk," Kahana says. "A big concern for us is trying to become more aware of food security and encourage consumers to purchase local and support our local producers. We're trying to keep the producers in business."
Bruce Mathews, professor of soil science and agronomy at the University of Hawaii-Hilo, says he is seeing a trend back toward small-scale operations and value-added products.
"People say with good value-added products, like cheeses, yogurts and milk chocolates, the dairy industry could be more viable than selling milk for processing and distribution," Mathews says.
"I have had phone calls with people as far away as Georgia saying they want to start a dairy in Hawaii," he adds. "All these guys have been talking about value-added products."
Mathews says there also has been a trend in Hawaii toward home-based production, including a growing underground raw milk network.
"What's happened that's interesting is increasing numbers of people living on the countryside are getting home milk cows," he says. "Hawaii doesn't permit raw milk, but the underground economy is developing a bit. Families are delivering to neighbors, and some of these people are making their own cheeses, curds and yogurts."
Cleveland says he believes legalizing raw milk in Hawaii would help to improve the state's dairy industry.
"One thing that would help small dairy farms is if the state would change its milk laws," Cleveland says. "If the dairy industry could cater to that, help smaller industries do a good job and be grass-based, people selling raw milk could get more money for it."
• Climate adaptation
Hoping to benefit small farms, the University of Hawaii-Hilo recently received a grant through USDA's Agricultural Research Service to identify tropical forages and develop a dairy cow that would be better suited to small-scale farming on Hawaii's terrain and climate than the current grain-fed Holstein model. The three-year, $100,000-a-year grant is set to start Oct 1.
"Small farms are already on the landscape here. What people look for is having a family cow to reduce the need to buy milk," Steiner says, adding these farms also could earn income on the side if they meet state requirements for selling milk.
It could be five years before the results of the study could help develop a more sustainable dairy industry, and Steiner adds that even then it won't be a cure-all.
"I'm not sure we could produce milk for all the needs in Hawaii with the small farm model," he says, adding that the state still would have to import milk and possibly adapt the model to mid-size farms.
Alaska also is looking to alternatives to importing costly feeds for its dairies.
"Protein is a major challenge. We can generally raise barley crop, which the cows utilize, but higher protein like soybean meal and cotton seed are not readily available." Kaspari says.
Alaska is looking into the feasibility of a canola industry, which would provide a high-protein byproduct to supplement the barley and brome hay currently grown for feed.
"If we can get canola, it's not as high in protein as soybean meal, but we would like to have a little bit of a biodiesel thing here, too," Kaspari says. "It would be a good feed source for dairy."
Despite the hardships the industry has faced, Kaspari says there are opportunities for new producers in Alaska's close-knit dairy community.
"It might take some new young blood in there," he says. "I think there are opportunities, and I would like to encourage anyone with that motivation to investigate it, but in the same sentence I would say they'd be up for some challenges."
CMN