State of the Industry
Dairy industries in Montana, Wyoming are remote, steady
Editor's note: As part of our monthly "State of the Industry" series we take a look at the cheese and dairy industry across the United States. Each month we examine a different state or region, looking at key facts and evaluating areas of growth, challenges and recent innovations. This month we are pleased to introduce our latest states —Montana and Wyoming.
By Rena Archwamety
MADISON, Wis. — Montana and Wyoming may have plenty of sky, but dairies and milk processors in these states tend to be few and small. Each state's population is less than that of many major U.S. cities, and the road to the nearest processor or population center can run hundreds of miles.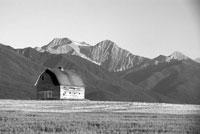 © 2008 Donnie Sexton / Travel Montana
OVER THE MOUNTAIN — The Mission Mountains (above) are in Montana's northwest corner near Kalispell, where a Dean Foods Meadow Gold plant recently shut down due to the lack of milk supply in the area. Most areas of Montana and Wyoming are far away from any large population center, a challenge for both dairy farmers and dairy processors.
"It can be remote, and they don't call it 'Big Sky Country' for nothing. There
are a lot of miles in between," says Greg Yando, chief operating officer, Mountain Area Council, Dairy Farmers of America.
Montana's population is just shy of 1 million, and according to the state's Milk Control Bureau, each person consumed an average of 237.86 pounds of milk in 2007. In the same year, the state's milk production totaled 333 million pounds, according to USDA's National Agricultural Statistics Service (NASS).
"Montana is not a very large dairy state," says Bill Hedstrom, president, Montana Dairy Association. "We pretty much produce what we use here."
The major dairy processors in Montana are the cooperative Country Classic Dairies Inc. in Boseman, Mont., and Dean Foods, which runs two Meadow Gold plants, one in Great Falls and another in Billings, Mont. Dean had another plant in Kalispell, Mont., that closed earlier this year.
"We just lost one of the Meadow Gold plants this summer because there weren't enough dairies left to supply the milk needed," Hedstrom says. "When you have to ship your milk 300 to 400 miles to the nearest processing plant, it eats your profits up."
Another challenge for Montana's dairy farmers, especially those starting up or moving into the state, is the milk quota system.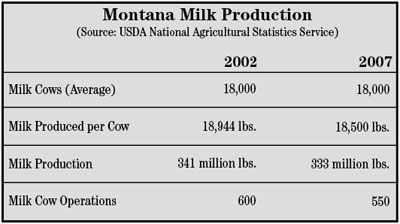 Montana's quota system began in 1989 as a means to reduce overproduction. Each producer is given a percentage of production for their quota amount, and a higher price is paid for the milk within that quota. Farmers must purchase their quota when they start, and the quota is theirs until they leave or sell the business.
"It is hard for a new producer to come in to the quota system," says Monte Nick, bureau chief, Montana Milk Control Bureau. "It's another capital they have to have right away."
Nick says new producers are offered a quota percentage until they can purchase one on their own. However, he adds that the system is somewhat obsolete and could be abolished after another year or two.
"There's been some talk about doing away with it," he says. "It's kind of lost its original intent because a lot of plants have out-of-state sales so we actually need more production."
Despite the challenges, Hedstrom says Montana's dairy industry has remained fairly stable over the past several years, and he expects it to remain steady or at least decline at a very slow rate. Milk cows in the state have fluctuated between 18,000 and 19,000 head for the last 10 years, according to NASS, and production has decreased only slightly in the last three years.
One aspect of Montana's dairy industry that keeps it fairly stable is the state's Hutterite colonies. The Hutterites are a traditional religious group of people who live communally and support themselves through farming. Approximately 4,000 Hutterites live in 39 colonies across Montana.
According to the Cut Bank Area Chamber of Commerce, Hutterites produce about 17 percent of the milk in Montana, as well as 50 percent of the eggs and 60 percent of the pork in the state. The Hutterite dairies sell their milk to the Dean plants and are represented by the Montana Milk Producers Association, while other dairies in the state are part of the Montana Dairy Association.
While Montana's dairy industry remains small but steady, Wyoming's industry has all but disappeared.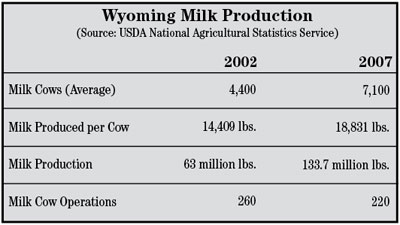 "Milk processing was very common in Wyoming 10 years ago, but I think that industry's pretty much dead," says Jeff Burnett, a dairy farmer on Wyoming's southern border who ships his milk about 65 miles south to the Leprino cheese factory in Fort Morgan, Colo.
Several plants in Wyoming and areas surrounding its borders have closed in the last 10-20 years, making it difficult for dairy farms in the state to survive as well. A bottling plant in Cheyenne and another plant in Riverton, Wyo., closed about 10 years ago, Yando says. Others in Wyoming as well as Scottsbluff, Neb., and Rapid City, S.D., also have closed over the years. Star Valley Cheese, near Jackson Hole, Wyo., closed in 2005 but recently was purchased by Gaylen Clayson, an Idaho dairyman who is looking to reopen it by next spring.
Between 1997 and 2003, Wyoming's milk cow population dropped from 6,600 to 3,800, and its milk production from 83.8 million pounds to 54 million pounds, according to NASS.
Milk production since has grown to 133.7 million pounds in 2007, but this primarily is the result of Burnett moving his dairy farm from Hereford, Colo., across the border to Carpenter, Wyo., in 2005.
"When we moved to Wyoming, there were 4,600 milk cows in the state. We brought 3,000 more," Burnett says.
Although the dairy plants have dried up, Yando says Wyoming still could draw dairy farmers to its open range and away from urban encroachment and tight environmental regulations. And with a new Leprino plant being built in Greeley, Colo., about 50 miles north of Denver and south of Cheyenne, that corner of Wyoming will be in prime proximity to a major processor.
"I would say the area that holds the most promise is still the Southeast area," Yando says. "I don't know if the population would attract any processing. But I think the population of Colorado and urban encroachment might drive these larger farms to look at a more rural setting."
In addition to its proximity to Colorado processors, Burnett says southern Wyoming has other advantages for dairy farmers.
"The main benefit of dairying in Wyoming is that we have low humidity and cool nights. Heat is never a problem in the summer," Burnett says. "Compared to Colorado maybe the winds are harsher in the winter, but compared to Minnesota, Wisconsin or New York, we have much milder winters."
Burnett adds that Wyoming's quality alfalfa supply and the abundance of corn from neighboring Nebraska also benefit dairy farms.
"There are no downsides compared with the rest of the nation," Burnett says of southern Wyoming's climate and location for dairying. "The biggest downside to the Wyoming dairy industry is just infrastructure."
Hedstrom says Montana also produces quality crops for feed, such as wheat, alfalfa and barley, though much of it goes into the state's beef industry, which is much larger than dairy.
About half of the dairy farmers produce their own feed, he says, though crops such as corn, soybeans and cottonseed have to be shipped into the state, which can significantly raise the costs of dairy farming.
Hedstrom says the biggest challenge for Montana's dairy industry remains its distance from any major market.
"Markets really are the thing that limits the development in Montana for the dairy industry," he says. "The biggest thing we face is that there are no big markets to encourage production. There's potential here, but it's several hundred miles away."
CMN