State of the Industry
Arizona dairy industry sees stable growth for the future
Editor's note: As part of our "State of the Industry" series we take a look at the cheese and dairy industry across the United States. Each month we examine a different state or region, looking at key facts and evaluating areas of growth, challenges and recent innovations. This month we are pleased to introduce our latest state — Arizona.
By Rena Archwamety
MADISON, Wis. — Arizona, a state known for its vast deserts and hot, arid summers, also has in the past decades grown into a formidable dairy power.
Though the state has only around 100 dairy farms, average herd sizes are more than 1,500 cows with some in the 8,000 and 9,000 range, and Arizona ranks among the highest milk production per cow at around 23,000 pounds. The state boasts two of the top 20 milk-producing counties in the United States — Maricopa County, which includes Phoenix and surrounding population areas, and Pinal County to the southeast of Phoenix. Dairy is the No. 1 agricultural commodity in Arizona.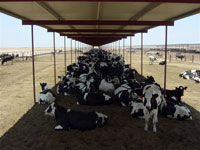 DESERT SHADE — Arizona dairies tend to be large to support the advanced facilities needed to cool and care for the animals. Here at Withrow Dairy, Casa Grande, Ariz., cows rest at a 24-pen heifer facility with space for 2,400 heifers/dry cows.
"The industry wasn't that large until changes in parlor design allowed large numbers to be milked," says Robert Collier, professor of animal science, University of Arizona, adding that cooling technology in the 1970s and 1980s allowed for large dairy facilities to be built in the state. "The major increase in herd size was in the '70s and '80s. Now it's a matter of additional farms rather than increasing the size of existing farms."
Collier says dairy farmers gravitated toward large herd sizes to get the scale effect to build the proper facilities to cool and care for their animals. He adds that the fact that Arizona's dairy producers can achieve top production per cow numbers in some of the toughest environmental conditions in the West says a lot about the quality of the state's producers.
"Daytime temperatures in the summer often reach 115-188 degrees in the Phoenix Valley where the majority of the dairies are," he says. "They're business people and understand if they build something it has to be justified by return on investment. I think the fact you often see producers in Arizona on programs around the country about managing dairy operations, in hot weather or just how to manage dairies, tells you a lot, too."
Collier adds that he believes Arizona is a dairy-friendly state. Despite the farms' close proximity to population areas, he says he hasn't heard many complaints or concerns from people about dairy producers. He adds that the state's consumers are fairly confident in the quality of their milk, and milk recently was named the official state drink of Arizona. Dairy producers have supported a number of campaigns to increase milk consumption in schools and promote milk and dairy products.
"I think the industry has worked very hard to maintain a good relationship with the public," Collier says. "Being in close proximity with cities, there's always tension to maintain a good relationship with the city and state government. They work hard at that and are very sensitive to issues that would reduce that relationship with cities, consumer and neighbors."
• Population, dairy growth
Arizona's total population increased by almost 27 percent between 2000 and 2008, while Maricopa County has increased 29 percent since 2000, according to 2008 U.S. Census data. This population increase has helped fuel dairy growth in the state as well. From 2000 to 2008, milk production in Arizona increased 44 percent from 3.03 billion pounds to 4.35 billion pounds. Milk cow numbers grew 34 percent from 139,000 head to 186,000 head, according to USDA's National Agricultural Statistics Service. However, the state lost about nine producers and 27,000 cows to the recent retirements through Cooperatives Working Together. Between 2008 and 2009, Arizona milk production dropped 6 percent and cow numbers dropped 5 percent.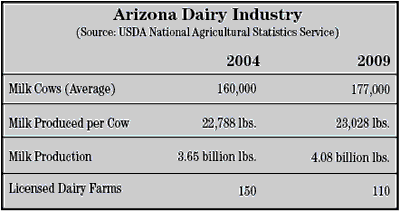 Collier predicts the dairy industry will grow again when the economy and general population growth rebound.
"I think the herd size will grow with the population," Collier says. "I think the population growth has been kind of flat because of the recession. It may remain flat for a year or two and then grow some more."
• Long-standing processors
One entity that has helped to keep Arizona's dairy industry stable and growing is the cooperative United Dairymen of Arizona (UDA), which celebrated its 50th anniversary in January. UDA represents approximately 90 percent of the milk in Arizona, and only four producers in the state do not belong to the cooperative.
Based in Tempe, Ariz., UDA has five processing facilities on its main property and another in Casa Grande, Ariz. UDA's facilities produce high-, medium- and low-heat nonfat dry milk, milk protein concentrate, cream, butter, skim milk, condensed skim milk and lactose powder. The plant can process 10 million pounds of milk per day and acts as a balancing plant for other regional processors. It also can produce more than 100 metric tons of kosher powder in two weeks. In 2009, UDA opened a new Blue cheese plant and expanded its MPC production.
In addition to processing, UDA also offers its members equipment installation, emergency repair, preventive maintenance and transportation services and provides chemical, equipment and pharmaceutical supplies.
"United Dairymen is one of the last full-service co-ops for producers," says Keith Murfield, CEO, UDA. "We do all the supply, service and transportation for producers in Arizona."
Murfield adds that Arizona producers benefit from having a cooperative that has consistently been able to handle their milk.
"We have a wide fluctuation in milk. From April to September, milk will vary in volume 25 to 30 percent," Murfield says. "That's why we have to have a balancing plant the size we do in Arizona."
Collier says most dairy producers in Arizona seem to be very happy with UDA, which he says has a management team that works hard to make sure their members feel like they are getting value from their milk.
"UDA is a highly-successful co-op. It's probably a standard for the rest of the industry on how to be successful as a co-op," Collier says. "They've done a great job, and it's just kind of unique for a group that's not that large to remain so profitable for a long period of time. They've really grown for the size of business they do and have been successful."
The other major dairy processor in Arizona is Phoenix-based Shamrock Farms, another long-standing business that was founded in 1922 and claims to be the largest family-owned and family-operated dairy in the Southwest. Shamrock Farms owns a dairy in Stanfield, Ariz., with more than 10,000 cows.
Shamrock Farms is a major milk distributor for the region's grocery chains, schools, hospitals, institutions and foodservice industry, and it also distributes its products nationwide. Other dairy products it offers include cottage cheese, sour cream, heavy cream, eggnog, ice cream and frozen novelties.
In June 2007, Shamrock Farms introduced a new line of organic milk after adding a separate herd of organic cows to its farm and called the launch one of its "most significant product launches in the company's 85 years."
Other recently-introduced lines from Shamrock Farms include Rockin' Refuel, a protein-fortified, lowfat flavored milk; and its Essentials line of milks with Omega-3 and added calcium. Shamrock Farms also continues to partner with almost 22,000 Subway restaurants nationwide to provide milk for Subway Fresh Fit meal selections.
• Stable outlook for dairy
While there are not many new dairies moving into Arizona from out of state, Murfield says he does see internal growth with new generations looking to get into dairy farming. He predicts a stable industry with controlled growth in the near future.
"We have a lot of young members, grandsons, sons or daughters of our members now that want to continue to expand," Murfield says. "I don't expect the 5 to 7 percent growth we had in the early 2000s, but I expect flat growth in the next two to three years."
He adds that strong Class I milk sales as well as diversification among the four classes in the federal milk marketing order have helped with stable pricing and growth over the years for Arizona's dairy industry.
"As far as the milk industry in Arizona, it's set pretty well," Murfield says. "Our Class I sales are pretty strong here because of the large population, and the state has grown so much in population. I consider dairy to still be profitable and strong in years ahead."
CMN