Traditional, innovative British cheeses finding new markets
Editor's note: Passport to Cheese is Cheese Market News' feature series exploring the dairy industries of nations around the world. Each month this series takes an in-depth look at various nations/regions' dairy industries with coverage of their milk and cheese statistics and key issues affecting them. The nations' interplay with the United States also is explored. We are pleased to introduce our latest region — the British Isles.
By Rena Archwamety
MADISON, Wis. — Cheesemaking in the British Isles dates back to the Roman occupation in the first century A.D., according to Jason Hinds, sales director and co-owner of prominent London cheese retailer Neal's Yard Dairy. The Romans, who had experience in dairying, contributed to the development of local cheeses, particularly those made on farms around the Roman town of Chester, the birthplace of Cheshire cheese.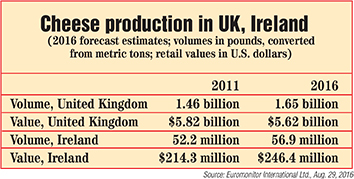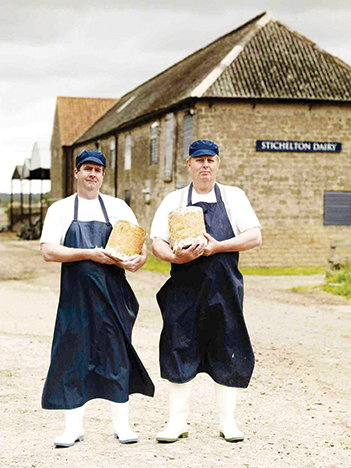 Photo courtesy of Stichelton Dairy
NEW NAME, OLD TRADITIONS — Joe Schneider (left) and Randolph Hodgson (right) founded Stichelton Dairy in northern Nottinghamshire, England, in 2006, aiming to bring back a traditional Stilton made with raw milk. Because they use raw milk, they cannot use the PDO-regulated name "Stilton," so they chose the name "Stichelton" — a 12th-century form of the name of the village Stilton.
"Essentially, we are a nation of cow's milk cheese producers," Hinds says. "Because the climate is cool, we generally made hard cheeses that could be kept as a way of preserving milk so it didn't spoil."
He adds that cheeses generally have been made on the western side of the British Isles where most of the rainfall comes, and they bear names of the villages or counties where they were made, such as Cheshire, Lancashire, Gloucester and Cheddar.
Starting in the late 1800s, the introduction of large-scale dairies and factory cheese production, along with cheaper competition from abroad, resulted in a reduction of farmhouse cheesemakers — those using milk from their own herds for small-scale cheesemaking. Hinds notes that numbers continued to decline as many of the cheesemakers went to war, and rationing continued in the years following World War II. Later on, the advent of supermarkets, regulations and increasing mass production further reduced the number of small and farmhouse cheese producers.
• Major dairies
The Milk Marketing Board was established in 1933 to manage and market British milk and cheese, providing more stability for farmers and cheesemakers. The Milk Marketing Board also began manufacturing much of the cheese, continuing to produce and market cheese and other dairy products until it was abolished in 1994.
Today there are a number of large cooperatives and dairy brands that process and market milk for dairy farmers in England, Scotland and Ireland.
Dairy Crest, which started in the 1960s as a butter and cheese brand of the Milk Marketing Board, now is a commercially-focused business with four main consumer brands and 400 British dairy farmer suppliers. The company boasts that its Cathedral City Cheddar, made in its creamery in Cornwall, England, is the United Kingdom's leading cheese brand.
First Milk, based in Scotland, is a major dairy company owned by British family farms. Its product line includes Cheddar and regional cheeses, dairy ingredients, fresh milk and sports nutrition products. Its creameries on the Mull of Kintyre and Isle of Arran in Scotland, the English Lake District and the southwest tip of Wales produce a range of Cheddars, Red Leicester and Double Gloucester.
Milk producers formed United Dairy Farmers after abolition of Northern Ireland's Milk Marketing Board in 1995 to provide a cooperative to process and market their farmers' milk. Dale Farm, which the cooperative acquired in 2001, processes and markets a wide range of dairy products for domestic and international markets at its six plants throughout Northern Ireland, England and Scotland.
Other major dairy processors in the region include Arla Foods UK and Müller Wiseman Dairies in the United Kingdom, and Glanbia, Kerry and Ornua in Ireland.
• Cheese Renaissance
In addition to its large processors, the British Isles have experienced a Renaissance of sorts in farmhouse and specialty cheese over the past 20-30 years, led by increased interest by consumers as well as cheesemakers.
Jaap de Jonge, owner of Jongia UK, which provides equipment for small-scale cheesemakers, says he has seen many people leaving various professions to start up small cheesemaking businesses.
"There are so many teachers, doctors, accountants or people that have retired who buy 20 goats and decide they want to make cheese," he says. "They pop up, one a week I would say."
Many of these do cheesemaking as a "hobby job," de Jonge says, though some have grown and become more established.
Roddy Wilde, business development manager for the Scottish Dairy Brand, says he has seen Scottish cheesemakers getting quite inventive.
"There has been a Renaissance in cheesemaking since the 1980s," he says. "We have whiskey cheeses, with single-malt whiskeys washed onto the rind of the cheese. We have some great smoked cheeses as well ... cheesemakers are experimenting more with different ages and styles."
Hinds says many of the newer cheesemakers are steering more toward varieties that are not traditional to the British Isles, using goat's or sheep's milk and making continental-style cheeses, emulating recipes from other parts of Europe.
"They're expanding the British range to be more comprehensive, covering different varieties that exist in the cheese lexicon that previously weren't produced in the UK 30 years ago, whether it's a Brie, Camembert, washed-rind, goat's or sheep's milk cheese," Hinds says.
"It's quite a strong phenomenon."
Hinds says he foresees continued increases both in farmhouse cheesemakers and the number of varieties available.
"There is a market growing for it that will create demand and opportunity," he says. "Every year, there are more farmhouse cheesemakers than the year before. I see more people going into it and don't see it being saturated by any stretch."
• Protected varieties
The British Isles are home to 17 protected designation of origin (PDO) and protected geographical indication (PGI) cheeses registered by the European Commission. The most well-known of these is Stilton, while others include Single Gloucester, Yorkshire Wensleydale and Orkney Scottish Island Cheddar.
Stilton has been made for generations in the three English counties of Leicestershire, Derbyshire and Nottinghamshire. It is available in a white version and the more famous Blue-veined version, and the cheese must be made with pasteurized milk, according to the PDO product specifications, which were enshrined in legislation in 1996.
"A whole Stilton is about 8 kilos — it's a big, tall cheese. That's very specific to British cheeses," says Joe Schneider, cheesemaker and co-founder of Stichelton dairy in Nottinghamshire, England. "They were developed in a different way since they had to travel. Taller, harder varieties could sit on a wagon for a couple of weeks when they went down to London."
Schneider adds that Blue Stilton is very different from French Blue cheese varieties in its shape and how it's salted.
"There is no other Blue cheese I can think of in the world that is close to it," he says. "It starts out as a semi-hard cheese and breaks down. It's unique in its texture and flavor as well. It's not a very gloopy Blue like Gorgonzola, but it does have a lovely creaminess."
Today, there are six cheesemakers in Derbyshire, Nottinghamshire and Leicestershire counties licensed to produce PDO Blue Stilton, according to the Stilton Cheesemakers' Association.
Stichelton Dairy in 2006 became the first farmhouse cheesemaker since the 1930s to produce a Stilton-style cheese, and the first since the late 1980s to do so using raw milk.
However, since PDO Stilton is required to use pasteurized milk, the revived raw milk version could not use the name "Stilton." Instead, Schneider and co-founder Randolph Hodgson chose the name "Stichelton," a 12th-century form used for the village of Stilton.
Schneider, who has been fighting to allow raw milk to be used under the PDO, says even without the Stilton name, Stichelton has gained the support of many cheese shops and customers who appreciate the traditional cheesemaking techniques.
"Anyone at that end of the cheese world, selling regional and farmhouse cheeses, will recognize it's the king of English cheeses and fantastically unique," he says.
While Stichelton Dairy limits its output to preserve the quality and character of its cheese, it does make enough to meet some demand overseas in markets including the United States, New Zealand, Italy, Spain and other European countries, Schneider says.
• Overseas markets
Other cheeses and dairy products from the British Isles also are finding success overseas, particularly as recent initiatives have expanded global presence and recognition.
The Irish dairy cooperative Ornua, the country's largest exporter of Irish dairy products, earlier this year opened a new cheese manufacturing facility in Saudi Arabia and also acquired Shanghai-based cheese and dairy manufacturer Ambrosia Dairy. Over the last couple years, Ornua also has invested in acquisitions and significant infrastructure development in Africa, China, Germany, Ireland, Spain, the UK and the United States. Ornua says its Kerrygold butter was the No. 3 branded butter in U.S. sales volume last year and the No. 1 butter brand in Germany. The cooperative reports its cheeses also are performing strongly in U.S. and overseas markets.
Last year, the Scottish government unveiled a new Scottish Dairy Brand and logo to help boost the profile of Scottish dairy products overseas. The brand made its market debut earlier this year in the United States and will target Canada later this year, as well as Western European markets, the Middle East and Asia in the future.
Wilde says there are a lot of small producers making a variety of different cheeses in different regions in Scotland, and the Scottish Dairy Brand is composed of the best and most export-capable of these products. Among those highlighted during June's Summer Fancy Food Show in New York were Connage Dunlop — a traditional clothbound cheese made by Connage Highland Dairy from a recipe dating back to 1668; Orkney Smoked Red, a 14-month double-smoked Cheddar from the Orkney Islands, where The Island Smokery has been producing this cheese for the past 10 years; and First Milk's Mull of Kintyre brand Cheddar from the historic Campbeltown Creamery, which has been producing cheese since 1923 on Scotland's Kintyre Peninsula. These cheeses will be distributed in the United States by Atalanta.
"We have some of the best dairy pastures in the world because of our climate. We often complain about it raining a lot, but it's great for milk, dairy and cheese," Wilde says. "We're a small nation, but I think that makes us quite interesting, an exciting addition to deli counters around the world."
CMN